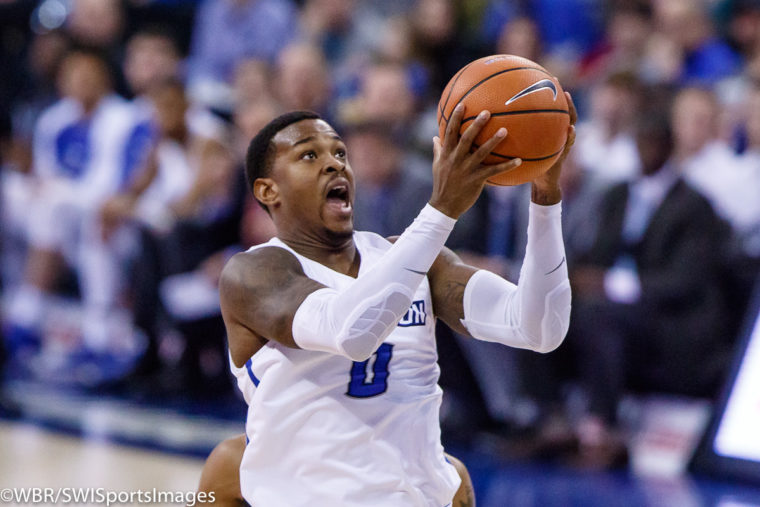 Morning After: Too Many Missed Layups Lead to Missed Opportunity at Providence in 85-71 Loss
Recap & Analysis:
In the first half of their first game without Martin Krampelj, the Bluejays matched their worst shooting performance in a half all season by making just 29% of their shots — only the second half against Baylor, nearly two months ago, was this bad. The biggest reason for that poor shooting was their inability to finish around the basket, as they made just two of their first 11 attempts at the rim. In the first eight minutes alone, four would-be dunks by Krampelj were instead blocked by Providence defenders when other players took the shots.
Meanwhile, the Friars made eight of their first 11 shots, and had the Jays on the ropes. After a three-pointer by Rodney Bullock with 12:04 to play in the half, Providence led 18-7 and a near-capacity crowd at the Dunkin' Donuts Center was rocking, the Jays were reeling, and the game was one or two possessions away from being out of reach. Fifth-year senior Toby Hegner was the catalyst for the comeback.
After a timeout, Marcus Foster stole the ball from Bullock, and Hegner hit a three to kickstart a 9-0 Bluejay run. A defensive stop and rebound by Hegner in between two Providence bigs led to a transition three from Mitch Ballock. And then on the next possession, Hegner found himself in the middle of the action — literally — when Providence's Nate Watson popped him in the face with his elbow while fighting for position near the rim. The resulting flagrant foul sent Foster to the line, Hegner to the bench, and resulted in the Jays cutting the deficit to 18-16.
It remained a one-possession game the rest of the half, but the Jays continued their inability to finish at the rim. It was very nearly a team-wide malaise — in the final eight minutes of the half, Foster, Ballock, Ronnie Harrell, Manny Suarez, and Kaleb Joseph all missed at least one layup at the rim.
Ahead 36-33 at the break, Providence had to have felt like they missed a chance to break the game open. And sure enough, two minutes into the second half, the Bluejays grabbed their first lead of the day after a three from Harrell and a three-point play by Foster.
WHAT A SEQUENCE by @BluejayMBB. pic.twitter.com/ENMoZoaZaf

— CBS Sports Network (@CBSSportsNet) January 20, 2018
"We were a little too hesitant in the first half, not moving the ball, not being aggressive," Foster said on the postgame radio show. "As soon as we got going, we were getting easy layups. And some of those layups created open three-point looks for other guys. We've got to do that from the tip. Me and Khyri just have to be in attack mode the entire game."
Unfortunately, after taking that 39-38 lead, the Jays missed their next eight three point attempts, committed three turnovers, and in less than four minutes of game play found themselves down 54-45.
"With the lineup with have now (without Martin), we're going to have to make more three-point shots," Coach Greg McDermott said. "We don't have the personnel to put pressure on the rim, at least from a frontline standpoint. And along with that, our ability to get offensive rebounds isn't near what it was before."
They had one more run in them, though. With 6:13 left, Hegner hit a jumper in the paint to get the lead back into single digits at 67-58. Thomas ripped the ball away from Alpha Diallo and raced down court for a layup to make it 67-60:
T A Z Z #Khyrifense #GoJays #LetItFly #BIGEASThoops pic.twitter.com/5DV8Fsgg0e

— Creighton Men's Basketball (@BluejayMBB) January 20, 2018
Hegner cleared a defensive stop with a rebound, and Thomas hit a three to make it 67-63. Harrell answered a bucket by Providence's Isaiah Jackson with one of his own to make it 69-65 heading into the under-four timeout.
Creighton had momentum, but then came the key sequence in the game.
They got a stop defensively, and with 3:11 to go they found Hegner near the rim for a high-percentage layup. It's a shot he makes probably 60% of the time, if not more, but this time he left it short. The Friars rebounded the miss, and then the Jays inexplicably lost Jalen Lindsey in transition. He hit a wide-open three in the corner, and instead of a two-point game with under three minutes left, it was now a seven-point game — and was all but over.
"Oh man, yeah, that hurt," Khyri Thomas said in a moment of brutal honesty on the postgame radio show. "Toby's got to make that. It happens, but it shouldn't happen, you know?"
He was equally harsh on his team's defensive lapse. "Lindsey leaked out in transition for that three, but still, we've practiced that exact play over and over for two days. 'Find Lindsey, find Lindsey!' is what the coaches drilled constantly. And yet he snuck behind us."
"At that point in the game, you can't have those mistakes. It's that simple."
McDermott called it the decisive moment of the game. "The game is that fragile sometimes," he said. "You miss a layup, don't get back in transition, they hit a three, and that's the game."
Key Stats:
Rarely does a game boil down to one stat, but sometimes it really is that simple. 15 missed layups speaks for itself.
Further down the stat sheet, Creighton had it's worst rebounding margin of the season, as Providence outrebounded them 40-27. The Bluejays and Friars both had seven offensive boards, but the Friars turned their seven into 15 second-chance points — while the Bluejays turned theirs into just five. That ten-point swing proved huge, and was directly attributable to the absence of Martin Krampelj.
"The biggest difference without Martin was rebounding," Khyri Thomas said on the postgame show. "That 13-rebound gap between us and Providence was all him…he would have had those 13 by himself because he had a double-double almost every game. They punked us on the rebounds."
Neither team shot terribly well from behind the arc — Providence was 6-18 (33%) and the Bluejays were 7-27 (26%). But the Friars made more free throws (17) than the Jays attempted (14), were better inside the arc (25-40 on two-pointers to the Jays' 16-31), and scored 36 of their 85 points in the paint.
Standout Performance:
Creighton's point guards — Davion Mintz, Kaleb Joseph, Ty-Shon Alexander, and Tyler Clement — combined for six points, one assist, and five turnovers. Simply put, it was the worst possible day for all four to play poorly.
"Davion was getting to some good spots in the paint, but he wasn't making good decisions when he got there," McDermott said in assessing his starting point guard's performance. "He had three or four shots blocked that should have ended in jump-stops and kickouts, not in shot attempts. He had some bad turnovers. And then he stepped off Jalen Lindsey early in the second half and let him get going. Understanding your opponent's personnel is so important. And if you're on Lindsey in transition, you are not to leave him under any circumstances. We've drilled that for two days. That's why we tinkered with the point guard spot and played Tyler (Clement) as the day went on."
He was careful to point out it wasn't just Mintz, and that he wasn't picking on him in particular. "We told all of them, everything you're accustomed to for 18, 19 games is different now. Your margin for error is now smaller. We can't take you off the floor to talk you through it. We can't have some of the turnovers we had today, or some of the decisions at the rim with the basketball. They have to demand more of themselves, because we're down a guy."
They Said It:
You Said It:
Full house for WBR viewing party No. 2! @barchen_beer blowing up with Jays fans. #gojays https://t.co/4RvjuzLhzz pic.twitter.com/jYZ6OTKETv

— White & Blue Review (@whitebluereview) January 20, 2018
Big question mark for Creighton today…who to use for the jump ball to start the game?

No healthy player on the team has ever jumped center to open a college game.

— Rob Anderson (@_robanderson) January 20, 2018
Martin Krampelj in the house. He gets a heartfelt hug from Providence coach Ed Cooley pic.twitter.com/yLM7a3RPAp

— Jon Nyatawa (@JonNyatawa) January 20, 2018
The Dunk with a live DJ 🔥🔥🔥🔥 That place will be rockin

— Tony Roth (@toneroth) January 20, 2018
#Jays starters getting introduced. It's gonna get rowdy here pic.twitter.com/cI1j7HiYqo

— Jon Nyatawa (@JonNyatawa) January 20, 2018
Creighton at Providence keys:
– Rebounds (Jays without Krampelj combined with Providence's size & physicality will be an important factor)
– 3pt line (both teams rely on long range jumpers)
– Kyron Cartwright (Friars are extremely reliant on Cartwright to score & distribute)

— Nick Bahe (@NickBahe) January 20, 2018
Hope I'm wrong, but lots of concerns about today's matchup:
– Martin's injury and the production/emotional toll
– Jays forced to adjust Xs and Os ahead of a matchup with Ed Cooley
– The Dunk

— truebluejays (@truebluejs) January 20, 2018
Did McDermott talk with Cooley's tailor?

— Michael McGoodtweets (@michaelkmcneil) January 20, 2018
2 missed lay ups already. Pray for us

— FakeBlueCrew (@FakeBlueCrew) January 20, 2018
Not an ideal start.

— Dave Sund (@davesund) January 20, 2018
3 missed lay ups

— FakeBlueCrew (@FakeBlueCrew) January 20, 2018
Martin dunks those. Toby can't even lay them in. Not good.

— Tony Roth (@toneroth) January 20, 2018
This offense without the slip/pick-&-roll action of Krampelj is struggling

— Michael McGoodtweets (@michaelkmcneil) January 20, 2018
That has to be a pull-up or a floater for Davion. Don't play for the foul.

— Jacob Padilla (@JacobPadilla_) January 20, 2018
Creighton's inability to convert at the rim has hurt. Gotta get Marcus Foster going. 0 field goal attempts from Foster so far.

— Nick Bahe (@NickBahe) January 20, 2018
Kaleb checking in. Is this a result of the offense being broken and throwing everything out to see what sticks or is it a result of the new rotation without Martin?

— Jacob Padilla (@JacobPadilla_) January 20, 2018
If I'm a Providence fan, I'm immediately making a batch of "YOU GOTTA POST YOUR NUTS OFF" T-shirts. Thanks for mic'd up segment, @CBSSportsNet!

— truebluejays (@truebluejs) January 20, 2018
Creighton as a small-ball team is gonna be a lot more reliant on the three pointer.

— Dave Sund (@davesund) January 20, 2018
Biiiig shot by Mitch. If he's hitting, they'll have a chance. Just missed that one-foot fadeaway earlier too.

— Jacob Padilla (@JacobPadilla_) January 20, 2018
This was called a foul on @THeggs_32 pic.twitter.com/lgcZ49vIOQ

— Barstool Jays (@BarstoolJays) January 20, 2018
Toby got called for a foul for getting elbowed in the face. Hahaha. Refs gotta be better and reverse that call.

— Tony Roth (@toneroth) January 20, 2018
Old wrestling trick

— FakeBlueCrew (@FakeBlueCrew) January 20, 2018
That's an MMA play, not a basketball play. If this call stays, just pack the bags and move on to Queens.

— Matt DeMarinis (@mjdemarinis) January 20, 2018
That has to be a foul. That wasn't in his "cylinder," he leaned into Toby's space to clear him out.

— Jacob Padilla (@JacobPadilla_) January 20, 2018
Refs taking a looonnnggg look at the Hegner foul. Fans are booing … I think they switched the call but I couldn't hear b/c of the booing. lol

— Jon Nyatawa (@JonNyatawa) January 20, 2018
LOL a flagrant foul call and a blocking foul on the same play because these refs are just awful.

— Dave Sund (@davesund) January 20, 2018
Creighton 2 of 14 on 2FG but 4 of 7 on 3FG. Cannot buy a bucket or a break inside the paint.

— John M. Bishop (@JohnBishop71) January 20, 2018
Martin made 75 percent of his 2-point FG attempts. So far, the loss of that low-post scoring option is palpable.

— truebluejays (@truebluejs) January 20, 2018
Creighton would be winning by 327 points if they made their layups

— Michael McGoodtweets (@michaelkmcneil) January 20, 2018
Creighton 3 for 17 from 2FG now. Ballock has 2 of the 3.

— John M. Bishop (@JohnBishop71) January 20, 2018
Shooting 29% and only down 3 at the half. I will take it. #creighton

— Patrick Marshall (@wildjays) January 20, 2018
that was a fantastic half of basketball if you regularly watch the big ten and never the big east

— alex sindelar (@crimebait) January 20, 2018
This game is just depressing. Clearly not ourselves.

— Jays Hot Takes (@jayshottakes) January 20, 2018
Jays getting outmuscled on the glass. -7 for the game. Typically not a good sign. Especially for a team not shooting well.

— John M. Bishop (@JohnBishop71) January 20, 2018
#missingTini https://t.co/Yrkdj82Bkr

— Creighton Otter (@creightonotter) January 20, 2018
Loosen these rims

— FakeBlueCrew (@FakeBlueCrew) January 20, 2018
After CU took a 39-38 lead, Providence scored on 6 of its next 9 possessions. Bullock missed 3 WIDE OPEN 3s — or it would have been worse. 52-45 now, PC leads

— Jon Nyatawa (@JonNyatawa) January 20, 2018
Brad's also a big Warriors & Penguins fan #DontBeABrad pic.twitter.com/YxpXrmx0Wr

— Barstool Jays (@BarstoolJays) January 20, 2018
These rims hate us something fierce. #Creighton

— John M. Bishop (@JohnBishop71) January 20, 2018
Their small ball is much bigger than ours…we have to have Toby or Manny out there for majority of minutes.

— Tyler McKinney (@tylersmckinney) January 20, 2018
defense picks up its intensity, khyri takes over, and the jays are right back in it.

— alex sindelar (@crimebait) January 20, 2018
Khyri Thomas has come alive in the 2nd half. 12 of his 15 points. That 3 pulls Creighton within 67-63. 4:52 left. CU's bench is fired up

— Jon Nyatawa (@JonNyatawa) January 20, 2018
Let's. Eff. Ing. Goooooooo

— Creighton Otter (@creightonotter) January 20, 2018
UGH

— Dave Sund (@davesund) January 20, 2018
— FakeBlueCrew (@FakeBlueCrew) January 20, 2018
The missed layups have been maddening for Creighton.

— Nick Bahe (@NickBahe) January 20, 2018
This one hurts. A road loss to a team CU really should have handled. And they lost it because they missed a ton of easy buckets. No excuse.

— Dave Sund (@davesund) January 20, 2018
Creighton came in just 1-4 at Providence since joining the Big East, so a loss at The Dunk isn't overly concerning. But today's interior ineptitude is.

— truebluejays (@truebluejs) January 20, 2018
Anyway, Creighton's gonna be fine. Don't overreact and start saying they're going NIT. Providence was the worst loss on their resume by far.

— Dave Sund (@davesund) January 20, 2018
I really miss Martin

— Bluejay Extra (@bluejay_extra) January 20, 2018
We all do man. We all do https://t.co/sIYn5rFGMP

— FakeBlueCrew (@FakeBlueCrew) January 20, 2018
DREB%: Friars – .825, Jays – .741
OREB%: Friars – .259, Jays – .175

3FG: Friars – 6/18 (33%), Jays – 7/27 (26%)

Cartwright: 20 points, 7 assists, 3 turnovers
Mintz/Alexander/Joseph/Clement: 6 points, 1 assist, 5 turnovers

Providence checked all three of Nick's keys. https://t.co/j6BHzrkftE

— Matt DeMarinis (@mjdemarinis) January 20, 2018
Comments
Tagged in: