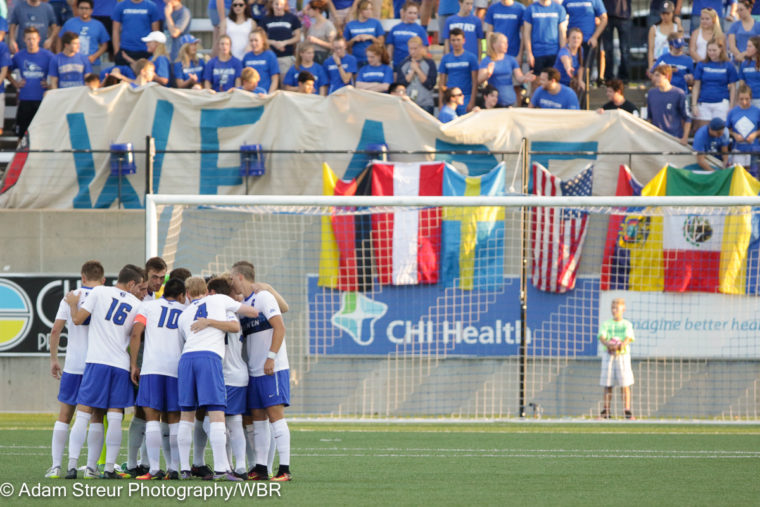 No. 14 Creighton Men's Soccer Blitzes Seton Hall on Homecoming For 4-1 Win
A packed Morrison Stadium witnessed the Jays fall behind early before being treated to an offensive explosion in a convincing 4-1 win to open Big East conference play Saturday night. The Seton Hall Pirates, in the midst of a long stretch of road games, has looked much improved from last season. After taking the 1-0 lead on a free-kick, the No. 14 Blueyays were tested unlike they had been in their previous two home games. They responded with a well-worked goal from Myles Englis before a pair of Riggs Lennon penalty kicks. Ricky Lopez-Espin finished the game off with a late deflected goal just 10 minutes from full-time.
The game opened with Seton Hall asking the questions of Creighton's defense. The Pirates earned a free-kick approximately 25 yards from goal after CU's Lucas Stauffer fouled a Pirate attacker on what could've been a yellow card challenge. Colombian Andres Arcila lurked over the ball and launched a shot into the top left-hand corner of Creighton's goal, beating Creighton senior Alex Kapp at his near post. The shot had surprised Kapp, who looked like he expected a cross to come into the box. The ball was too far to his right to catch up to, and it was 1-0 Seton Hall just 10 minutes into the game.
The Jays fought back instantly, earning corner kicks and even putting a headed cross past Seton Hall goalie Julian Spindler, only for it to be ruled offside by the assistant referee. It was clear what Creighton's intent was. Noah Franke continued Creighton's stellar offensive explosion by going on a run past five Seton Hall defenders only to see his right-footed effort clang off of Spindler's right post. The German keeper was under further pressure as CU's Franke had a shot moments later, ripping one low across his body only to see Spindler collect.
Another great run from Franke made it 1-1 minutes later. The forward wiggled past his defender on the left-hand side of the box before sending it low across goal. His cross found Myles Englis sneaking behind the defense where he tapped home past Spindler. Seton Hall did maintain their shape after Creighton's goal, unwilling to sit back and work the game for a draw. The Pirates always looked dangerous going forward, but lacked the skill to maintain possession. Their crosses always made Kapp uncomfortable throughout the evening, with the senior keeper not looking quite a confident as in recent games against UMKC and Pennsylvania.
Creighton went ahead just before halftime when a Jays cross went to the far post before it was headed back across goal and met a Seton Hall defender's arm in the box. The penalty was rightly given. Creighton's Riggs Lennon made it 2-1 when he took the PK and sent Spindler the wrong way, placing the ball neatly in the bottom right-hand of the net.
The Creighton Bluejays made it a yeoman's performance in the second half, controlling possession and limiting mistakes. The crowd of more than 5,300 was still in for a treat though. Joel Rydstrand nearly made it 3-1 Creighton a few minutes into the second half when his free-kick effort was well-saved by Seton Hall's Spindler. It was a sign of things to come though as Creighton dominated possession and created decent second half chances from Ricardo Perez and Akeem Ward. Ward, the Hastings College right back transfer,  had acres of space all game long, receiving long balls from Bluejay midfielders and putting extreme pressure on the weakened Seton Hall backline.
Creighton forward Myles Englis stayed with a poorly passed ball by Seton Hall before being drug down in the box by a desperate Pirate defender. The head referee pointed to the spot before Riggs Lennon converted his second penalty kick of the game. This time Lennon sent Spindler the opposite way he did the first time, winning the head games and making it 3-1 Bluejays.
It was a night for penalties though as Seton Hall drew a foul in the box looking to pull a goal back in the 67th minute. Bluejay keeper Kapp was up to the challenge, however, as he denied the Pirate penalty taker, guessing correctly and diving to his right to knock the ball forward. The ball was still in play but was then loosely shot back at Creighton's goal only to see Kapp collect comfortably. It was as close as Seton Hall would get the rest of the game.
Ricky Lopez-Espin made it 4-1 Creighton in the 80th minute when he collected a past on the left-hand side of Seton Hall's box and took the shot left-footed, seeing it deflect off of a Pirate defender and into the far, lower corner. Lopez-Espin, while quiet on the evening, gave the Jays their highest goal tally this season in a single game at four. The crowd was also a high water mark for the Jays, their largest of the season and their 7th largest all-time.
The win moves Creighton to 1-0 in Big East play while the Pirates begin league play 0-1. The next game for the No. 14 Bluejays will be against No. 8 Denver on Wednesday at 7 p.m. at Morrison Stadium. The Pioneers have not lost this season, earning six wins as of Saturday night, including a 2-1 win against St. Louis University. Denver will be Creighton's second Summit League opponent this season, having already faced the UNO Mavericks.
Seton Hall continues Big East play when they visit St. John's on Saturday, Sept. 24. That game can be seen on Big East Digital Network at 6 p.m. CST.
Comments
Tagged in: