Number 10: Nate Funk
ED. NOTE: White and Blue Review's series "What's in a Number?" continues today with a look at the best player to wear #10 for the Jays, Nate Funk . To read up on how we arrived at our choice, check out the introduction of the series. Or you can find the entire series here.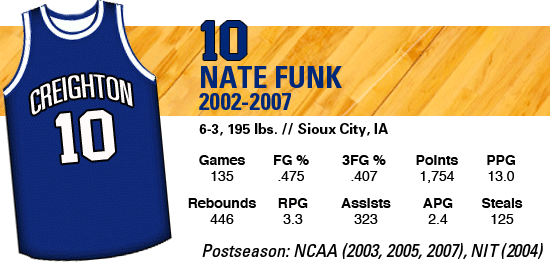 It probably wouldn't be a stretch to say #10 was the most popular souvenir Creighton jersey sold around Omaha during the middle part of the decade, as two of the decade's biggest stars wore the number. Nate Funk scored 1,754 points in his career, good for sixth best in school history, and was a two-time first team All-MVC selection. He played in three NCAA Tournaments, made the MVC All-Tournament team twice, and is one of just three Jays to lead the team in both scoring and assists in a season. Immediately after Funk's graduation, highly-touted recruit P'Allen Stinnett took the number, and his highlight-reel dunks and dynamic athleticism drew comparisons not only to his number's previous owner, but to the leading scorer in school history, Rodney Buford.
If you'd asked someone in the fall of 2008, heading into Stinnett's sophomore season, who would be the best player to wear #10 at the conclusion of his career, I have a hunch more than a few people would have thought P would eclipse Funk. It didn't exactly turn out that way, but looking back, Stinnett still had a heckuva career.
*****
P'Allen came to Creighton from Brewster Academy in Wolfesboro, New Hampshire, where he was one of the best players on the fifth ranked prep school team in the nation. To say he was a highly-touted recruit would be an understatement; a Rivals Top 100 player, he was the highest ranked player to be brought to Omaha by Dana Altman in his 16 seasons, and probably the most heralded recruit since Benoit Benjamin in 1982
Stinnett made an immediate impact upon donning the White and Blue, scoring 23 points — all in the second half — in the season opener against DePaul, leading a furious comeback. It was the most points scored by a Creighton player in their debut since Cyril Baptiste in 1969, and the most in a single half since Kyle Korver in 2002. He was in heady company just one game into his career; fans and media alike buzzed about his talent and what might lay ahead.
Over the rest of the season, he continued scoring points in bunches, often in ways that defied gravity and the laws of physics. He was the first freshman to lead the team in scoring since Rodney Buford in 1996, and his 416 points for the season were just five shy of Rodney's freshman record. After the usual freshman bouts with inconsistency, he earned a starting job on January 12 in a game at Wichita State, and took flight: he scored in double-digits in 18 of the last 19 games. The awards rolled in: Honorable Mention All-MVC, the only freshman on the team; MVC Freshman of the Year and MVC Newcomer of the Year, just the fifth player ever to sweep the two awards; Three-time MVC Newcomer of the Week; one-time MVC Player of the Week; and CollegeHoops.net's High Major Freshman of the Year. The signs of trouble also surfaced: his penchant for arguing had earned him a reputation with referees, and in addition to getting technical fouls at an alarming rate, he gradually stopped getting the benefit of the doubt on close calls. And in a very public meltdown, he threw his mouthpiece into the crowd and was T'd up at a crucial moment in a close game with nationally ranked Drake in the MVC Semifinals, then cursed out the coaches in the huddle.
Those signs were brushed off as the product of an energetic, emotional player wearing his heart on his sleeve, and entering his sophomore season, the league's media showed how little they were bothered by voting him preseason All-MVC — the first sophomore to be so honored since 2001-02. And in the season opener against New Mexico, he managed to top his opening night performance from a year earlier with 30 points on 11-16 shooting. He struggled the next three games, however, and was rumored to suffer a meltdown in the locker room following a road loss to Arkansas Little Rock. Whether the incident happened, and whether he was officially suspended, are open to interpretation. It must be noted, however, that did not play a single minute in the next game, which just so happened to be the showdown with Nebraska in Lincoln — and a close game where his presence could well have meant the difference between a win and a loss. It was the first public sign of friction between the staff and their star player.
Upon his return the next game, he went right back to being P: scoring tons of points and drawing attention to himself with his penchant for arguing calls and showboating for the cameras. His success was undeniable though: he averaged 12.5 points, 3 rebounds and 2 assists a game, and scored 425 total points, putting him on pace to become one of the top ten scorers in school history. The stats were all the more impressive, given that he played the final six weeks of the season with a knee injury that robbed him of his leaping ability. Except for his teams' lack of NCAA Tournament berths, his personal accolades put him on track to be considered among the pantheon of legendary Jays before his time was through.
And then his junior season arrived.
Under a microscope both from the fans and the media for his bombastic on-court behavior, he responded by failing to do the one thing he'd always been able to do: score consistently. Stinnett scored in double figures just seven times, and when he was suspended indefinitely on January 25 following a nationally-televised meltdown that embarrassed many longtime fans, he was shooting a career-worst 40% from the field, averaging just 9.1 points a game, and was on pace to score in the neighborhood of 320 points, a marked decrease over his previous two seasons.
He would never see the court again in uniform, although he would continue to draw attention to himself, whether it was for clipping his fingernails on the bench or for wearing a shirt that read "I Love Me" on the sidelines of one of the CIT games. And when Greg McDermott took over for Dana Altman in April, P'Allen was soon dismissed from the team.
Stinnett finished his Bluejay career as one of just 33 players in the 1,000 Point Club, and will be remembered as an explosive scorer around the basket. He'll also be remembered for the questions of what could have been.
*****
Nate Funk left no such questions. Signing with Creighton in the fall of 2001 out of Sioux City Heelan, Funk scored 1,239 points in his high school career, the most in Heelan history and second-most in Metro Sioux City history behind Kansas All-American Kirk Hinrich's 1,255. Its easy to forget now, but his first year on the Hilltop was the magical 2002-03 season, and Funk was the only freshman to see the floor on that senior-laden team. He averaged 4.7 points, 1.8 rebounds, and was a quiet contributor to the 29-5 squad.
Coming off the bench in all 34 games, he averaged 17 minutes a game — a figure that might surprise many fans who don't remember him playing that big of a role on that team (it surprised me). In the final 15 games of the season, he emerged as a three-point threat, connecting on 42.3% of his three-point shots and averaging almost six points a game during the season's most important stretch. He also hit 2 of 3 from behind the arc in an MVC Semifinal slugfest with a Wichita State team determined to spoil Creighton's dream season, scoring 10 points and helping the Jays avert elimination.
The sharpshooter torch was passed from Kyle Korver to Funk the following year, and he responded by leading the team in both scoring and assists — joining Korver (2001-02), Matt Petty (1992-93) and Kevin McKenna (1979-80) as the only players in CU history to do so. He ranked eighth in the MVC in three-point percentage (42.9%), eighth in three pointers per game (1.66), 12th in assists per game (2.7) and 14th in scoring (11.1 points per game). And he was consistent, making at least one three pointer in each of Creighton's last 10 games, and in 19 of their last 20.
Season highlights included a buzzer-beating three pointer at Fresno State to tie the game and send it into overtime, a game the Jays would eventually win 70-62; hitting a free throw with 3.1 seconds left in regulation at Drake to send the game into overtime, though they would go on to lose in OT; and scoring a season-high 21 points in a win over Evansville in January.
Meanwhile, the Jays had started the season 12-0 and climbed as high as #24 in the polls before losing starting point guard Tyler McKinney to an eye injury in mid-January. They would go just 8-8 the rest of the way, including a quarterfinal loss to Missouri State in St. Louis, and were 20-8 heading into an NIT showdown with Nebraska. In that game, Funk scored 13 points on 4-10 shooting, including 3-6 from long range, but in a harbinger of things to come, missed the game winning shot when his running jumper at the buzzer was blocked by Jake Muhleisen.
Funk took a massive leap forward his junior year, going from the best player on his own team to arguably the best player in the league. He averaged 17.8 points per game, 5.1 rebounds per game and 30.8 minutes per game, all team highs, and ranked second on the team with 2.3 assists per game. His 51.7% field goal percentage and 46.9% three-point percentage both rank among the best seasons in school history in those categories. He was named first-team All MVC, was the runner up for the MVC Player of the Year award, won the MVP of the Guardians Classic, and was named to the MVC All-Tournament team. His 586 points scored are the 12th highest single-season total in school history, and he became the 29th player to score 1000 points in his career on February 28.
His season highlight came during a mid-February week for the ages. First, Funk scored 35 points on 10-14 shooting, including making 12-13 from free throw line and 3-5 from three-point range, in a road win over first place Wichita State on February 16. Then three days later, he scored 20 points on 7-8 shooting, including 5-6 from three-point range, in a 100-68 BracketBuster win over UT-Chattanooga. For his efforts, he was named MVC Player of the Week, and was recognized by ESPN's Dick Vitale as his National Player of the Week.
Following an MVC Tournament crown, the Jays faced off with West Virginia in the NCAA Tournament that March, and Funk came out of the gates swinging. In the opening minutes, the Jays jumped out to a 10-0 lead paced by five points from Funk. The Mountaineers would fight back, and the game would be a back-and-forth affair the rest of the way. With 42 seconds to play and the Jays up by two, Funk was called for a touch foul on a drive by West Virginia's Tyrone Sally. Sally converted both free throws, tying the score. CU had possession following the free throws and held the ball for a shot, milking a seven-second differential on the game and shot clocks. As time ran down on the shot clock, Funk took what appeared to be an open three-pointer, but Sally came out of nowhere to block it. WVU guard J.D. Collins collected the rebound and hit Mike Gansey on his outlet pass, who in turn found a wide-open Sally downcourt for a game-winning fast break dunk with 2.4 seconds left. It was a devastating loss.
Coming into what was to be his senior season, Funk was named a preseason third-team All-American by Street & Smith's, and the Jays were projected to remain at the top of the MVC standings. They rolled Arkansas Pine Bluff 87-55 in the season opener, and then went on the road and blew out eventual Final Four team George Mason 72-52. In the season's third game, Dayton came to Omaha and the two teams engaged in one of the greatest games in CU history. Funk would score 38 points and hit the game-winning shot with 5.7 seconds left in the second overtime period, giving the Jays a wild 91-90 win. He scored nine separate times to tie or put the Jays ahead in the game, including four such instances in the second overtime alone. His 38 points were a career-best and at the time, set a Qwest Center record. It was also the most points scored by a Bluejay since Rodney Buford had 40 against Bradley on Dec. 30, 1998. Funk hit 10-of-21 shots from the floor, 15-of-18 from the line and grabbed six rebounds in 45 minutes.
Four nights later in Chicago, during the waning moments of a loss to DePaul, Funk was injured diving for a ball out of bounds. He would miss a month, and tried to return on December 31 for the MVC opener against Illinois State. Funk played 30 minutes, scoring 13 points on 5-10 shooting, but it was clear to most observers that he was nowhere close to the same player he had been pre-injury. The Jays lost 53-50. Two nights later, he played 30 minutes in another loss, this time to Bradley, 86-69. Funk scored 12 points, but was an abysmal 2-13 from the floor and 0-3 from three-point range, and to make matters worse, he re-injured the shoulder. Funk would have season-ending surgery by noted surgeon Dr. James Andrews on January 5, and applied for a medical redshirt in order to come back for a second try at his senior year.
Funk's return for a fifth season, combined with the emergence of Anthony Tolliver, Nick Porter and Dane Watts in his absence a year prior, contributed to sky-high expectations coming into the next season. The Jays were ranked #19 in the preseason AP poll and #23 in the preseason coaches poll, the first time in school history they'd been ranked before a season.
The team struggled early, falling out of the polls after a terrible loss in Lincoln to Nebraska in their second game. Funk scored 28 points in the loss, hitting 7-11 from three-point range and single-handedly keeping the Jays in the game. The team would struggle their way through the next four games, beating Xavier, George Mason and Arkansas Pine Bluff but losing to Dayton — but didn't look particularly good in any of the games. Funk scored just four points in the George Mason game, a personal low point, but the team low point would come two weeks later in a disastrous loss on the road at Fresno State in what was supposed to be a tuneup for the Rainbow Classic in Hawaii. That loss led to a players-only meeting behind closed doors.
Upon arriving in Hawaii, Funk settled into a groove. He scored 8 points in a Rainbow Classic semifinal win over Houston and Tom Penders smack-talking perm, but it would be the last time all season he would score fewer than 12 points in a game; he'd go on to score 20 or more points in 11 games and double-figures in 31 of the team's 33 games.
After earning the second seed in St. Louis, Funk essentially put the team on his back and told them to ride him to a tournament title. In the quarterfinals against Indiana State, Funk scored 14 points on 5-9 shooting in limited minutes, as the blowout allowed Coach Dana Altman to give him a rest to save his legs. The next night, Funk had the highest-scoring game in Arch Madness history by a Jays player, going off for 33 points in 38 minutes. He made 10-15 from the floor, all ten of his free throw attempts, and 3-6 of his three-point attempts. For good measure, he added 8 rebounds, 3 assists, and 2 steals. On Sunday in the title game against nationally ranked Southern Illinois on CBS, Funk scored 19 points on 9-19 shooting. His 66 points scored in the tourney and 24 field goals are both school records in Arch Madness, and for his efforts he was named MVP of the Tournament.
In the NCAA Tournament against Nevada, Funk played in his 135th and final game as a Bluejay, the most all-time. He scored 23 points on 10-21 shooting, and played 44 of the game's 45 minutes, but his attempt at a game-winning shot at the end of regulation was blocked, sending the game into an overtime the Jays would lose.
For his career, Funk had 1,754 points, which ranks sixth all-time in Creighton history and ranked 31st all-time in MVC history at the time. He ranks fourth all-time in school history with 200 three-pointers made, fourth all-time in school history with an 81.7% free throw percentage, ninth in school history with 323 assists, ninth in school history with a 40.6% three-point percentage, eighth all-time in school history with 621 field goals made, and seventh all-time in school history with 1,307 shots attempted.
He was then, and remains, the best player to wear #10 on the Hilltop.
Also under consideration: Fan favorite Randy Eccker. Eccker played from 1974-78 and fell just short of the requirements in both categories, scoring 421 points and grabbing 189 rebounds while playing in two NCAA Tournaments — including the '78 tourney, where he scored 13 points and dished out nine assists in the Jays heartbreaking first-round loss to #4 DePaul.
Nate Funk Career Stats:
| Season | FG Pct. | Pts | Avg. | Reb | RPG | Assists | Blocks | Steals |
| --- | --- | --- | --- | --- | --- | --- | --- | --- |
| Totals | .475 | 1,754 | 13.0 | 446 | 3.3 | 323 | 25 | 125 |
| 2002-03 | .492 | 159 | 4.7 | 38 | 1.1 | 62 | 4 | 27 |
| 2003-04 | .415 | 322 | 11.1 | 98 | 3.4 | 78 | 7 | 27 |
| 2004-05 | .517 | 586 | 17.8 | 167 | 5.1 | 76 | 10 | 23 |
| 2005-06 | .425 | 102 | 17.0 | 28 | 4.7 | 8 | 1 | 7 |
| 2006-07 | .478 | 585 | 17.7 | 115 | 3.5 | 99 | 3 | 41 |
P'Allen Stinnett Career Stats:
| Season | FG Pct. | Pts | Avg. | Reb | RPG | Assists | Blocks | Steals |
| --- | --- | --- | --- | --- | --- | --- | --- | --- |
| Totals | .439 | 1,024 | 11.8 | 280 | 3.2 | 171 | 16 | 120 |
| 2007-08 | .453 | 416 | 12.6 | 111 | 3.4 | 60 | 9 | 53 |
| 2008-09 | .444 | 425 | 12.5 | 98 | 2.9 | 62 | 3 | 48 |
| 2009-10 | .405 | 183 | 9.15 | 71 | 3.55 | 49 | 4 | 19 |
Comments
Tagged in: