Number 22: Vernon Moore
ED. NOTE: White and Blue Review's ongoing series "What's in a Number?" continues with a look at the best player to wear #22 for the Jays, Vernon Moore. To read up on how we arrived at our choice, check out the introduction of the series. Or you can read about the players you might have missed by checking out the entire list.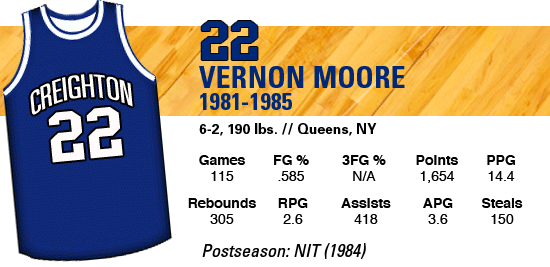 My research of recent Creighton players to wear the "deuce-deuce" and post great careers in a Bluejays uniform brought up three players. Two of the individuals, Michael Lindeman (1999-2004) and Matt Roggenburk (1986-1990), made their presence felt while as a part of the supporting cast to three of the most successful Bluejays of all time: Lindeman to Kyle Korver, and Roggenburk to Bob Harstad and Chad Gallagher.
Lindeman, best known for his heady play and steady effort during three trips to the NCAA tournament and an NIT season, ranks 6th all-time in career three-point shooting percentage. He redshirted in 1999-2000 but played in 123 games during the next four seasons, posting 682 points and 352 rebounds. Plus, he once made 32 consecutive free throws (during the 2002-2003 season), the second-longest streak in CU history.
Roggenburk, similarly a solid shooter from outside, collected 185 3-point makes during his four seasons at CU (5th best all-time). He also attempted the 5th highest total of long-range shots in Creighton history. While Harstad and Gallagher were etching their names in the CU record books, Roggenburk was knocking down outside shots while defenses tried to stop the Dynamic Duo.
He left an indelible mark on the Creighton program during the 1989 Missouri Valley Conference Tournament. With the Bluejays the tournament's top seed, Roggenburk needed to score a career-high 27 points in the quarterfinals against Indiana State to help his team shake an early-game deficit. After spraining his ankle and scoring just 4 points in a semifinal win against Drake, though, Roggenburk had to be cleared by Creighton's Doc Bevilacqua for the championship game. It was a good thing Doc allowed him to play, as Roggenburk hit 6 3-pointers en route to 20 points in Creighton's 79-77 title-clinching win against Southern Illinois. He earned all-tournament team honors, and his two games with 6 3-pointers in the tournament are tied with Korver's 6 treys in a March 4, 2001 loss against Indiana State for the single-most 3-pointers made in a Valley tournament game.
The best to ever wear #22 also played second fiddle to a bigger name during most of his time on the Hilltop. But that didn't stop him from becoming one of the all-time legends to wear White and Blue.
—
Creighton hired Willis Reed when he was a 38-year-old volunteer assistant at St. John's. Set to replace Tom Apke, Reed entered the position late in the recruiting season and needed a guard. So he went back to Queens, New York, and got Vernon Moore.
Sure, that's a simplified version of what was no doubt a long and arduous process to bring the 6'2" Moore to Omaha. But whatever time and energy it took for Reed to bring the guard to Creighton, it was worth it. During his four seasons on the Hilltop, three of which he would share and be overshadowed by Big Benoit Benjamin, Moore became one of the all-time legends of Creighton basketball.
First, the stats (which, of course, never lie). Moore is 9th all-time on Creighton's scoring chart. He improved his points per game average from 7.9 as a freshman, to 12.2 as a sophomore, to 15.0 as a junior, to 21.0 as a senior. Jays fans from any era know that Benjamin was a scoring machine, but in 1984-85, Moore and Benjamin's last seasons at CU, Moore trailed Big Ben's ppg by a miniscule 0.5.
In fact, aside from being a great teammate, a solid passer, and a stout defender, Moore is best known for his shooting prowess. Moore's 659 field goals are 6th most in Creighton history, and his 58.5% field goal shooting percentage is 2nd all-time at CU. As you'll see below, his shooting performance during his senior season was among the greatest in NCAA history at the time.
Moore was also an active free throw shooter, posting the 6th best free throw attempts (503) and makes (356). He accumulated the 5th most assists in Creighton history (418), and the 8th most steals (150).
With Benjamin around, Moore never led the Bluejays in scoring during any of his four seasons at Creighton. But he posted the most assists on the squad in each of his last three seasons and led the team in steals as a freshman and a junior.
—
I was just 4 years old when Moore and Benjamin and Reed began the 1984-1985 season, so I'm hoping some of you who were at the games can comment about the tumultuous and nerve-wrecking season Bluejays fans endured that year. But the research leaves me scratching my head. How does a team with Moore and Benjamin, two of the best statistical players in Creighton history, fail to make the postseason? How does a team that puts together winning streaks of 5 and 6 games sputter down the stretch so badly? And how has there not been more love shown to Moore's career – and particularly, his senior season – in recent discussions about Creighton hoops history?
Moore capped a tremendous career with a senior season for the ages. He scored 671 points (6th highest single-season total in history) in just 32 games, good for a 21.0 ppg average (9th best). He made 265 field goals that season (2nd best), and shot 67.4% from the field (the best). He also dished 159 assists that season (6th best).
The first game of his senior season displayed the best of Moore's talents and skills. He didn't miss a shot, scoring 21 points on 9-9 shooting from the field in just 19 minutes of play against Kearney State. Later in the season, the Bluejays welcomed Digger Phelps and his Notre Dame Fighting Irish to Omaha. Despite missing two days of practice because of the flu, Moore helped lead Creighton to a 60-58 win against the Irish in front of 8,572 Jays fans. He scored 17 points, dished 6 assists, and swiped 3 steals.
One game later, during a loss to Jim Les and the Bradley Braves, he made 8 of 10 shots from the field for 21 points. At the time, Moore was the nation's leading shooter from the field. A few weeks later, in a 115-80 win over Indiana State in Omaha, Moore went 15-17 from the floor and scored 30 points. He left the game with just under 5 minutes to go, to a standing ovation from the Civic Auditorium crowd.
After a 71-59 win against Marquette in Omaha on January 27, during which Moore scored 18 points and Creighton ended a 10-game losing streak to the Golden Warriors, the Bluejays rattled off five more wins in a row. At the same time, Moore was shooting an amazing 70.1% from the field, leading the NCAA in the category and threatening to become just the third player in NCAA history at the time to shoot 70% or more for an entire season.
After posting those 18 points against Marquette, Moore scored 13, 25, 12, and 13 points in the wins leading to a big showdown at home against Wichita State. With his parents in town from New York on Valentine's Day, Moore did not disappoint his loved ones or the CU faithful.
After the Shockers tied the game 53-53, he hit a jump shot with 6 minutes left and then converted a three-point play to give Creighton the cushion it would need to post a 72-64 win against WSU. He scored a game-high 24 points in the first game they had seen him play in person during his collegiate career.
The lead from the next morning's Omaha World-Herald said it all.
When Creighton's biggest game of the season got close, guard Vernon Moore took charge.

"We felt like it was time for him to make a move," Creighton Coach Willis Reed said. "Plus, his mom and dad were here. He's got to show his mom and dad what he can do."
It was arguably the best point in the season for Moore and the Bluejays, who were 20-6 and looking toward a strong finish to the season and a chance to play in either the NCAA or NIT tournaments. But those hopes would come crashing down just as quickly as the 6-game winning streak seemed to materialize.
Facing the daunting task of playing their last four regular season games on the road, the Bluejays relished the chance to make their winning streak 7 games on Senior Night. A standing-room-only crowd crammed into the Civic and gave Moore and his parents a long and loud standing ovation. He led the Bluejays with 21 points against #15 Tulsa, but the Jays dropped the game 78-63. The game featured numerous technical fouls, as well as Creighton fans throwing debris onto the court.
Moore's senior season disintegrated from there, but in no part because of his play. He strung together scoring efforts of 19, 23, 20, and 19 points in the last 5 games of the regular season (all CU losses). His career ended with a stellar 22-point, 7 assist effort in the Valley tournament during a loss to Bradley. And he didn't get a chance to right the ship on the 6-game losing streak, as the NIT selection committee left the Bluejays out of that year's field.
Moore was named to the All-Valley team as a senior, leading the conference in shooting (67.4% from the field). He finished 2nd in the nation in shooting percentage in 1985, and fell a tenth of on a percentage point shy of the NCAA D-I single-season record for field goal shooting by a guard. His 67.4% clip was the 11th best single-season mark all-time in NCAA history.
Moore earned honorable mention for the Associated Press All-American team in 1985 and was selected 58th overall by the Washington Bullets in the 1985 draft. But in a season when Benjamin went 3rd overall in the draft, it was Moore who won the Most Outstanding Player of the Year award for the 1984-85 Creighton Bluejays.
Wherever you are, and whatever you're doing, stop for a second. Raise a glass – of water, of coffee, of your adult beverage of choice – and toast Vernon Moore. The best Bluejays basketball player to wear #22.
Career Stats:
| Season | FG Pct. | Pts | Avg. | Reb | RPG | Assists | Blocks | Steals |
| --- | --- | --- | --- | --- | --- | --- | --- | --- |
| 1981-1982 | .412 | 212 | 7.9 | 63 | 2.3 | 40 | 1 | 37 |
| 1982-1983 | .559 | 306 | 12.2 | 62 | 2.5 | 92 | 5 | 25 |
| 1983-1984 | .595 | 465 | 15.0 | 94 | 3.0 | 127 | 5 | 52 |
| 1984-1985 | .674 | 671 | 21.0 | 86 | 2.7 | 159 | 6 | 36 |
| Totals | .585 | 1,654 | 14.4 | 305 | 2.6 | 418 | 17 | 150 |
Comments
Tagged in: