Number 31: Troy Bell
ED. NOTE: White and Blue Review's ongoing series "What's in a Number?" continues with a look at the best player to wear #31 for the Jays, Troy Bell. To read up on how we arrived at our choice, check out the introduction of the series. Or you can read about the players you might have missed by checking out the entire list.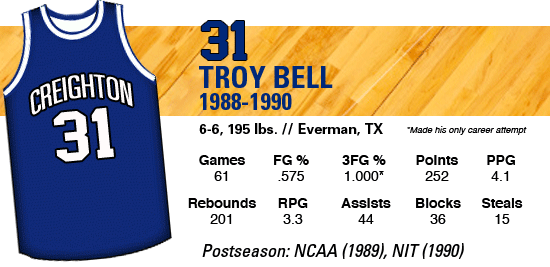 The number 31 isn't a terribly deep field; in fact, it might be the weakest, overall, of any number in the history of Creighton basketball. Seven players have worn it, and all but the most hardcore fans have probably next to no recollection of most of them:
Dave Hickey (1966-69) scored 693 points and grabbed 171 rebounds in 64 games on the late-60s Jays teams, playing alongside Bob Portman. The Jays went 33-43 in his three years, never posting a winning record and never playing in the postseason.
Steve Bergman (1969-70) played one year for the Jays, getting into four games and scoring three point with three rebounds. His brother, Joe, who played for the Jays from 1968 to 1971, had a nice career as he scored 565 points with 376 boards in 64 games (while wearing number 41, if you're curious).
Richie Smith (1971-74), a Jays guard in the early 70s, scored 237 points while playing the role of defensive stopper off the bench in a career that culminated with an NCAA Tournament berth in March of '74.
Paul Dinkins (1974-78) was primarily a practice squad player and saw occasional minutes on two NCAA Tournament teams and one NIT team under Tom Apke. He played in 30 games, scoring 49 points and grabbing 16 rebounds.
Troy Bell (1988-1990) was the third-leading rebounder behind Bob Harstad and Chad Gallagher on the 1989 NCAA Tournament team, led the team in blocks, and started ten games. A defensive stopper whose offense was starting to come around towards the end of his first season after transferring, he suffered a stress fracture in his foot that robbed him of almost his entire senior season.
Zac Claus (1993-94), who played in seven games in Rick Johnson's second season of coaching the Jays into the abyss, scored one point and grabbed one rebound.
Dan Bresnahan (2001-03) was a walk on and practice squad player for two seasons under Dana Altman, playing in 22 games with 9 points and 19 rebounds.
And that's everyone who's worn #31 for the Jays. Of those, Hickey and Bell are only two who qualify based on our baseline of 500 points and/or 200 rebounds, but even those two just barely make it. They played an almost identical number of games (64 and 61, respectively); Hickey scored more points, while Bell grabbed more rebounds. Hickey never played on a winning team, much less in a postseason game; Bell played in both the NCAA and NIT. So who would you pick? Since both were complimentary players, we're going to use team success as the tiebreaker and go with Troy Bell as the best to wear #31.
***
After injuries to both Todd Eisner and Chris Rodgers decimated the Creighton back court in 1987-88, Barone and staff went looking for a JuCo player that could step in and play right away in case those two struggled coming back from injury — or couldn't play at all. They started their pursuit by looking at the top junior college programs in the country, and fell in love with Troy Bell.
Bell was named "Best Defensive Transfer" by The Sporting News in the spring of 1988 following his sophomore season at Odessa Junior College in Texas, where he averaged 14 points and 8.9 rebounds his final season. A member of the prestigious All-Texas Junior College team, he came to Creighton expecting to contribute immediately to what looked to be a team in contention for a MVC title.
In assessing his style of play, his JuCo coach, Dennis Helms, noted to the World-Herald in April of 1988, "He's totally unselfish. He's probably not selfish enough. I just think he will be an ideal player for Creighton. (They) depend on teamwork and hard work. It's everything he does."
Barone noted in the media guide that, "He gives us a young man who has played in a junior-college program that has been totally successful. He played on a team with the best junior-college player in the country, Larry Johnson." Yes, THAT Larry Johnson. Grandmomma. Superstar for Jerry Tarkanian at UNLV, NBA All-Star, Nike pitchman, all-time great. Playing with such talent meant his stats were actually misleading; Tony Barone noted when he announced the signing of Bell, "I think you have to appreciate dramatically his rebounding statistic, because he played on a team with two other exceptional rebounders." One of them averaged 10, and the other 18.1 — so for Bell to manage to average 8.9 is awfully good. Likewise, because Odessa understandably ran their offense through Johnson, Bell was not asked to shoot a lot, so averaging 14 was pretty good.
Bluejay fans first glimpse of Bell left them salivating. He scored 30 points with 14 rebounds in the annual Blue-White Scrimmage, earning praise from Barone and generating excitement among the fanbase. Said Barone in a TV interview in November of 1988, "Troy Bell has been consistently tremendous in his effort since he has been here. He's capable of playing great defense, running the court and going to the glass."
He played in all 31 games his junior year, and his first at CU, starting ten of them. And while his offense was a nice bonus — he averaged 5.8 points a night, and scored in eight or more in 11 games — he was brought in for his defense and rebounding. After all, with Harstad, Gallagher and Duan Cole, the Jays had all the offense they needed most nights. And it was there that Bell excelled, grabbing an average of 4.3 rebounds a game and 133 for the season, both of which were third most on the team. He blocked 26 shots, which led to the team and provided an unexpected wrinkle for opposing teams to game plan for — its not often that a 6'6″ guard is a team's leading shot blocker, after all. And as a ball handler, he was pretty good too, turning it over just 29 times in 585 minutes.
Bell was an absolute stud on defense, usually charged with shutting down the opponent's best scorer and often doing just that. In the MVC opener against Illinois State, he had two mammoth blocks in the final four minutes to stop the Redbirds from generating momentum for a comeback. And he also had a key tip-in of a Bob Harstad miss to put the game out of reach late.
He was a key contributor to that 1989 NCAA Tournament run; though he didn't ever get the accolades, the awards or the notoriety, Bell did a lot of little things that don't show up on stat sheets but are absolutely necessary for successful teams.
Coming into the 1989-90 season, Barone was excited to see how he would excel after a full season in the Jays system. In the media guide that year, he gushed about him. "I think the one thing that stood out last year…was the key rebounds Troy got for us, (both) offensively and defensively. He has worked extremely hard in the weight room and he will be one of the kids that will have a noticeable increase in body weight because of the weight program."
Throughout their Italian Tour that August, the team looked to be even better than the previous season, and Bell was big reason. He was voted as one of the team captains when practice began in October, but not long after, suffered a stress fracture in his foot, a notoriously slow-healing injury. His foot was completely immobilized as the season started, and once he returned in December, struggled to get playing time — and was ineffective when he got it.
The Achilles Heel of that 1989-90 squad was their defensive intensity, and one wonders how much of that can be attributed to the absence of Bell, their lockdown defender and clutch rebounder. An answer came in the final weeks of the season when Bell, finally playing at something close to 100% again, played big minutes in the closing stretch. After averaging three minutes a contest during the first 13 games after the new year, he played key roles in several late season games — including a double-OT win over Wichita State where he scored eight points and grabbed seven rebounds, a performance Barone called "tremendous" while adding, "He rebounded, played defense and did everything he could to help us win."
The Jays would win 21 games, just the second time they had won 20 in back-to-back seasons, and earned an NIT berth. Could they have been even better had Bell not suffered the foot injury? We'll never know.
Career Stats:
| Season | FG Pct. | Pts | Avg. | Reb | RPG | Assists | Blocks | Steals |
| --- | --- | --- | --- | --- | --- | --- | --- | --- |
| Totals | .575 | 252 | 4.1 | 201 | 3.3 | 44 | 36 | 15 |
| 1988-89 | .520 | 180 | 5.8 | 133 | 4.3 | 33 | 26 | 8 |
| 1989-90 | .630 | 72 | 2.4 | 68 | 2.3 | 11 | 10 | 7 |
Comments
Tagged in: