Number 45: Bob Gibson
ED. NOTE: White and Blue Review's ongoing series "What's in a Number?" continues with a look at the best player to wear #45 for the Jays, Bob Gibson. Though there is no debate on this one — Gibson's #45 was retired in 1968 — check out the introduction of the series anyway to see the guidelines for inclusion in this series. Or you can read about the players you might have missed by checking out the entire list.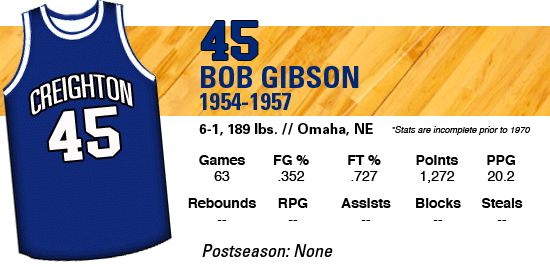 Bob Gibson is an American sports legend — the best athlete to ever come out of the state of Nebraska according to the World-Herald, and a Baseball Hall of Famer. He was the starting pitcher in nine World Series games, recording eight complete games and seven wins, and also set a World Series record by posting 17 strikeouts during Game 1 of the 1968 World Series. That's the Bob Gibson everybody knows: the St. Louis Cardinal pitcher. Its what his autobiographies cover, what his Wikipedia entry details, and what most stories surrounding Gibson talk about.
What's not talked about, generally, is his career on the Hilltop — particularly on the basketball court. Hoping to learn about his time as a Jay, over several days holed up in the microfilm room at the downtown library I painstakingly combed through every single game recap and box score from his hoops career, in an attempt to tell the story of his Creighton basketball career. Its likely that many of these stories have not been published since the early 1950s, so we're really excited about this entry in the "What's in a Number?" series.
***
Gibson was born in North Omaha as the youngest of Pack and Victoria Gibson's seven children. Named for his father, who had died three months prior to his birth, his given name was Pack Robert Gibson. Active in many sports as a child despite suffering from rickets at an early age, as well as asthma, he excelled in two: baseball and basketball. He played those two sports for Omaha Tech High, as well as ran track; he did not play varsity baseball until his senior year, amazingly, and broke the color line in that sport at Tech when he made the team in the summer of 1953.
It was basketball where he really excelled, though, and he was named to the All-State team by both Lincoln newspapers — but not by the World-Herald. As he recalled in 2005, "The World-Herald kind of sucked. Back in those days, it was pathetic. Not wanting to sound like it's sour grapes, but they had a lot of problems voting for black people." When they did write about him, they used adjectives to describe him that are, to be kind, reprehensible today.
That was a common theme in his early career, sadly. Gibson wanted to play basketball for the University of Indiana badly, but was denied — as he wrote in his autobiography, "From Ghetto to Glory," Indiana sent him a letter informing him they already had their quota of black players, so he wasn't welcome. The Hoosiers loss was Creighton's gain: Coach Sebastian Salerno offered Gibson a basketball scholarship, which he excitedly accepted. Again from his autobiography:
"I raced right home and told Mom I was going to college. I never saw her so happy in my life!"
During his freshman season, he was on a bus bound for Oklahoma City as the freshman team was scheduled to play a double-header with the varsity Jays. Segregation was still the rule, and halfway there, his coach gave him some bad news, as Gibson recounted in his autobiography. "He told me I had to stay somewhere else, that I couldn't stay with the team. I was 18 years old, and that might have been the last time I cried. Luckily, we had another guy on the team from Omaha named Glen Sullivan. He told me, 'Don't worry about it Gibby, wherever you stay, I'm going with you.' We went across town, and if the coach would have known how much fun we had, he wouldn't have liked it."
He also played baseball for the Jays, though not as a pitcher — or at least, not very often. At one time or another, Gibson played all three outfield positions, third base, catcher, and only occasionally, pitcher. Occasionally? Amazingly, yes. He only pitched in three games as a Jay, noting in his autobiography that he remembers racking up a fair number of strikeouts during those outings, and that he "could always throw hard and was a little wild and hitters were afraid to dig in there. They just stood there and kind of waved at the ball." The Jays played a short season in the 1950s due to the harsh midwestern winters, and scheduled just 18 games a season, never winning more than they lost.
***
In November of 1954, Gibson was set to make his basketball debut for the Jays. It was the youngest Jays team ever, with the exception of the 1945 post-WWII team that was composed entirely of freshmen. After six days of hard practices, Coach Sebastian Salerno told the World-Herald that "We're fast and willing, but extremely inexperienced." Captain Eddie Cole, who had scored 608 points in 1953 — including 39 against Marquette — was the only returning letterwinner.
On November 27, 1954, Gibson took the floor on the Hilltop and in the process, became the first African-American to play basketball at Creighton. 1500 fans watched as Gibson scored 19 points while playing pesky defense and displaying, as the World-Herald described it, "a clever floor game." Late in the first half, with the score tied 45-45 and just over five minutes to play, Gibson hit a jump shot and assisted on another as part of a 8-0 run that gave the Jays a 53-45 lead. In his debut, he finished with 19 points with seven field goals while going 5-6 from the free-throw line. (One thing to note: no official record of rebounds, assists or field goals attempted/made was kept during his career, and those numbers were not reported in any game recaps, either. So if what follows seems offensive-minded, it is — those are the only individual stats that exist.)
Over the next two weeks, he strung together a series of high-scoring games. On November 29, he scored 10 points in an overtime loss to Morningside; teammate Eddie Cole scored 47 of the Jays 75 points that night. Two days later Gibson scored 16 in an 80-61 loss to Springfield Teachers College (later to be known as SMS and now, Missouri State). On December 2, he had 18 points, including 10 in the first half, though the Jays lost to Tulsa 69-54. And on December 6, he scored 17 points — and Cole had 33 — in a blowout loss to Marquette, 96-68.
Five games into his career, two things were readily apparent. One, Gibson and Cole were a lethal offensive combination — Gibson as a slashing, dynamic player who could create his own shot off the dribble, and Cole as an unbelievable pure shooter. And Two, the Jays as a team were simply not very good.
Wyoming came to Omaha on December 10 for Homecoming, and a crowd of 2800 — HUGE for those days — crammed into the gymnasium. The "Blues", as the World-Herald referred to them in headlines, had a 39-35 lead at the half as Gibson scored 8 points. They looked to be on their way to their second win of the season when he fouled out of the game with over 12 minutes to play, and even Cole's usual hot shooting (he scored 18 points) was not enough. The Jays lost 76-72.
After a road game at South Dakota where Creighton got their second win of the year, the Jays were doomed by cold shooting three nights later when Regis came to town, falling behind early and digging themselves a hole they couldn't get out of. Gibson scored 19, but they Jays again lost, this time 92-84. Their record stood at 2-7.
A trip to Ames was next on the docket, and the Cyclones jumped out to a 47-26 lead as they shot 50% in the first half. The 100 points Iowa State would score were an ISU Armory record, and the first time any team had scored in triple-digits in that gym's storied history. Gibson did lead the Jays in scoring with 19 points, but once again fouled out as Creighton lost 100-65.
Scoring records fell in the next game too — but this time it was Creighton's gym whose records were in jeopardy. A largely student crowd of 1,400 saw Gonzaga score the most points ever in the CU gym with 96. Here's the awesome description by the World-Herald's Howard Wolff:
"Those deadly Gonzaga University marksmen from Spokane riddled the Creightonians for a 96-85 basket ball conquest at the Hilltop rink Tuesday night."
Gibson missed a ton of point-blank shots — again, exact figures were not kept but Wolff estimated it at more than ten — though he finished with 20 points.
Their third win came on January 10 as South Dakota visited. Gibson was deadly with his patented "ram-rod" shot — a bullet toss from 18-20 feet out that was so named by CU Coach Salerno — and had 20 points in the 69-63 victory.
Next up was the Jays hottest rival of the day, the crosstown Omaha University Indians (later to become the University of Nebraska-Omaha, and known as the Mavericks). Despite losing all 13 prior meetings, the Indians considered Creighton their biggest rival and vice versa — and a standing room only crowd of 3600 jammed shoulder-to-shoulder into the Jays home gym to watch. The Jays led 36-32 at the break, but were worried when Cole fouled out just six minutes into the second half.
Never fear: Gibson put the team on his back. He had 23 points, and as the World-Herald described it, was "a whirling madman with the ball." Time after time he "reached hungry fingers to the boards to snare rebounds." Creighton won for the 14th consecutive meeting against no defeats in their series with Omaha University, prevailing 61-59.
A three-week layoff followed. Coach Salerno was worried the inexplicable hole in the schedule would leave the Jays rusty as they traveled to Dubuque to take on Loras. A one-point loss was tough to swallow; so was a 100-73 thrashing at the hands of St. Ambrose two nights later. As they headed home to take on a top ten team in Marquette, they sat at 4-12. The Warriors, on the other hand, were 16-1, ranked #9 in the country, and boasted the best backcourt in America. Their only loss had come to Michigan State, another top team.
The previous year, Creighton and Marquette had split two games with each winning at home. On this night, it once again was highly competitive as both teams made 24 field goals. However, Marquette made an astonishing 40 of 49 free throws (!) and won 88-77 despite making an equal number of baskets. Gibson scored 27 points in defeat. His coach, Sebastian Salerno, told the media afterwards, "Gibson was a raving demon tonight. Our boys played fine ball, probably our best of the season, but it wasn't enough."
Another loss, to Loyola of Illinois, and their fifth win, against Drake, came next. And then came the season finale, against Omaha University.
It was the largest crowd to ever see a basketball game in the city, and the gate receipts — $2580 — meant both schools took home $1000 after expenses, which was also the most ever. The game was a classic back-and-forth affair, with Gibson scoring 26 points to keep the Jays in it. He missed a free throw with just over three minutes to play, leading to a fast break layup that gave Omaha the lead, and would foul out on the next possession. The game was then delayed for several minutes as every player and coach from the Omaha team walked over to shake his hand and congratulate him on a great game. Omaha won, 95-86, their first ever win in the series after 14 defeats.
His sophomore season — the first by an African-American basketball player at Creighton — came to a close with Gibson starting all 19 games, averaging 20.5 points while shooting 40.2% from the floor and 72.9% from the free throw line. The team finished a disappointing 5-14, however, and Coach Salerno resigned in early March.
***
The new coach was Theron Thomsen, who employed a regimented, patterned system of offensive plays that seemed to be a poor fit for Gibson's talents. And indeed, in the season opener against Buena Vista, Thomsen's mass substitution style kept individual scoring down and Gibson had just 13 points. Employing a fierce zone defense, the Jays overpowered their foe and won handily 73-36.
In their second game, Gibson began adapting his game to Thomsen's style — he scored 27 points, which included 11 free throws made in the midst of their stall attack, which featured one possession that lasted 4 minutes and 20 seconds. The Jays won again, 59-44. Against UTEP the next week, the Jays zone defense again kept them in the game. Despite 20 points, Gibson missed two free throws in the final minute that would have given the Jays a lead, and they lost 58-57.
On December 15 against St. Thomas, Coach Thomsen unveiled his new full-court press with Gibson (and his long arms) as the point man. The press, combined with his 22 points, led the Jays to another win, 69-58 as they improved to 3-1 on the season. After the game, Thomsen commented that "I'm proud of the boys…it was a team effort rather than individual brilliance."
Three days after Christmas, the first basketball games ever played at the Civic were held as Omaha University and Creighton held a joint tournament. Chuck Taylor (yes, THE Chuck Taylor) and George Mikan (!) were there to help christen the building for basketball, as were the Governor and Mayor Johnny Rosenblatt. Unfortunately, the Jays came out shooting cold, fell behind East Texas State early, and despite Gibson's attempts to bring them back — he wound up scoring 25 — were not enough as Creighton fell in the Civic's inaugural contest, 64-58.
A string of losses followed. And on February 1, as the Jays traveled to Worcester, Massachusetts to tangle with #14 Holy Cross, they were 7-7 overall. Holy Cross was led by New England legend Tommy Heinsohn — a player who would go on to star with the Boston Celtics — who averaged 22 points, 22 rebounds and 8 assists a game for the Crusaders that season. The game is frequently cited by Gibson as one of his favorite memories; the Jays were blown out by the vastly superior Crusaders, 97-60, but Gibson scored 30 points and fondly recalls his battle with the great Heinsohn. A dejected Coach Thomsen, after the game, told the media that "Holy Cross's patterns made a shamble of our zone."
#13 St. Francis of New York was next on their east coast trip, and the result was eerily similar as the Jays fell 99-75. Gibson scored 18 points in the loss. The Jays would return home on February 17 to take on Omaha University — and as usual in the fierce intra-city rivalry, a full house looked on. 3,114 fans, to be exact, packed the CU fieldhouse and watched the Jays win for the 17th time in 18 games against the Indians. Gibson scored 23 points on a variety of slick moves under and around the basket, to the delight of the crowd, particularly in the first half as his play in the open court helped the Jays build a double-digit lead. Coach Thomsen, he of the regimented, patterned offensive system, grudgingly accepted its brilliance. "The first half was YMCA basket ball with a general scramble prevailing," he noted.
In his junior season, Gibson increased his points-per-game average to 22.0, making 36.8% of his shots from the floor and 73.9% of his shots from the line while starting all 23 games. The team showed vast improvement, finishing at 11-12.
***
In his senior season, Gibson's overall numbers suffered as the talent of the players around him got better — particularly another local kid, Dick Harvey, whose hook shot was practically a lethal weapon. He had his share of great games, though, including scoring 15 points in the season opening win over Westmar.
On January 2 in a game at Gannon University, the Jays were trailing by one point late when Gibson rattled off nine straight points — four field goals and a free throw on five consecutive possessions — to both put the Jays ahead and give them an insurmountable lead.
Later that month, the first of the annual home-and-home series with Omaha University was billed as a duel between Gibson and Omaha's star, Stan Schaetzle. Gibson got in early foul trouble, however, and managed to score just 10 points. Among those points were two of his patented hook shots, and one shot could have been compared to something Julius "The Doctor" Erving might have made, had Erving's career existed as a reference point in 1957. Gibson caught the ball 15 feet out, on the right side of the key, and dribbled into the paint. When he approached the basket, he launched into the air, twisting and changing which hand cradled the ball twice in midair as he crossed under the rim, and laid in a scoop shot off the backboard to the astonishment of fans and the opposing players alike.
He would play his final game as a Jay on March 1, a game against #18 Oklahoma City and their star, Hubert Reed. Gibson scored 17 points in his Creighton finale, though the team lost 97-70.
In his final season, Gibson averaged 17.7 points while making 33.6% of his shots and 70.8% of his free throws. The team went 15-6, their best record of the entire decade, though they missed out on the postseason.
His 22.0 point average as a junior is the fifth-most in school history, and his 162 free throws made that season are the seventh most. He finished with 1,272 points, which was the third-highest total at the time and ranks 18th today. And he was the inaugural member of the Creighton Athletics Hall of Fame in 1968, his #45 retired for posterity. His plaque reads:
Creighton University and its Alumni Association are proud to name Bob Gibson as the first member of the Creighton University Athletic Hall of Fame.

For the outstanding record he achieved while competing in intercollegiate athletics as a member of the Creighton University varsity basketball teams during the 1954-57 seasons and for his constant manifestation of good sportsmanship and team leadership while establishing himself as one of the all-time greats in Bluejay Basketball history.

December 7, 1968, Omaha, Nebraska
After he graduated, Gibson attempted to play professionally — first with the Harlem Globetrotters, where he roomed with Hall of Famer Meadowlark Lemon. "I thought Bob was a better basketball player than a baseball player," Lemon told the World-Herald in 2005. "I think Bob could have played with any NBA team. He was that good."
Gibson, confident as always, agreed with that assessment. "I don't know about being an All-Star," he said in the same article. "But I would have played in the NBA."
In a little-known story, before signing with the Globetrotters for the 1957-58 season, the Minneapolis Lakers had sent Gibson a detailed questionnaire — a job application, in essence — which he "meticulously filled out and submitted. I was excited as hell, but I never heard from them."
After being rejected by the Lakers, he played one season with the Globetrotters, where he realized that style of hoops wasn't the style he wanted to play — so he turned to baseball. And the rest is history.
Career Stats:

| Season | FG Pct. | Pts | Avg. | Reb | RPG | Assists | Blocks | Steals |
| --- | --- | --- | --- | --- | --- | --- | --- | --- |
| Totals | -- | 1,272 | 20.2 | -- | -- | -- | -- | -- |
| 1954-55 | - | 395 | 20.5 | - | - | - | - | - |
| 1955-56 | .368 | 506 | 22.0 | - | - | - | - | - |
| 1956-57 | .336 | 371 | 17.7 | - | - | - | - | - |
Comments
Tagged in: