Creighton's Highest-Scoring Games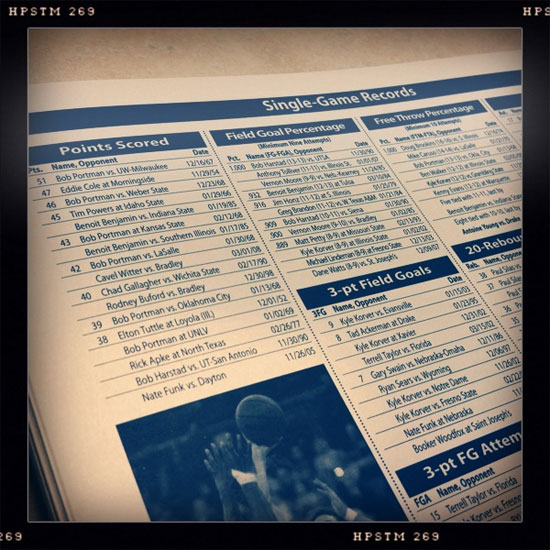 Saturday night, Doug McDermott scored 44 points on 18-23 shooting from the field, 3-5 from behind the arc, and 5-5 at the line. It was the sixth-highest scoring game in Creighton basketball's storied history, which got me curious to learn more about the other five. After consulting the history books, here's the stories behind the other five highest-scoring games in Creighton history.
Bob Portman (51 points, December 16, 1967)
For nearly 20 years, Portman was the leading scorer in school history, recording 1,876 points in his three-year career from 1966-69. His best single-game performance came early in his junior year, when he hung 51 points on Wisconsin-Milwaukee, the only time a Creighton player has scored 50 or more points in a game. He made 16-35 shots from the floor and 19-23 from the free throw line — those who think Creighton runs too much of their offense through Doug McDermott need only look at those numbers to see what it REALLY looks like when a team runs their offense through one player.
The Civic Auditorium in those days, like almost every arena, had a scoreboard that did not display player statistics. That meant that fans — and players — were mostly oblivious to stat totals during the game. Coach Red McManus was keeping track in his mind, though, and had a good idea exactly how many points his junior forward had.
As Portman told the Omaha World-Herald later, during a timeout, "Red told me when I had 40, and my teammates went out of their way to pass to me. If not for them, I would not have gotten it."
Eddie Cole (47 points, November 29, 1954)
Cole, along with Ray Yost and Elton Tuttle, were the Big Three of Creighton hoops in the early 1950s. Tuttle and Yost were the first two Bluejays to surpass the 1,000 point mark, and Cole would be the third. For years, Tuttle was the school's all-time leading scorer, Yost held the season scoring record, and Cole held the single-game scoring record.
That record-setting game came on November 29, 1954, in a road game at Morningside. Cole made 18 field goals and 11 free throws, though the Jays would lose in overtime, 79-75. One of the leading scorers in the country that year, Cole was named Honorable Mention All-American.
Bob Portman (46 points, December 23, 1968)
One year and one week after setting the school record for points in a game, Portman was at it again, hanging 46 points on Weber State in front of 3,311 at the Civic Auditorium. This time, he tied his own school record by making 19 field goals — he was 19-41 and scored 42 points in a January 1968 game against LaSalle — and added eight free throws in a 89-83 loss. Portman also had a team-high 15 rebounds in the game.
Portman owns four of the eleven 40-point games in Creighton history; Benoit Benjamin is the only other player with more than one, doing it twice. A prolific scorer, Portman attempted more shots per game than any player in school history, attempting more than 33 field goals a whopping ten times. He has the second-most field goal attempts in school history, attempting 1,705 shots despite playing only three years. By comparison, all-time leader Rodney Buford took 34 more shots…in 42 more games.
Tim Powers (45 points, January 29, 1966)
Overlapping both the Paul Silas and Bob Portman eras, Powers had one season where he was the team's leading scorer, his junior year of 1965-66. He averaged 21.5 points a game that year, which remains the seventh-highest average in school history, and his 559 points that year remain in the Top 20.
His best offensive game came in late January of 1966, when he scored 46 points in a 104-95 win at Idaho State. Connecting on 17 field goals and 11 free throws, Powers officially emerged from the shadows after playing second fiddle to Silas for his first season. Portman would supplant him as the team's number one scoring option the next year, though Powers still averaged a robust 17.3 points that year. He was drafted by the Minnesota Muskies of the ABA following his senior season, but never played a professional game.
Benoit Benjamin (45 points, January 19, 1985)
Benoit Benjamin (43 points, January 17, 1985)
Creighton's seven-footer had two 40+ point games in his career, and they came three days apart. The first of them came on January 17, 1985, when he hung 43 points on Southern Illinois in a 96-90 win at the Civic Auditorium. It was a tour de force, as the big man was 18-23 from the floor, 7-8 from the line, grabbed 16 rebounds, and blocked 10 shots. For a player with a well-deserved reputation for playing at less than full effort, it showed what he was capable of when playing all out. "I never once quit tonight," he told the media after the game. "I kept telling myself to keep going. I didn't quit until the final buzzer."
Two nights later, he one-upped himself by scoring 45 points in a 115-80 pasting of Indiana State. His line was not quite as absurd as the 43-16-10 line against SIU, but no less impressive: 18-31 from the floor, 16 rebounds, five blocked shots and five assists. Following his second explosion in three nights Benjamin told the World-Herald, "It's kind of hard to explain. I just started to come out and play hard every night, and it's added up."
For the season, Benjamin averaged 21.5 points, 14.1 rebounds and 5.06 blocks a game, and was named an Honorable Mention All-American by the AP.
Comments
Tagged in: