Ott's Thoughts: #21 Creighton 87, Illinois State 78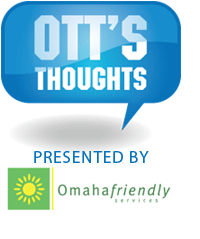 Friday the Thirteenth was anything but Normal in central Illinois. Creighton's trip to Redbird Arena, often a house of horrors for the Bluejays, was beset by a series of events that one doesn't usually see at a CU game: Double technical fouls. Debris tossed from a sold-out crowd to the arena court. The Bluejays blowing most of an 18-point lead. A near triple-double for a Jay. In the rough-and-tumble Missouri Valley Conference, Creighton's trip to Illinois State constituted must-see TV (or, in this case, must-watch webcasting).
In the end, the outcome was as it should be: a comfortable final margin of victory of the Bluejays, who scored more than 80 points for the tenth time in seventeen chances, and the school's sixth true road win (and seventh total win away from Omaha) of the season. But the route the Jays took to notch the victory was tumultuous, at times frustrating, and ultimately representative of this team's positive and negative attributes.
Creighton's second in the country in three-point shooting percentage (45.7%). For a large portion of the win against Illinois State, it seemed the Bluejays couldn't miss. CU finished 10-18 from three, making 55.6% of its long-range shots. If they hit like that from outside, there are few teams nationally that can beat the Bluejays.
Big statement, sure. But when the nation's most efficient scorer has another outstanding evening, it is a completely serious one. And Doug McDermott was on his game again, somehow finding a way to make 9 of his 14 shots from the field against a front line peppered with size and athleticism. He scored 20 points or more for the thirteenth time in seventeen games, and he did so on just 14 attempts.
Couple a star like McDermott who can convert inside and out with guys like Ethan Wragge (14 points on 4-6 shooting from three) and Jahenns Manigat (14 points on 4-5 shooting from long range) who can stretch the defense, and offensively things should be fine. Add outstanding lead guard play and this team goes from good to great. Antoine Young took a few head-scratching shots, but converted more than he missed en route to a 13-point, 5-assits, 1-turnover line. Grant Gibbs was everywhere, putting up nearly a triple-double of points (12), assists (10), and rebounds (7) in a team-high 37 minutes.
Plus Gregory Echenique took care of the low blocks against Illinois State, providing what at times was dominant defense and rebounding against a formidable Redbirds frontcourt. He snared 10 boards and scored 7 points (3-5 from the field), marking his third consecutive double-digit rebounding effort. And aside from giving up some uncontested shots that fell for Illinois State, the Creighton defense did a good job of forcing perimeter jumpers — the Redbirds attempted 32 three-pointers, the most by a CU opponent this season.
So how did the game become, well, a game late in the second half? How did the Bluejays burn through an 18-point lead in less than 10 minutes? Stop me if this sounds eerily familiar. Another bench/role player (this time, Bryant Allen) put up a career night against the Jays (29 points; 8.5 ppg this season). With a chance to put the game further out of reach, the Bluejays missed five free throws in the final two minutes, including the front end of a one-and-one. Add in an absolutely mind-boggling miscue by the officiating crew (a phantom ten-second backcourt violation that defied the laws of mathematics) and a jacked up home crowd desperate to make their use of cheap tickets on a Friday night worth the trip, and once again the Jays couldn't bury a team when they had the chance. That relegated freshmen Will Artino, Avery Dingman, and Austin Chatman to a combined one minute of court time in the second half, eliminating another opportunity to give the more inexperienced players on the bench a chance to gain valuable minutes away from the CenturyLink Center.
But I'm probably picking a nit. Road wins are hard to come by in most D-I conferences, and the Valley is certainly no exception. So when Antoine Young told the media during the post-game press conference that he was just happy to leave Redbird Arena with a victory, I had to agree. How many times have good Creighton teams traveled to Normal and left bruised and battered? Tim Jankovich's teams might not play anyone in the non-conference, but this year the Redbirds have battled in conference games. Entering Friday's game against Creighton, Illinois State's margin of victory or defeat in MVC games was 4.25 points, not including a completely random blowout loss at Southern Illinois on New Year's Day. They've played four of their six conference games so far against the league's four best teams, and are 2-2. They're anything but a pushover, and it was comforting to see Creighton withstand a rally on the road and come away victorious.
And with that, CU moves to 15-2, its best start since going 16-1 to begin the famed 2002-2003 season. Here are a few other thoughts while I ponder an afternoon of watching sports or spending time in the balmy January outdoors in Omaha.
The wins against UNI and at Illinois State have more in common than I first thought.
Ben Jacobsen's Panthers came to Omaha and tried to grind Doug McDermott and the Bluejays to a pulp. Jankovich's Redbirds wanted to run and gun with CU. Creighton managed to win both games. And through one half of the season (which includes at least one game at Arch Madness, and one game in either the NCAA Tournament, the NIT, the CIT, or the CBI), the Bluejays have managed to win almost every type of game imaginable. Sure, CU has won its fair share of blowouts, especially early in the season when games against overmatched opponents are the rule rather than the exception. But they've won grinders against teams determined to give the Jays their best shot (see: UAB, Wichita State, Nebraska), up-and-down affairs against teams who want and try to run with CU (see: Campbell, Northwestern, Bradley, Illinois State), and nail-biters during which the Bluejays trailed by significant margins against good teams (see: San Diego State, Northern Iowa). They've even been humbled twice, once on the road in a game they could have won (see: St. Joe's), and once at home in a game they should have won (see: Missouri State).
Challenges remain on Creighton's schedule. But because of the types of games they've played — and won — to this point, you really can't look at the Bluejays' schedule and pick out any contests they can't win. Road games still remain at Missouri State and Northern Iowa, but the road win at Wichita probably helps the confidence going into those tough environments against good teams. Evansville is struggling right now. And while they can beat anyone in the league, perhaps the road trip to the Aces' new arena isn't as daunting as it was at the outset of the season. A game at SIU Arena isn't what it used to be, let's face it. And while Indiana State and Drake are competitive teams you can bet Creighton will be favored in its road games against those teams.
I'm a firm believer in focusing on one game at a time. But if you haven't circled February 11 on your calendar yet, you best do so now. A sold-out C-Link and a nationwide ESPN2 audience will turn attention to Omaha for a showdown between Wichita State and Creighton. A lot can happen between now and then, but the Shockers and Bluejays enter Sunday tied atop the Valley at 5-1. The Shox want to steal a game in Omaha just like the Jays did at Koch Arena on New Year's Eve. The Jays know they really can't afford another home loss if they want to win the regular season Valley championship.
Doug McDermott is special, but Grant Gibbs is equally as unique.
Friday morning, I jotted myself a note to follow up on. Who was the last Bluejay to average more than 7 points, 5 rebounds, and 6 assists per game in a season? I knew that to find the answer I would have to hand over hours of an afternoon and channel my inner-Rob Anderson, he of Creighton Sports Information Department fame. Grant Gibbs, the inspiration for my question, gave Northern Iowa fits on Tuesday night during Creighton's 63-60 win. He finished with 10 points, 5 rebounds, 3 assists, and zero turnovers. He followed that game with his best performance of the season, scoring 12 points and adding 10 assists and 7 rebounds in 37 minutes against Illinois State. Two points came on technical foul free throws late in the game after he was thrown to the ground by Illinois State's Johnny Hill. But the calm and collected Gibbs, who actually picked up his own technical foul after questioning Hill's motives rather loudly and closely to Hill's face, finished the game just as he had played it all night; under control and deadly in its precision.
No Creighton player has recorded a triple-double since Benoit Benjamin had 29 points, 12 rebounds, and 12 blocks (!) in February 1985. In fact, no other player has any triple-dubs; Benjamin has three to his name, and all of them were of the points-rebounds-blocks variety. That's right, there have not been any traditional points-rebounds-assists triple-doubles by a Creighton player. But if it happens any time soon, it has to be Gibbs who will do it, right?
Back to my initial question. After dropping 10 dimes Friday night, Gibbs is averaging 6.1 assists per game. That leads the team, and puts him on course to be the first Bluejay since 1976-1977 to lead the Jays with more than 5.5 apg (Randy Eccker posted 7.3 apg that year). But while Eccker distributed more than 7 assists per game, he scored just 4.7 points and grabbed 2.7 rebounds per contest. Through 17 games Gibbs scores 7.9 points and snares 4.9 boards per game. So I turned my attention to Ralph Bobik, he of the school's single-season record for assists (252 in 1973-1974) and second all-time at Creighton for assists in a career. As far as I could tell, Bobik's 8.4 apg average in '73-'74 is the best mark in school history. He also scored 8.9 points and grabbed 4.2 rebounds per game that season. It was his second consecutive season of scoring more than 8 points, grabbing more than 4 rebounds, and dishing more than 6 assists a game (8.8, 4.4, 6.2, respectively).
Guards Vernon Moore, James Farr, Latrell Wrightsell, Ryan Sears, and Antoine Young have had great seasons during which they could score, rebound, and guide an offense at the same time. Moore's '85-'86 season saw him score 21 and dish 5 dimes a game, but he only grabbed 2.7 rebounds per game. Farr, Wrightsell, Sears, and Young each averaged more than 10 points per game in the seasons when they led the Jays with 5.0 or more assists per game. But none of them ever grabbed more than 3.7 rebounds per contest.
This isn't to say that Gibbs is the most well-rounded guard at Creighton since Bobik. Not sure that's true. But while everyone gets caught up in Dougie Mania, watching one of the best players in the country — a sophomore for chrissakes — make sure you give Gibbs his due. He's on pace to log the types of numbers that will put him on the short list for greatest seasons by a Bluejay guard. Add to Gibbs' production the steady play of Young, who for the second straight season is averaging more than 12 points and more than 4 assists per contest, and it is clear that while McDermott leads the squad in scoring the team's true strength is its guard play.
Comments
Tagged in: