Ott's Thoughts: Creighton's Trip Through the Hoosier State
Indiana's state motto is "The Crossroads of America," a slogan appropriate for Creighton's trip to the Hoosier State early in Missouri Valley Conference play this season. Like any conference in America, road wins are usually tough to come by in the MVC. And for a team like the Bluejays, one struggling to find any sort of positive consistency through the first one-third of the season, there is no such thing as a good time for a conference road trip.
Thus the crossroads reference. There haven't been many good crossroads lately. The Crossroads Mall in Omaha is all but uninhabited. I didn't watch it, but I've been told Britney Spears' Crossroads might be one of the worst movies ever. Do we really need to go all the way back to 1995's tearjerker "The Crossroads" by Bone Thugs-n-Harmony to find a quality crossroads?! And even that was a downer. Jeez.
ANYWAY … sitting 0-1 in MVC play after losing serve at home against Northern Iowa (for the second straight season), the Bluejays flew east to Terre Haute to take on former CU coach Kevin McKenna's steadily improving Sycamores, then it was off to Evansville to square off with the Purple Aces. The natural Indiana road trip in the Valley, something Creighton has done only twice before: CU swept Indiana State and Evansville in 2003-04 in the middle of the MVC season, and lost to ISU Blue before beating the Purple Aces in 2006-2007. With their confidence shaken, their record poor, and the schedule set to get tougher in the next week, the Bluejays were indeed at a crossroads.
The situation called for must-see TV. But, with no television coverage of the game in Terre Haute, I put the in-arena feed from the Hulman Center up on my flat screen and squinted my way through the first half of action between the Jays and the Sycs. Sure, I could have watched any number of meaningless football games, but I grabbed a cold one and rang in the New Year listening to more missed free throws. Fun times!
Seriously, the game was about as predictable as the yearly New Year's Eve shenanigans put forth by the Major Networks the night before. CU opponent opens up a lead. Jays battle back to tie things up. CU opponent opens another lead using solid play. Jays can't come back, thanks in part to turnovers and horrific shooting from the charity stripe.
Both teams entered the game facing various levels of adversity. For the Bluejays, it was the aforementioned rocky road early in the season, coupled with a morale-destructing home loss against UNI. For the Sycamores, it was losing lead guard Jake Kelly to a knee injury, another setback for a young man just trying to play some basketball. But the Sycs rose to the occasion, making big plays down the stretch and forcing some bad Bluejays shots en route to evening their MVC record at 1-1.
The Jays, on the other hand, continued to miss opportunities to right the ship. Whether it was missing shots, missing open teammates, or making the wrong decisions, the junior class went 0-2 to start a MVC schedule for the second time in their three seasons at Creighton (they also dropped their first two Valley games in the 2007-2008 season).
In a game that saw CU and ISU Blue each shoot 38% from the field and struggle from 3-point range (the Jays shot 16%; the Sycs 25%), the home team outscored the visitors from Omaha 25-19 at the free throw line. Yep, a 6-point difference. Oh, and the Jays lost by 6, 70-64. Both teams assisted on 7 baskets, both teams committed fewer than 10 turnovers, and both had a handful of steals. But failed execution left the Jays winless in Valley play, hitting the road with nothing more than bags full of gear and a bus full of doubts.
—
Then came the New Year's resolutions. When you help run a Web site dedicated to Creighton athletics, you can't just stop watching the games. Luckily, the women's basketball team is firing on all cylinders so far in MVC play, beating the preseason #5 Sycamores on New Year's Eve by 11 points and hammering the preseason #2 Illinois State Redbirds by 25 points Saturday. But Sunday, forced with having to pay for what might become another stinky performance broadcast by a virtually undecipherable Internet feed from Roberts Stadium, I decided to take a step back, enjoy some time with friends who had emotionally invested interest in the final week of the NFL season, and track the game on my phone. I closed my eyes and hoped for the best.
It is almost as if The Powers That Be knew the Bluejays would be struggling mightily coming into the roadie at Evansville, and mercifully kept the Jays off the airwaves on a bone-chilling Sunday in Omaha. So what do they do while I'm watching pro football? Jump out to a 44-32 halftime lead behind 10 first-half points from Kenny Lawson. Naturally. Oh, and they shoot 56% from the field and 55% from 3-point range in the first 20 minutes. Sure they do.
Panon and I kept refreshing our browsers at the bar, hoping to see a 12-point lead continue to grow throughout the second stanza. You can imagine my frustration, then, when two free throws by Ned Cox (seriously?! Ned?!) gave the Aces a 2-point lead with just under 7 minutes to play. Much grumbling and negative flashbacking ensued, thinking about how predictable yet another Bluejays collapse might be.
But then something borderline miraculous happened. The Jays hit a few free throws. Lawson converted a 3-point play. Then Lawson added a layup, and P'Allen Stinnett hit his only shot of the day — a 3 — to give the Jays a 6-point lead, one they would never relinquish. And just like that, instead of folding and taking a 0-3 MVC record back to Omaha, the Bluejays battled on the road and won at Evansville for the second straight season.
Jays fans can thank Lawson in large part for the win. He scored 18 points and grabbed 11 rebounds against the Purple Aces, while blocking a career-high 7 shots. Seriously … 3 swats away from being the first Bluejay since who knows when to record a triple-double. Huge. Simply huge.
The week didn't start great for Lawson. He repeatedly failed to recognize double teams early enough against Northern Iowa and was shut down to just 6 points on 4 field goal attempts in 19 minutes against the Panthers. But Lawson scored 13 points and grabbed 14 rebounds against Indiana State, posting back-to-back double-doubles against the Sycamores and Aces.
Sure, it is a small sample size, but Lawson owns the best rebounding average among MVC players in conference games (10.0 per contest). He's just outside the top 10 in scoring per MVC game, too (12.3 ppg). And you can bet the 7 blocks against UE upped his per game average in that category, too, to a league-leading 3.0 bpg in MVC play.
Lawson leads the MVC in blocks overall this season (22), after leading the league in the category last season (56).  He has 106 blocks for his career, placing him sixth all-time at CU since 1979-1980. Barring injury or him shrinking ala Rick Moranis, he will pass Doug Swenson for fifth all-time (109) and challenge Anthony Tolliver's 136 blocks (fourth highest all-time at CU) and Brody Deren's 138 swats (third highest all-time) this season.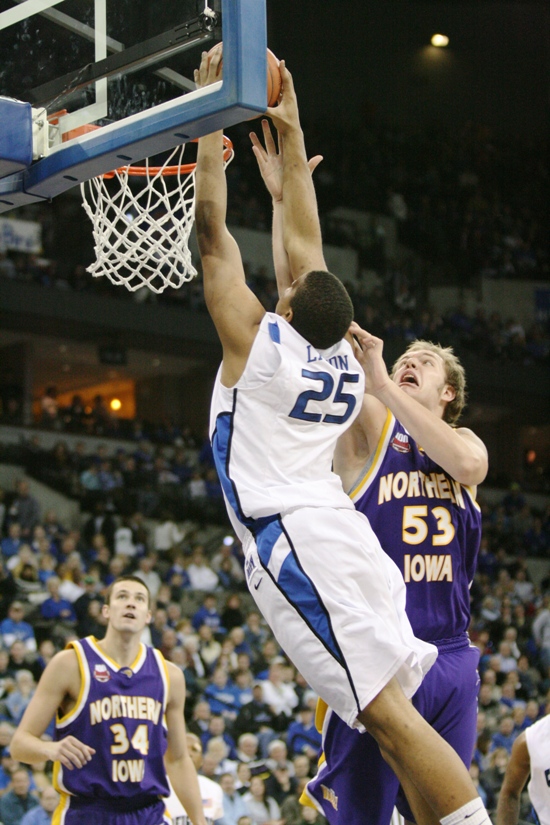 Is Lawson turning the corner and becoming Creighton's go-to guy? For as long as Altman has been at Creighton, the guards have been the Bluejays' most dynamic players (apologies to Tolliver, Deren, and guys like Livan Pyfrom, Doug Swenson, Dane Watts, Mike Grimes, and Joe Dabbert). Are the last two efforts a glimpse at the rest of Lawson's season, or just a fleeting tease of what he could be? A four-year junior, it is time for Lawson to lead this team from the paint. He's smart, motivated, talented, and skilled. But can he lead this team? Double-doubles are nice, but these Bluejays need a Lead Bird. Is Lawson the one?
Drake comes to Omaha on Wednesday, and Lawson and the Jays should have a field day with the Bulldogs. They are dead last in scoring margin in MVC games (-15.0 per game). They're the worst shooting team in the MVC through three games (all losses). And they are last in rebounding margin (-7.7 per game). Still, Drake comes to Omaha having won their last two games at the Qwest Center, something hopefully not lost on the Bluejays. It is critical that Creighton even its record at 2-2 heading into a week that finds the Bluejays battling Wichita State twice and Southern Illinois once. It will be up to Lawson to lead this team one game at a time.
Comments
Tagged in: