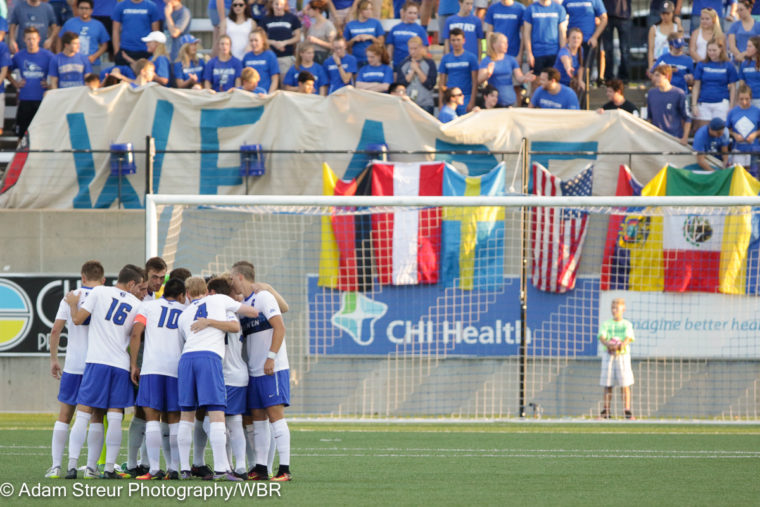 Patience paid off for Creighton's attack in double-overtime win over Grand Canyon
After waiting for just over 195 minutes, and flirting with some historical achievements that they would not want to be remembered for, the 14th-ranked Creighton men's soccer team final found the back of the net on Sunday night to beat Grand Canyon, 1-0, in double overtime.
The Bluejays were held scoreless in Friday night's 2-0 loss to No. 17 Virginia Tech, suffering defeat in their home opener for the first time since 1995, and were a little less than five minutes away from being held scoreless in a second straight match to begin a season for the first time in program history before senior forward Marios Lomis flipped the script on its "head."
With 4:51 remaining in the second overtime period, the grad transfer from the Netherlands, put a header on the end of a corner kick from junior midfielder Joel Rydstrand and redirected it into the left side of the net past Grand Canyon goalkeeper Corey Marques for his first goal as a Division 1 soccer player, and Creighton's first win of the 2017 regular season.
"They didn't put a very tall guy on me," Lomis said of the sequence that led to the golden goal. "Julius [Fohr] told me to get my advantage from my height and that's what I did. I just pushed him a little bit and got my header."
That kicked off a celebration that he didn't think would be possible as the game clock ticked away with no score on the board. Lomis wasn't used to playing overtime periods or chasing a sudden death victory in extra time, so it came as a nice surprise when his teammates informed him that they would have 20 extra minutes to win the match after the end of regulation.
"It's something I need to get used to — I didn't know about the rule," he said. "When we play regularly in our season [overseas] you have your win or your draw … when it was overtime the guys told me it's golden goal, so one goal.

"When my teammates told me [about the overtime rules] I started to imagine what it would be like if I scored the last goal, and I did, so then I just ran off and tried to beat everybody. It's a good feeling."
Lomis' game-winner ended Creighton's scoreless streak of 276 minutes and 53 seconds dating back to the last year's loss to Providence in the Sweet Sixteen.
"We made it harder on ourselves than perhaps we needed to," Creighton head coach Elmar Bolowich said. "Give Grand Canyon credit for being for disciplined defensively. They were very athletic and gave us some problems there, but I thought for as much possession as we had we still didn't quite click on offense. With integrating our forwards I think it takes a little longer than I anticipated.

"Nevertheless you've got to win those games. One way or another you've got to find that one opportunity. That's what we said in overtime — we've got to look for that one opportunity that we get to expose a weakness and hopefully capitalize on it."
Through the first 195-plus minutes of action prior to finally breaking the ice, the Bluejays created a 41-12 edge in shots and 22-6 advantage in corner kicks, but only put 10 shots on frame out of all those opportunities.
"We are happy to have those 40 shots," Bolowich said. "We'd rather have 40 shots for us than against us, but I still think when looking at some of the shots that they are rushed. I think maybe here or there a square pass would have been maybe a little bit better option still to find an open player, and sooner or later the ice will break where we get the early goal, then maybe it's two or three in a game."
In the end, patience and persistence eventually paid off for the Creighton attack.
"The guys were a little bit ahead of themselves, and I think they were very uptight about it," Bolowich added. "But I give the team credit. We just looked for the next play and the next chance, and then finally we were fortunate enough with our substitute coming in and scoring right away."
The win improved Creighton's record to 1-1-0 on the season as they get ready for a West Coast double-header next weekend. On Sunday, they'll wrap up the trip with an afternoon match at California at 3:00 p.m., but first up will be a Friday night date with two-time reigning national champion Stanford.
First touch between the Bluejays and top-ranked Cardinal (1-0-0) is scheduled for 9:00 p.m. at Cagan Stadium. Creighton owns a 4-2-0 lead in the all-time series and most recently bested Stanford, 2-0, in Omaha back in 2014. However, the Bluejays are 0-4-1 in program history when facing a No. 1 ranked team.
Comments
Tagged in: