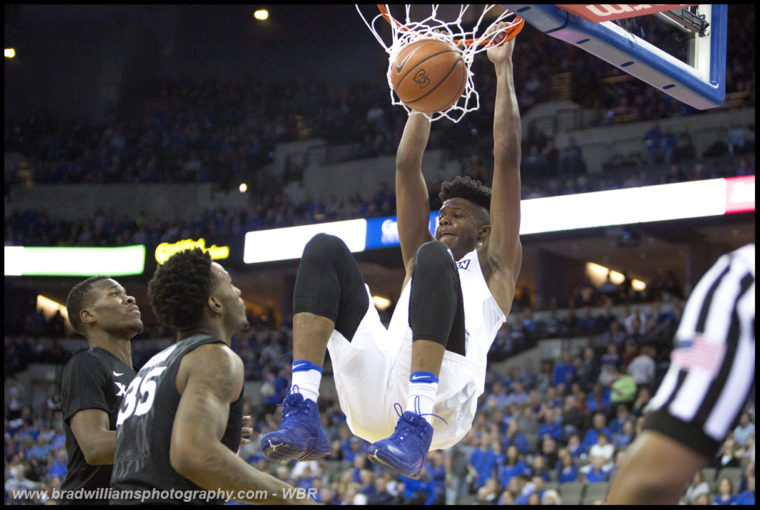 Photo Gallery: #22 Creighton Loses Close One to Xavier
The Creighton men's basketball team had a great opportunity to create some separation from the the rest of the Big East with a victory over Xavier on Saturday afternoon. It looked like they were well on their way at halftime.  However, Xavier cut the halftime lead and pulled ahead in the final minutes of the game.  The Bluejays had turnovers, missed free throws, a missed layup and mental errors in the final minute and could not overcome the Musketeers in an 82-80 loss at the CenturyLink Center.
Marcus Foster led the Bluejays with 17 points, including a three-pointer off a Xavier turnover to cut the lead to one with 50 seconds left.  After another turnover by Xavier, a missed 1-and-1 opportunity by Ronnie Harrell, a split set of free throws from Xavier, and a layup Khyri Thomas had to alter that just missed going in with only a few seconds left, the Bluejays had one final opportunity off a missed Xavier free throw, but the outlet was thrown out of bounds before time ran out.  Thomas finished with 15 points, 6 rebounds and 5 assists.  The Bluejays don't play again until next Saturday at DePaul
WBR"s Brad Williams, Mike Spomer, and Adam Streur were at the CLink on Saturday to capture the game in photos.  Support your local photographers over at the WBR photo store and enjoy the slideshow gallery below.
Comments
Tagged in: