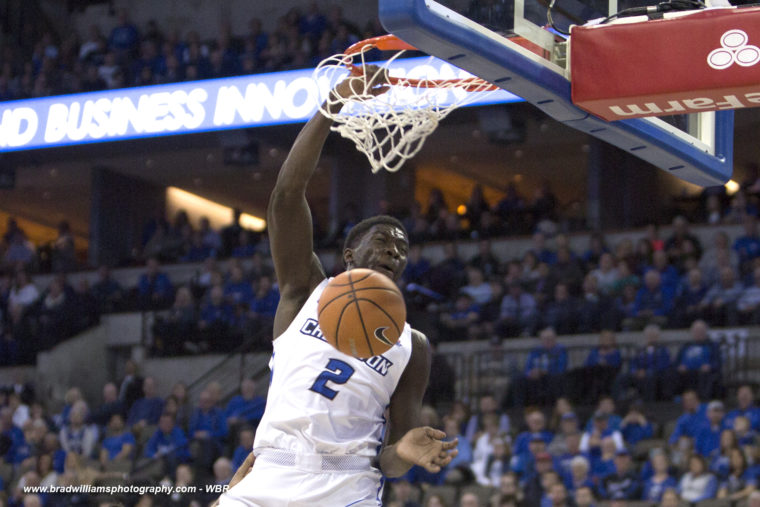 Photo Gallery: Creighton Gets Quality Win over Butler
The Creighton men's basketball team hit the court again on Tuesday night against Butler in a game where the Bluejays had their way with Butler in the first half, but held off a Bulldog team that is used to coming back from double-digit deficits.  Creighton has learned from their past, however,  and made plays down the stretch to close out the game and walk away with an 85-74 victory.
In the first half, the Bluejay offense was flowing as they were able to pretty much take what they wanted.  Marcus Foster scored 21 of his game high 23 points in the first half and the Khyri Thomas led defense made Butler take contested shots.  Creighton went into the half with a 17 point lead and it looked like it was going to be all Creighton.
However, Butler has been known to make second-half comebacks all season and played with a lot more energy and determination in the second half of this one.  The lead was cut to six points late in the game 76-70 when Foster dished one of his 8 assists in the game to Davion Mintz for a reverse layup to put the deficit back up to eight and the Bluejays shut Butler down the rest of the way in another $1 drink fan appreciation night.
Khyri Thomas had 14 points, 3 steals, and 3 assists while Martin Krampelj recorded another double-double with 14 points and 14 rebounds.
WBR photographers Brad Williams and Mike Spomer were on hand to capture the action. Go over to the WBR Photo Store to see all of the photos from the night and in the meantime enjoy the gallery below.
Comments
Tagged in: