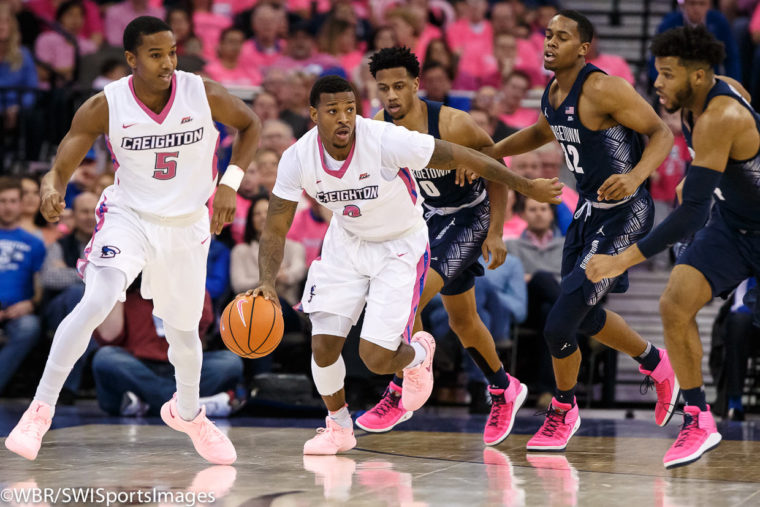 Photo Gallery: Creighton Takes Down Georgetown in Annual PinkOut Game
Marcus Foster and Khyri Thomas combined to score 50 points while Jacob Epperson burned his redshirt as the Creighton men's basketball team hung on to defeat Georgetown, 85-77 in the eighth annual Creighton vs. Cancer Pink Out game.  The sellout crowd of 18, 518 was the ninth largest crowd in Creighton history.
The game was close early as the Hoyas took a lead for a short time in the first half. The crowd roared at the 13:39 mark of the first half as freshman Jacob Epperson checked into the game for the first time this season. He quickly followed it up with the first two points of his career with a slam dunk to really get the crowd pumping.  After some back and forth, the Bluejays finished the final 3:55 of the first half on a 16-0 run and headed into the locker room up 46-33.
Creighton extended the lead early in the second half to go up 16 points with about 13 minutes to go, 57-41.  However, Georgetown came rumbling back and cut the Bluejay lead to one point at 71-70 with 3:32 to go.  Creighton hit their free throws and came up with some great defensive stops to hold of the Hoyas and send everyone home in an event that helps create awareness for cancer with all of the pink in the arena from the scoreboard to the shoes.
WBR photographer Mike Spomer was on hand for the game.  See some of the amazing photos of the game in the slideshow gallery below and then head over to the WBR Store to get your own prints and show support in the battle against cancer.
Comments
Tagged in: