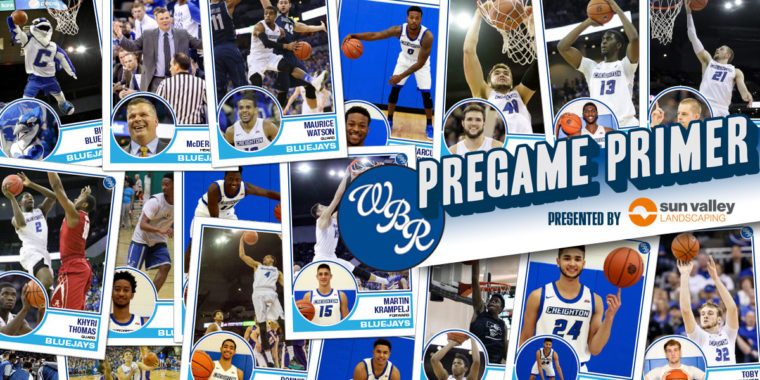 Pregame Primer: #20 Creighton vs Georgetown
Creighton returns home after a two-game road trip to host Georgetown, a team who handed them one of the most demoralizing losses of the Greg McDermott Era last month. The Bluejays lost 71-51 and by all rights should have lost by twice that many; they suffered through a ten-minute span in the first half where they missed 15 of 17 shots, and an eight-minute span in the second where they missed nine of 10 shots. Had Georgetown gotten hot at the same time those droughts were happening? Lord have mercy.
The Hoyas are just as bad of a matchup for Creighton as Seton Hall is, albeit in different ways. They won't kill you on the offensive glass, but their length is disruptive defensively and their backdoor-cut and pick-and-roll-heavy offense is taxing on smaller guards and forwards. Given that, the Hoyas have been a tough matchup for the Jays throughout their four Big East seasons, with their big guards consistently giving CU's guards trouble. The first meeting this year was no different. The Bluejays' point guards, as a collective unit, were really bad — Isaiah Zierden had zero points and zero assists, Davion Mintz had four points and one assist, and Tyler Clement had zero points with one assist.
All three were consistently pushed out away from the basket by Georgetown's defenders and were unable get penetration into the lane. Because they couldn't get dribble penetration, Georgetown's defense didn't have to collapse or scramble, and that meant the other four players didn't have the semi-open looks they're used to. In other words: their defender was in front of them when they caught the ball, instead of closing out on them a split-second later, and that split-second was the difference between the ability to get around the defender to create a good look and having to take a contested shot (or pass it to a teammate who was in the same scenario).
How McDermott and staff scheme to combat that on Sunday will be interesting, because the personnel issues that led to that ugly display in D.C. have not resolved themselves. It stands to reason Khyri Thomas and Marcus Foster will be asked to use their size and length to dribble into the teeth of the defense, and they've both improved in that area since the first Georgetown game. Their ability to do that, and either score or pass it out to open shooters without turning it over, could be the key to Sunday's game.
Defense might be the bigger concern, though. They were torched by Desi Rodriguez and Khadeen Carrington on Wednesday, and pushed around down low by Angel Delgado. That's concerning because the Hoya trio of L.J. Peak, Rodney Pryor, and Jessie Govan combined to score 53 of Georgetown's 71 points in that first meeting, making 22 of 40 shots overall and 5-11 from three-point range. Those three had 15 assists, too, making them directly responsible for 80% of Georgetown's points. If it makes you feel any better, CU isn't the only team those three have torched. When Peak, Pryor and Govan all score in double-figures, which has happened in over half of their games, the Hoyas are 10-1.
Robert Morris transfer Rodney Pryor leads the Hoyas in scoring at 18.3 points per game, and scored 18 in the first meeting to go along with six assists and five rebounds. L.J. Peak is right behind at 16.6 points per game; he had 20 in that first game with five assists. Jessie Govan averages 10.1 points per game, and had 15 in the first meeting thanks to making seven of nine shot attempts in the paint. That's nothing new — Govan had 17 points on 7-9 shooting overall (and 3-3 from three-point range) in the game in Omaha a year ago. Govan is second on the team in rebounding (5.0 per game) and first in blocked shots (just over one per game).
Fortunately, after that ghastly 1-18 shooting performance from three-point range in the first Georgetown game, Creighton has gotten back on track from behind the perimeter. They're 50-97 over their last four games (51.5%), and if that continues Sunday, their margin for error against the Hoyas increases significantly.
Also working in the Jays' favor: despite all their length, Georgetown isn't a great rebounding team. They're +1 on the glass for the year, and have allowed 52 more offensive rebounds than they've grabbed themselves. Opponents get an offensive board on 30.6% of their missed shots against Georgetown, which is awfully similar to Creighton's opponent rate of 31.4%.
Quick Notes on the Hoyas:
In their last three wins, Georgetown has shot at least 53% from the floor. Jessie Govan has scored 19 or more points in all three. They've lost twice in that span, and shot 38% and 43% in those two losses — Govan, perhaps not coincidentally, scored a combined 12 points in the games.
Pryor has scored in double figures 24 times this season, including 13 games with at least 20 points. He leads Georgetown — and ranks third in the Big East — with 18.3 points per game. He leads the team with 5.2 rebounds and is fifth with 1.3 assists. Pryor has hit a team-high 66 3-pointers, which ranks third in the league.
L.J. Peak has scored in double figures in 11 straight games, averaging 17.7 points, 3.6 rebounds and 4.0 assists in that span.
Bluejay Bytes:
Creighton has won each of its last 28 home games played on a Sunday, a streak that is more than a dozen years old. Their last Sunday home loss was on January 9, 2005 to Southern Illinois. The Bluejays are 29-1 all-time at CenturyLink Center Omaha in games played on a Sunday.
Sunday's game vs. Georgetown is already sold out, the eighth straight home game that Creighton will play in front of a capacity crowd. The longest home sellout streak in program history is 12, which stretched from Dec. 22, 2013 to Nov. 14, 2014.
Marcus Foster had a season-high six assists in Wednesday's game at Seton Hall. He has now distributed 22 assists in his last six games after dishing just 32 in the first 20 games of the year. Foster also became the first Bluejay since 2000 to have at least 23 points, six rebounds and six assists in the same game. On that occasion, Ryan Sears had 25 points, eight rebounds and assists at Southern Illinois on January 8, 2000.
The Series:
Creighton is 3-6 all-time against Georgetown, including a 2-1 mark in Omaha. The home team has won the last three meetings.
Greg McDermott is 2-7 all-time (2-6 at Creighton) against Georgetown and coach John Thompson III, while JT3 is 6-2 against Creighton.
The Last Time They Played:
Gratuitous Linkage:
Georgetown will have been off for eight days by the time they take the floor against CU on Sunday. In their last game, they got payback on Marquette for some bulletin board material the Golden Eagles provided them after the teams' first meeting: Marquette's Jajuan Johnson called Georgetown's defense "lazy" in a television interview. The result was one of the Hoyas' best defensive performances of the year, holding the second-best offense in the league 20 points below their scoring average.
What the Other Side is Saying:
If the ninth place Hoyas (14-12, 5-8 Big East) are to win big — not just Sunday at Creighton, but finish the regular season and Big East Tournament with a flourish — they need to play fast, score lots and tighten the rotation.

This edition of the Hoyas under Thompson is about the offense. That's where upside exists. This isn't about analytics. This is based on observation and basic numbers.

This particular team won't win playing ugly. Georgetown is 1-7 this season when scoring 70 or fewer points and the one W, 65-61 over Oregon, was before Thanksgiving.

There probably isn't a single five-man unit Thompson can send on the court with the pure intention of stopping the other team from scoring for two minutes, let alone 40. But put up points and make shots, that can happen. It's what must happen for Georgetown to participate in the true March Madness.
–"Identifying How the Hoyas Can Win Big", CasualHoya.com
This Date in Creighton Hoops History:
On February 19, 2013, Creighton defeated Southern Illinois 59-45 in what would ultimately be the final conference meeting between the two MVC rivals. The Bluejays jumped out to a 12-2 lead after six minutes, but then scored just 47 points the rest of the way as the Saluki defense frustrated them (and the Jays committed a dizzying array of unforced errors — six passes that sailed out of bounds or flew past their intended recipient, and two instances where the ball-handler stepped on the out-of-bounds line).
The star of the game? Will Artino. From the Morning After recap:
If not for Will Artino, it's fair to wonder where the Jays would be sitting this morning. Would they be licking their wounds after a humiliating home loss to the last-place team in the league? I think it's quite possible they would be. On a night when Gregory Echenique wasn't terribly effective — though I can't exactly blame him when he's playing against defenders six inches shorter and 50 pounds lighter, whose only defense is to clobber him — the quicker, nimbler Artino provided a spark off the bench.

Artino did a little of everything. He scored a career-high 13 points on an array of jump shots, layups, alley-oops and post moves. He grabbed five rebounds, including two big offensive boards. He had two assists, including one nifty pass to Nevin Johnson for an alley-oop. Heck, he even had a steal when he literally ripped the ball away from SIU's Davante Drinkard; when he scored a layup on the resulting possession, it was the loudest roar of the night from the 17,000+ in attendance.
Completely Random, Totally Rad Music Video of the Day:
I don't use this video irresponsibly; Archie is reserved for big, must-win games, which this certainly is.
The Bottom Line:
While Creighton fans have tried to block out that first meeting, you can bet the Bluejays themselves remember it well. They also had a special motivational speaker at practice on Friday:
They'll play one of their most inspired games of the post-Watson Era on Sunday, and win by eight.
Bluejays 81, Hoyas 73
Comments
Tagged in: