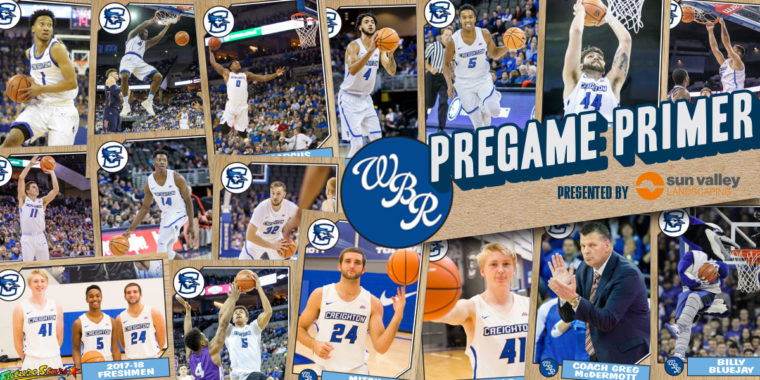 Pregame Primer: #25 Creighton Travels to Spokane for Friday Night Battle with #15 Gonzaga
Over the last 20 years, whenever you took a poll of Creighton fans during the offseason and asked them which opponent they'd like to see on the non-conference schedule, Gonzaga's name was almost always a popular choice. And why not? The two Jesuit schools have enjoyed sustained success in their respective leagues, but the Zags have what Creighton desperately wants: the validation that comes from deep runs in the NCAA Tournament.
Their pedigree is well-known, but let's run it down quick just for fun. Gonzaga has a .841 winning percentage since 2010-11, the best in all of D1 hoops. They've won 25 or more games in 10 consecutive seasons. They've won the West Coast Conference 20 times since 1994, including 16 of the last 17 years. They've advanced to the title game of the WCC tournament every single year since 1998, winning 16 times. They've been to 19 straight NCAA Tournaments, advancing to eight Sweet 16's, three Elite Eight's, and one Final Four in that span.
But this was supposed to be the rare rebuilding year for Mark Few's team. They lost Przemek Karnowski and Jordan Mathews to graduation, and Zach Collins and Nigel Williams-Goss left early to play professionally. That's 59% of their scoring and 51% of their rebounds from four players that each played at least 28 minutes a game last year.
Two starters returned in Josh Perkins (8.1 points, 2.3 rebounds, 3.1 assists a game a year ago) and Johnathan Williams (10.2 points, 6.4 rebounds). Veteran rotational guys Silas Melson (7.2 points and 2.4 rebounds in 23 minutes a game off the bench last season) and Killian Tillie (4.2 points, 3.2 boards in 12 minutes a game) returned with an opportunity to grasp a bigger role. As always, a talented, highly-touted group of newcomers join them, but until they've seen action, those on the outside never really know how those players will contribute.
That's a big reason why coaches in the WCC picked Saint Mary's to win the conference during preseason voting, the first time in 17 years that Gonzaga hasn't been the favorite.
Yet here we are on December 1, and Gonzaga is 6-1, ranked 15th in country, and once again looking like a legit top ten team. They've beaten a Texas team who's just outside the Top 25. They took #7 Florida to double overtime before losing 111-105. And they've blown out everyone else on their slate.
They have six players averaging in double figures, making them a difficult opponent to develop a scouting report for. As a team, they make 50.8% of their shots, in large part because they've (at least so far) been immune from being affected by one or two players having an off night, or an opposing defense shutting down two or three top scoring options. All five starters, plus their top two reserves, average 8 or more points a game, and five different players have led them in scoring through seven games.
Williams has taken a huge step in his senior season, including a mammoth 39-point, 12-rebound game in that 2OT loss to Florida where he made 16 of 22 shot attempts. He leads the Bulldogs in both scoring (16.0 points) and rebounds (7.1), and has made 56% of his shots. The 6'9″ Williams does the bulk of his damage at or near the rim; six out of every ten shot attempts come from close range, with most of those assisted by his teammates. He does have the ability to step out and hit a jumper, though, so defenses have to respect that (making it that much harder to prevent his excellent work around the rim).
6'10" sophomore Killian Tillie is a little more versatile, and equally efficient. He's shooting 60% from the field this year (30-50), while being confident enough to shoot from all three levels. 42% of his shot attempts have been at or near the rim, 34% of his shots have been mid-range jumpers, and 24% have come on three-pointers, and defenses have to respect all three. He's third on the team in scoring (11.0 points per game) and second in rebounds (6.7).
Much like Williams and Tillie, Josh Perkins, a 6'3″ redshirt junior, has also excelled in a bigger role. He's second on the team at 15.6 points per game, has dished out a team-high 32 assists (against just 17 turnovers), and has grabbed an average of 3.4 rebounds per. He's one of the best three-point shooters in the country, making an absurd 56.9% of his shots from behind the arc so far this year. That's no small sample size, either. He's hit on 29 out of 51 from long range, and just seven players nationally have made more. About two-thirds of his shot attempts have been threes, and as you'd expect with a player who shoots so many jump shots, he doesn't draw fouls or attempt many free throws.
A couple of interesting scouting notes on Perkins: 21 of his 75 shot attempts have come in transition, and on those shots, his effective field goal percentage is off the charts at 83.3%. Perkins makes nearly 70% of his threes when he shoots them in transition, so when the Bulldogs are running, defenses absolutely cannot lose track of him. He's not quite as efficient in the half court, but he's still plenty good, and is by far their top option late in possessions. 21 of his 54 shot attempts that have come in their half court offense have been in the last 15 seconds of the shot clock.
Silas Melson, a 6'4″ senior, started a handful of games his first three years in Spokane but was mostly a solid end-of-the-rotation type player. This year he's started all seven games, played the second-most minutes on the team, and attempted the third most shots. That latter number could be a potential concern for the Bulldogs, as Melson's effective field goal percentage of 45.2% is the worst on the team by a fair amount, as are his traditional shooting stats — he's just 23-62 (37%) from the floor overall and 10-35 (28.6%) from outside. If there's a player on the Zags roster you're OK daring to become a volume shooter in this game, it's Melson.
True freshman Corey Kispert has wasted little time getting acclimated to the college game, averaging 10.4 points and 3.7 rebounds through his first seven games, all starts. He plays nearly 28 minutes a game, and the 6'6″, 215-pound newcomer has already become an integral part of their rotation. It's worth noting that he sprained his ankle Wednesday night against Incarnate Word, and though he told the media he plans to play tonight, it's doubtful he'll be 100%.
Rui Hachimura didn't play much as a freshman, but the 6'8″ sophomore has been the Zags' sixth man this year and played nearly as many minutes as their starters. The 6'8″, 225-pound forward from Tokyo has averaged 10.6 points and 5.4 rebounds through seven games this year.
Compounding the problem for Creighton? Gonzaga is not just an elite offensive team, they're also tremendous defensively. The Bulldogs have held 63 consecutive opponents to under 50% shooting from the field. The only time a team made more than half of their shots against Gonzaga in their last 86 games? Saint Mary's in February of 2015, when they were exactly 50% from the floor (25-50) in a 70-67 win — and that was in Saint Mary's gym. It's been three years since someone shot that well in Spokane.
Creighton's a better offensive team than most of those opponents, so it's *possible* they could be the team to break that streak. If not, they'll need to defend well enough to hang around in what should be the toughest road environment they'll see all year — the Kennel is one of the most inhospitable arenas for road teams in the country, and on a Friday night for a nationally-televised game, it'll be extra rowdy.
Are the Bluejays up to the challenge?
---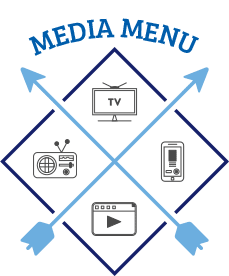 TV: ESPN2

Announcers: Eric Rothman and Sean Farnam
In Omaha: Cox channel 30 (SD), 1030 (HD); CenturyLink Prism channel 30 (SD), 606 (HD)
Satellite: DirecTV channel 209, Dish Network channel 143
Streaming on WatchESPN and the ESPN app

Radio: 1620AM

Announcers: John Bishop and Brody Deren
Streaming on 1620TheZone.com and the 1620 The Zone mobile app

For Cord Cutters
---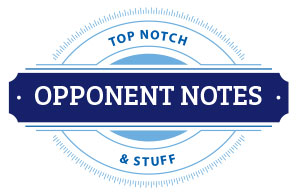 Since the McCarthey Athletic Center opened in 2004, Gonzaga boasts a 182-17 record at home. The Zags' 91.5 winning percentage at home since the 2004-05 season ranks third in the country, trailing only Kansas (.951) and Duke (.926).
Mark Few is the winningest active coach in D1 by win percentage (.817). At 503-113 in 19 seasons, he's the third-fastest to ever reach the 500-win mark. The Zags have made the NCAA Tournament in each and every one of his 18 seasons as head coach.
Gonzaga has shot better than their opponent in 51 of their last 52 games; the only game in that stretch where they didn't outshoot their opponent was last year's National Championship against North Carolina.
---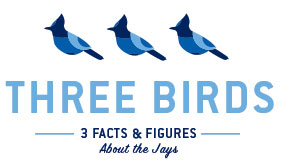 This marks the first defending national runner-up that Creighton has played since February 9, 1980, when the Bluejays beat Indiana State 69-64 in Terre Haute. Creighton is 2-1 all-time against a defending national runner-up, also beating the Sycamores in Omaha on January 17, 1980 and losing to Marquette 64-60 on March 8, 1975 in Omaha.
Creighton and Gonzaga are two of the nation's 15 teams that average more than 90 points per game this season. Gonzaga ranks eighth, averaging 93.1 points per outing while Creighton is ninth at 92.5 points per game. Only seven schools have scored 100+ points three times this year, and GU and CU are two of them (Florida has done it four times).
Creighton is 43-2 when scoring 90 or more points under Greg McDermott, and 3-4 when allowing 90+ points under McDermott.
---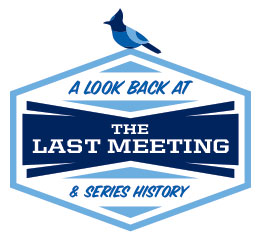 Creighton and Gonzaga have played eight times, with the Bluejays winning six of them, but they've not met since 1977. Tom Apke's Jays traveled to Spokane in January of that year, and used a big second-half explosion to run away with a 100-83 win. Specifically: a 20-2 run to start the half, and then a 11-0 run later in the half keyed by six straight points from Rick Apke.
Apke led them with 16 points, making 7-10 shots from the floor and grabbing three rebounds. David Wesely also had 16 points, while Robert Scrutchens added 14 and Randy Eccker dished out 12 assists.
It was part of a four-game road trip that saw them pick up "W"s at Cleveland State, Bradley, and Centenary in addition to Gonzaga, and oddly, their second trip to Washington State that season — they lost to Seattle University on December 20.
---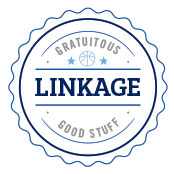 Local TV announcers for Gonzaga's blowout win over Incarnate Word this week, most notably former Zags star Dan Dickau, were upset at the lack of student support at the game. The Spokane Spokesman-Review ran this summary of their on-air commentary:
Dan Dickau, teaming with the usual crew of Greg Heister and Richard Fox, was talking about a different subject but stopped that train of thought and boarded another.

"There are a lot of empty seats, unfortunately, from those students," Dickau mentioned, citing the video evidence. "It's pretty shocking to see, considering you've got the 15th-ranked team in the country and the students aren't showing up and showing out for this Gonzaga Bulldogs basketball team."

Heister then wondered where the students were. Fox figured they were in the library, like he would have been.
Needless to say, Gonzaga students didn't take too kindly to that. The Twitter account for the Kennel Club student section responded:
I hope people don't forget that it's called a STUDENT section for a reason. All of us are students as well. @SeasonsOnTheFly @dandickau21

Not to mention we just collected 180 tenting forms today for the Creighton game Friday!

— Gonzaga Kennel Club (@ZagKennelClub) November 30, 2017
That entire Twitter thread is entertaining — from a professor chiming in to take the blame for giving his students too much homework, to fans defending the students by bringing up the fact that this happens everywhere particularly for mid-week games against zero-buzz opponents like Incarnate Word.
And for what it's worth, Creighton expects a full (and boisterous) crowd Friday night:
#Jays cranking up the tunes at practice to simulate how loud they'll need to be at The Kennel on Friday. D-Rock's "inside voice" still carries over the music.

— Matt DeMarinis (@mjdemarinis) November 29, 2017
Meanwhile, Gonzaga blog "The Slipper Still Fits" wonders if Gonzaga's defense can hold up against Creighton's attack:
"Ken Pomeroy had a really interesting article about Gonzaga's two-point defense. In it, he posits, rather correctly, that the best mark of a team's defense is the two-point percentage, not the three-point percentage. Most teams don't take off balance threes with a hand in the face as a rule of habit. However, defenses can more severely alter the two-point shot during the game. Creighton hits 61.3 percent from two-point. Gonzaga opponents shoot just 39.1 percent. Something has to give.

Part of this means 40 minutes of defense. We can't see the lapses we saw in the PK80 Invitational, such as that abhorrent back to back sleepy transition defense. Creighton loves to push that tempo, and it will be up to the Zags to try and bring it back to their comfort zone."
---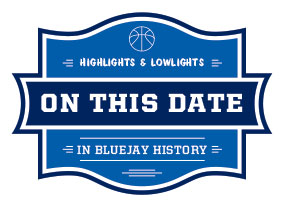 On December 1, 1987 the Jays beat Nebraska-Omaha 61-60 thanks to last-second heroics from James Farr, and a couple of key plays from freshman Bob Harstad. The future Bluejay great rebounded a missed three-point shot by guard Duan Cole and scored to give Creighton a 55-52 lead. Then with 3:26 left, he rebounded a missed free throw by Rod Mason, shot and scored again to give the Jays a 57-52 advantage. UNO took the lead on back-to-back threes by Bryan Leach, leaving the Jays just eight seconds for a last shot. With all 6,217 fans in the Civic Auditorium — and everyone on UNO's bench, for that matter — knowing who would get the ball, Farr took a pass in the backcourt and dribbled through UNO's defense for a layup with two seconds remaining that gave the Bluejays a 61-60 victory.
He told the World-Herald after the game, "Coach Barone told me to get the ball, take it down and penetrate and make something happen if I had the shot take it, if not, penetrate and dish off. Fortunately, everybody stayed with their man, so I just took it to the basket."
Also on December 1, 1999, the Jays traveled to Atlanta to take on Georgia State in the road portion of a 2-for-1 deal. They moved to 3-0 on the season, as junior Ryan Sears was 19 points on 5-of-8 shooting from three-point range and a perfect 4-for-4 free throw performance, along with three assists and three rebounds. Fellow junior Ben Walker contributed nine points along with a team-high seven caroms, although Creighton was outrebounded 33-24 for the game. The game was played in front of a robust 1,031 fans at the Georgia State University Sports Arena.
---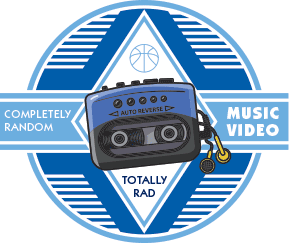 ---
The Bottom Line:
KenPom favors Gonzaga by seven, and so does Vegas. Against an opponent this good, in an environment this tough, that unfortunately sounds about right.
Gonzaga 87, Creighton 80
Comments
Tagged in: