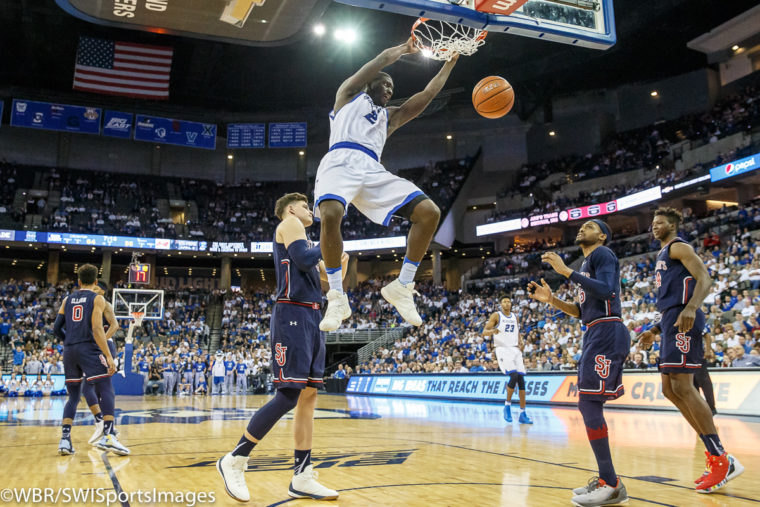 Pregame Primer: Creighton Hosts Nebraska-Omaha in Charity Exhibition
It's been seven months since we last saw the Bluejays in action, and in a pleasant surprise, their return to the court comes a week earlier than expected. Originally slated to play one exhibition against UNC Pembroke next Friday night, Creighton joined nearly two dozen programs who requested waivers from the NCAA for a second exhibition on the condition that all proceeds went to hurricane relief efforts.
Most of these charity games are against local teams to avoid much travel — Marquette/UW-Milwaukee, Kansas/Mizzou, K-State/Missouri State, among others — and most involve pairs of teams who don't ordinarily play each other, despite their proximity. The Jays are no exception, as they're taking on the crosstown Nebraska-Omaha Mavericks for the first time since UNO entered Division 1.
CU has one "unofficial" game under their belts, dropping a closed scrimmage in Minneapolis to the Minnesota Gophers on Sunday 91-79. While that result had some Jays fans panicked, it's worth noting that the Gophers are #15 in the preseason coaches poll, were picked third in the preseason Big Ten poll, and are a veteran team expected to be among the country's best.
Marcus Foster scored 19 points to lead the Jays in that game, which isn't surprising; Creighton's wings will be their strong suit this year, and they'll go as far as Foster and Khyri Thomas can take them. But Martin Krampelj finishing with 16 points, five boards, and two steals was surprising, and promising. There's a proverbial hole in the middle of the Jays' lineup following Justin Patton's early departure for the NBA, and who would take the bulk of those minutes has been one of the biggest question marks of the offseason.
6'11" freshman Jacob Epperson has the talent but not the bulk; ESPN's Fran Fraschilla was in town to watch practice yesterday and said this:
Epperson is 25 pounds & 12 months away from being a national "name." Runs, skills, motor. Dad was star at Toledo. 4 years coaching vs him. https://t.co/PXW5loMZP5

— Fran Fraschilla (@franfraschilla) October 25, 2017
6'10" graduate transfer Manny Suarez is a big body, but probably not a difference maker in a conference as tough as the Big East. 6'10" Toby Hegner has added noticeable size to his frame, and is now listed at 240 pounds in the media guide, but isn't a prototypical big man. Krampelj is the shortest of the bunch, but has the athleticism and toughness to be a solid big man at the college level. He's also been mentioned in multiple reports as the Bluejay who improved the most over the summer, and if that solid line in Minny is any indication, he could be poised for a breakout — and if so, the Jays could be better off inside than they thought.
Point guard is another story. Syracuse transfer Kaleb Joseph was penciled in as the starter entering fall practice, but has been sidelined by a hamstring injury and did not play in the scrimmage at Minnesota. If that injury lingers — and hamstring injuries have a tendency to do that — the point guard corps looks a lot like the group that struggled down the stretch last season because it's the same three guys, with the same issues that plagued them in February and March. Davion Mintz, Tyler Clement, and Ronnie Harrell split point guard duties over the final two months of the season, and all had ups and downs; reports from practice indicate that remains the case. That's likely why freshmen Ty-Shon Alexander and Mitch Ballock have gotten reps at the point guard spot in practice, as CU continues to search for the right answer (though it's likely also because Alexander and Ballock have looked ready to contribute from Day One, and the coaches are trying to find ways to get them on the floor.)
Joseph practiced on Wednesday, so hopefully he'll see the floor tonight, if not with the starting unit then as the first point guard off the bench. Who will the starter be in two weeks on opening night? WBR's Matt DeMarinis has been at practice much of the time this fall, and says it's not clear:
My answer to this changes by the day, so I think I'll wait for the deadline before making another prediction on it.

— Matt DeMarinis (@mjdemarinis) October 26, 2017
Ultimately, for fans exhibition games are about checking out the newcomers and seeing how the returnees have improved. The outcome is less important than the process, and a second game of film against an opponent other than yourself is invaluable. It should be a fun night at the CLink.
---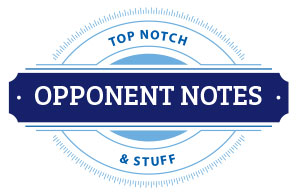 The Mavs and their fans probably wish this game with Creighton came a year ago. They knocked off Iowa on the road 98-89 last fall, and finished with an 18-14 record, coming up *just* short of the NCAA Tournament when they fell by two points in the Summit League Tournament championship game to South Dakota State. Their top three scorers from that team are gone: Marcus Tyus (17.1 ppg.), Tre'Shawn Thurman (13.8 ppg., 7.8 rpg.) and Tra-Deon Hollins (13.4 ppg., 6.5 apg., 3.4 spg.).
They do have two double-digit scorers returning, as Mitch Hahn (11.7 ppg.) and Zach Jackson (10.8 ppg.) will be asked to shoulder the load offensively. But this is definitely a rebuilding year with Tyus, Thurman and Hollins gone; they're picked sixth in the Summit League.
As you probably guessed (if you don't follow UNO and didn't already know), with five players averaging in double-figures a year ago the Mavs play a fast, high-octane brand of basketball. They averaged 83.9 points a game last year and shot 45.4% from the floor and 38.8% from three point range as a team. They were the 13th highest scoring team in D1. Creighton was 20th.
---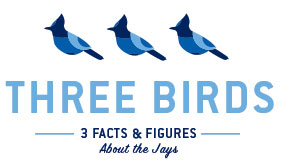 Greg McDermott is 24-0 in exhibition games as a Division I head coach, including a 10-0 mark at UNI, a 7-0 record at Iowa State, and a 7-0 mark at Creighton. All but one of his triumphs has been by double-digits.
Creighton is 33-3-1 in exhibition play since 1994, and has won 16 straight. The only team to beat them over that stretch is Global Sports, back in the days when barnstorming teams of former collegians played exhibition tours; Global Sports beat the Jays in 1999, 2000, and 2003. The tie? That infamous 1994 game where the Dutch National team refused to come back on the floor for a second overtime after a controversial call ended the first OT.
The last time Creighton played UNO (an exhibition in 2009), Ethan Wragge was a freshman on Dana Altman's final Bluejay team, the CLink was known as Qwest Center Omaha, Grant Gibbs was still playing at Gonzaga, UNO was in DII, and Creighton's three current freshmen were 11 years old. (Thanks to Rob Anderson for the fun facts!)
---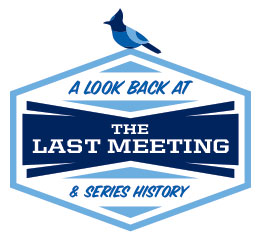 Creighton and UNO have played 43 times in the regular season, with CU winning 40 of them. Throw in the six exhibition games they've played, all Creighton wins, and the series is even more lopsided — 46-3 in favor of the Jays.
Creighton head coach Greg McDermott is 4-4 in games that count against Omaha. He went 3-3 when he was at Wayne State from 1994-2000, and split two meetings in 2000-01 while he coached at North Dakota State.
The most recent regular season meeting came on November 30, 1995, when Creighton beat the Mavs 74-71. Of Omaha's three all-time wins in the series, the most recent came in 1982 when they defeated the Jays 56-45.
---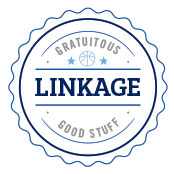 NBC Sports' Rob Dauster put out a list of the country's top off-guards, and two Bluejays made the cut: Marcus Foster at #4, and Khyri Thomas at #12. Of Thomas, he writes:
"At 6-foot-3 with a 6-foot-10 wingspan, Thomas is built to be a 3-and-D wing. He's one of the best perimeter defenders in the sport and shoots right around 40 percent from beyond the arc. He'll play in the NBA."
That same site listed Thomas as the 67th best player in college basketball, which is great…except they listed Kelan Martin of Butler at #63 despite Thomas eating his lunch on a routine basis. But that's getting off on a tangent.
---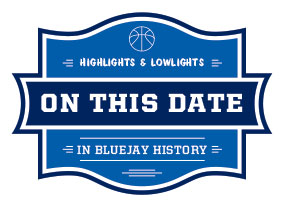 CU has never played a game, exhibition or otherwise, in the month of October. So let's look back instead at a previous exhibition game against UNO — specifically, November 9, 2003, when the Bluejays played their first-ever game at CenturyLink Center.
UNO led 31-27 at halftime and by 14 points with nine minutes left in that game, using a 15-4 run to open the second half to break the game open. Creighton rallied to force overtime, as Jimmy Motz hit a three-pointer to ignite an 18-2 run. Kellen Miliner hit back-to-back threes at the end of the run, as the Jays pulled to within two. A pair of free throws by Michael Lindeman with 26 seconds left forced OT, and in the extra period Brody Deren put the Jays ahead for good with a thunderous dunk in the final minute. Johnny Mathies iced the game with four free throws down the stretch, and CU escaped 72-66.
The locker rooms told two vastly different stories. Lindeman told the Omaha World-Herald that "Tonight showed us that if we don't come to play hard, it's going to be a long year. We know that by no means are we more talented than the teams we play. Our program has been built on playing hard and getting after people. If we don't do that, it's going to be a long year."
Meanwhile Mavs coach (and former Bluejay great) Kevin McKenna had a different opinion. "I told our guys that if they compete like that every night, they're going to like the kind of year we're going to have. I thought we played with great effort tonight. If we can compete like that every time out, we are capable of having a good year."
---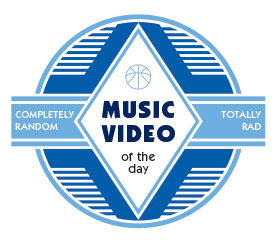 I see on Twitter this morning that on this date in 1985, the Miami Vice Soundtrack was released. I'd embed Glenn Frey's "Smuggler's Blues" — the guitar riff has been stuck in my head since I saw the tweet about the soundtrack's anniversary — but his music isn't allowed on YouTube.
So instead of bluesy guitar riffs, we'll settle for thunderous drums, gratuitous closeups of Phil Collins' head, and some amazing early-1980s video filters.
The Bottom Line:
In a high-scoring, fast-pace game, Creighton simply has more firepower.
Jays 93, Mavs 79
Comments
Tagged in: