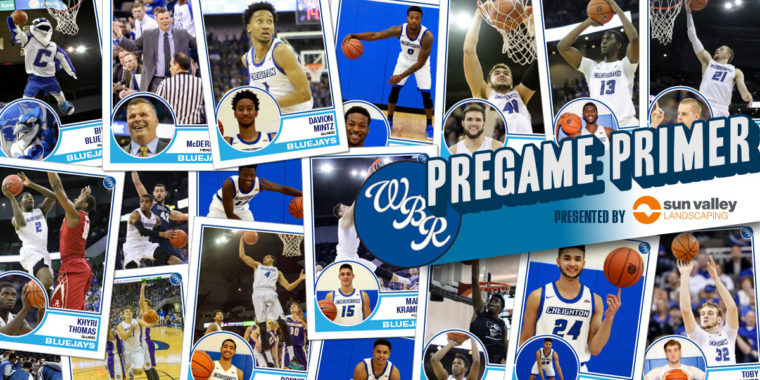 Pregame Primer: Creighton's Seniors Look to Pick Up One More Home Win in Finale vs St. John's
Since these teams first met in early January, St. John's has staged a bit of a revival, and after a win over Georgetown on Saturday they're 7-9 in the Big East. That puts them right behind the four-way tie of teams in fourth place (Marquette, Xavier, Providence and Seton Hall, who are all 8-8), poised to make a giant leap if they can find a way to win their final two games. Even if the most likely scenario is for them to finish 8th, the vibe around Chris Mullin's program is vastly different than it was two months ago — they're trending up, and there's excitement surrounding them again.
A big reason for that is the continued development of freshman sensation Shamorie Ponds. He's been named Big East Player of the Week five times this season, including this past week following a 24-point game against the Hoyas, and thanks to that performance he became just the third freshman in St. John's history to score 500 points in a season. If someone other than Justin Patton wins Big East Freshman of the Year, it'll be Ponds, and though my vote would go for Patton, it would not surprise me in the least if Ponds takes home the hardware.
He's been terrific for the Johnnies, scoring 20 or more points 10 times this year. Ponds is just nine 3-pointers shy of D'Angelo Harrison's program record for three-pointers in a single season (76), and ranks fourth in the Big East with his 67 makes so far. In the first game against the Bluejays, Ponds scored 17 but was just 1-5 from three-point range; he was 5-8 inside the arc, but for most of the night found driving inside on the Jays to be tough sledding.
Joining Ponds in the backcourt is redshirt freshman Marcus LoVett, who's their second leading scorer at 16.9 points per game. Like Ponds, he's been a consistent scorer, logging 20 or more points nine times and scoring in double figures in 24 of the 26 games he's played. The backcourt duo of Ponds and LoVett combine for 42% of St. John's points per game, and they both play around 33 minutes a game. While Khyri Thomas will defend (and likely shut down, or at least contain) one of them, Davion Mintz or Isaiah Zierden will have to defend the other. Keeping the guard Thomas doesn't defend from going off for 30+ could well be the key to the game, because they're among the most capable three-point shooters in the league.
That's also because while St. John's has terrific players in the backcourt, they're thin up front. Tariq Owens (67 blocks) and Kassoum Yakwe (59 blocks) headline a front line that leads the Big East in blocked shots, and their best defense is often to simply swat away an opponent's shot. Neither is much of a threat offensively, both because their guards struggle to get them the ball, and because they're just not all that great at scoring the basketball; as a result Owens and Yakwe both average about three shot attempts a game each. Not made shots. Attempts. The Red Storm post players barely try to score, much less do it.
Owens is 6'11" but just 200 pounds, and Yakwe is 6'7″, 210. Neither were effective against Justin Patton the first time around; Patton scored 25 points on 11-14 shooting, and had nine rebounds, four assists, a block and a steal. Five of his 11 baskets came on dunks, as he took away the option of a block by simply dunking over, around and on top of the Red Storm's smaller frontcourt.
If Owens can't play tonight — and the New York Post's St. John's reporter Zach Braziller doubts he will with an ankle injury — that basically leaves Yakwe and the 6'7″, 210-pound Bashir Ahmed to deal with the post defensively.
As it was in the first meeting, the key tonight is to keep Ponds and LoVett from torching the nets from outside, or barring that, for Creighton to make enough themselves from the perimeter to cancel out the scoring of Ponds/LoVett. CU had a marked advantage inside with Patton offensively in the first game, and with Owens likely out, that should give Patton an opportunity to shine once again.
Unsurprisingly, given their lack of size, St. John's is minus-3.9 on the boards overall and minus-1.7 on the offensive glass per game, so there should be opportunities for Creighton to run in transition. If they can get Patton rolling early and hit some shots from outside, the Jays' seniors will celebrate their final home game with a win.
Quick Notes on the Red Storm:
With 254 made 3-pointers on the year, the Red Storm has already shattered the old single-season school record of 226 set in 1998-99. This season, the Johnnies' ability to come away with a win has often been decided by their performance from beyond the arc. In the team's 13 wins, St. John's is averaging 10 made triples per game and converting at a 45.8 percent clip; in the squad's 16 losses, the Johnnies are averaging 7.8 made shots from distance and hitting just 31.9 percent of their chances.
In their win Saturday, St. John's forced 22 Georgetown turnovers while committing just nine of their own. The Johnnies increased their Big East-leading turnover margin to +3.6 in conference play. The Red Storm has surrendered fewer than 10 turnovers on six occasions this season and the roster boasts three players (Shamorie Ponds, Marcus LoVett and Malik Ellison) with an assist-to-turnover ratio of 1.4 or better.
Bluejay Bytes:
Marcus Foster had 25 points and eight assists on Saturday at Villanova, sinking 6-of-9 three-point tries. In the process, Foster became the first Bluejay with at least eight assists in a game with six or more three-pointers since Duan Cole on January 8, 1991 against Iowa State. Foster has averaged 25.3 points, 5.3 assists and 4.5 rebounds per game in CU's last four contests. In that time, he's made 50.7 percent of his shots from the floor, 51.9 percent from three-point range, and 75 percent at the line.
Creighton is 19-2 in the last 21 years in its final home game of the regular-season, losing only in 2002 to Drake, and in 2015 to Xavier. Each of the last 17 Creighton teams to win on Senior Day would go on to reach the postseason.
Some records to keep an eye on tonight:

Marcus Foster is currently tied for third in CenturyLink Center Omaha history with 103 three-pointers attempted in a season, three behind the mark shared by Booker Woodfox and Doug McDermott.
Justin Patton has made 69.2 percent of his career field goals attempts at CenturyLink Center Omaha, second only to Geoffey Groselle's .706 (127-180) from 2012-16.
Justin Patton has made 69.3 percent of his overall field goal attempts, trailing only Geoffrey Groselle's .702 (146-208) in 2015-16, among players with 200 or more attempts in a single-season.
Cole Huff has made 47.7 percent of his three-point attempts this season. That ranks fifth-best in school history, but within reach of Doug McDermott's 49.0 percent in 2012-13.
The Series:
Creighton and St. John's have split 14 all-time meetings, but the Bluejays are a perfect 5-0 against the Red Storm in Omaha. Creighton has won the last three meetings, all by double-figures, including an 85-72 wire-to-wire win in Queens earlier this year and a 100-59 victory in Omaha last year on CU's Senior Day.
Greg McDermott is 5-2 against St. John's and 3-0 against Chris Mullin.
The Last Time They Played:
On January 4, Creighton won 85-72 at Carnesecca Arena in Queens. Ponds and LoVett combined for 40 points, but Patton's 25 for CU were too much for the Red Storm to overcome. From the Morning After:
Eleven seconds into the game, the Jays ran an alley-oop for Marcus Foster for their first points. Moments later, Cole Huff blocked St. John's very first shot attempt ten feet out of bounds. After 30 seconds of game time, it was obvious: Creighton intended to exert their will at the rim on both sides of the court, and St. John's was going to need to rain in jump shots to keep up.

The Bluejay defense didn't even allow them that. St. John's missed their first six shots, all heavily contested — three mid-range jumpers and three 3-pointers — and with the CU defense keeping them out of the lane, just two of their first 22 points came inside, and they had just six points in the paint by halftime.
Gratuitous Plugs to Other Terrific WBR Content:
In case you missed it, we produced individual highlight reels for the three seniors to be honored tonight. You should check them out!
And in the latest edition of our podcast (presented by Lawlors Custom Sportswear), the guys talk to Jim Flanery about the women's basketball team's Big East title, and to Justin Patton and Khyri Thomas about all things men's basketball.
This Date in Creighton Hoops History:
Last year's final home game also came against St. John's, and was also on February 28. The 100-59 win was the largest in CU's final regular-season home game of any season since 1961, and as WBR's Matt DeMarinis wrote, it was "so one-sided that Chris Mullin didn't even stick around for the final buzzer." With his team down by 33 points six minutes into the second half, he drew his second technical foul and then had to be restrained by several of his assistants while he unleashed a profanity-laced tirade towards the officials.
The Bluejays were led by their two seniors, center Geoffrey Groselle and shooting guard James Milliken. Groselle finished with 22 points and 11 rebounds on 8 of 9 shooting from the floor to post the first double-double by a Bluejay senior on Senior Day since Randall Crutcher had 13 points and 10 boards in a 59-58 win over Wichita State back on February 20, 1997.

Milliken added 19 points and four of his five 3-point attempts to finish behind only Groselle for the game's leading scorer.

"I'm proud of these two guys," McDermott said. "You only get one senior day, and to have them both play at a high level today the way that they did, and set the tone for the game from the onset, was really good to see. Like I told them in the locker room, they'll have a lot of great memories from today."

One memory the the two seniors thought about making before the game was to join the list of 40-point performances that have been posted on Senior Day's past at the CenturyLink Center. Since it was going to be difficult for either of them to do that on their own they decided to add a little twist.

"James and I talked before the game that the only 40-point games in the CenturyLink's history have been on senior night," Groselle said. "We decided that we weren't going to be able to get 40 individually, so we said we have to get 40 as a team, me and him. We went out there and did that today. My teammates did a great job of getting me the ball. James was hot early. It was a great team victory."
Completely Random, Totally Rad Music Video of the Day:
The original version of the Isaiah Zierden Career Highlights video that we published yesterday had Kanye West's "Stronger" as the soundtrack, but unbeknownst to me, he does not have a monetization agreement with YouTube and they mute the sound on any videos that use his music. So if you watched the video yesterday and it was silent, that's why! There's a Z 2.o video today with actual music (a Pitbull track titled "Green Light" because I'm a sucker for bad puns and Z, to his credit, has rarely seen a three point shot he didn't have the green light to take). But it's the last time we'll watch the Bluejays at the CLink until next November, so let's play the Kanye track they took the floor to for several seasons.
The Bottom Line:
KenPom pegs this as a 13-point Bluejay win, and Vegas has the Jays as an 11-point favorite. I think both are conservative.
Creighton 86, St. John's 69
Comments
Tagged in: