Preview: Omaha Summer Metro Basketball (7/1/13)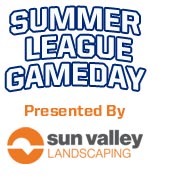 Monday night marks the third week of Metro Basketball League action. Week Two featured a lot of close games, which kept fans in attendance on their toes.
Creighton fans were excited to see Isaiah Zierden continue to tear things up in the league. He scored 44 points last week, including the game-winner.
NOTE: tonight, games will take place at 7, 8, and 9 P.M.
Here are the matchups for Week Three at the Omaha Sports Academy.
Game of the Night:
9:00 p.m. (Court 3) Zurlo's (1-1) vs. Narmi Group @ Baird (0-2)
Bluejays to Watch: Isaiah Zierden, Ross Ferarrini, Nick Bahe, Matt Dorwart, Geoffrey Groselle, Darian Harris
Many will probably be interested to see this game just to see if Zierden can continue his scoring punch so far in league play. He drained the winning basket last week and seems to want people to try and stop him from scoring whether it is raining from the outside or taking it to the basket. The other thing we might see in this game is the debut of one of the incoming Creighton freshman, Darian Harris.
Bluejay-Heavy Games:
7:00 p.m. (Court 1) ABIDE (1-1) vs. Walentine, O'Toole, McQuillan & Gordon (2-0)
Bluejays to Watch: Grant Gibbs, Kenny Lawson
Gibbs was on the court last week, as WOMG struggled to field a team for the evening. However, they walked away with a win to go to 2-0. ABIDE (Bellevue University) is looking to bounce back after last week's loss to Higgins Weatherguard.
8:00 p.m. (Court 2) No Sweat, No Glory (0-2) vs. UNO Alumni (2-0)
Bluejays to Watch: Antoine Young, Brody Deren
UNO Alumni continues to roll as expected as the many former teammates continue to gel together. On the other side, No Sweat, No Glory still is trying to make a name for themselves. The team name change might have helped, but they have a way to go.
8:00 p.m. (Court 3) Judd Knispel Agency (1-1) vs. Bank of Nebraska (2-0)
Bluejays to Watch: Steve Ferarrini, Devin Brooks, Jahenns Manigat, Alex Olsen, Justin Carter
This one is very close to being the game of the night. Brooks scored 38 points last week in the loss, but continues to look like a great player the Jays have coming in next season. Bank of Nebraska is still the team to beat this summer.
9:00 p.m. (Court 1) EQ School of Hair Design (1-1) vs. Andy's Lawn & Landscape (0-2)
Bluejays to Watch: Austin Chatman
Chatman was entertaining to watch last week starting off with a three-point barrage and finishing with 25 points. The team will need his leadership skills to knock off Andy's Lawn & Landscape full of former Huskers.  But they have started 0-2 and looking for that spark to get a win.
9:00 p.m. (Court 4) Thompson Basketball Camp (1-1) vs. Paragas Law Firm (1-1)
Bluejays to Watch: Avery Dingman, Zach Hanson, Will Artino, Toby Hegner
With summer class appearing to be over, Hanson and Hegner should be able to make their debut on Monday night on opposing sides. Dingman had a good game last week playing with EQ School of Hair chipping in over 20 points. Artino had a huge game last week pouring in 33 points in multiple ways showing his versatility.
The Rest:
7:00 p.m. (Court 2) Stangs (0-2) vs. Chris Carder (1-1)
Stangs (Morningside) takes on Chris Carder (Northeast CC) in this game.
8:00 p.m. (Court 1) Higgins Weatherguard Inc, (1-1) vs. Cape Truck Acc (2-0)
This should be a good matchup of various smaller college players in Higgins Weatherguard against players from Midland University who make up Cape Truck Acc.
8:00 p.m. (Court 4) Shanks Law Firm (0-2) vs. Free N Clean (2-0)
The roster of Shanks made up mostly of Northeast CC in Norfolk takes on an undefeated Free N Clean squad made up of small college graduate players.
9:00 p.m. (Court 2) Mavs (1-1) vs. Slice (1-1)
A team made up of current and former UNO players will take on a full set of graduates that make up the Slice team.
Comments
Tagged in:
Similar posts
Baseball, Men's Basketball, Men's Cross Country, Men's Golf, Men's Soccer, Men's Tennis, Softball, Volleyball, Women's Basketball, Women's Crew, Women's Cross Country, Women's Soccer, Women's Tennis