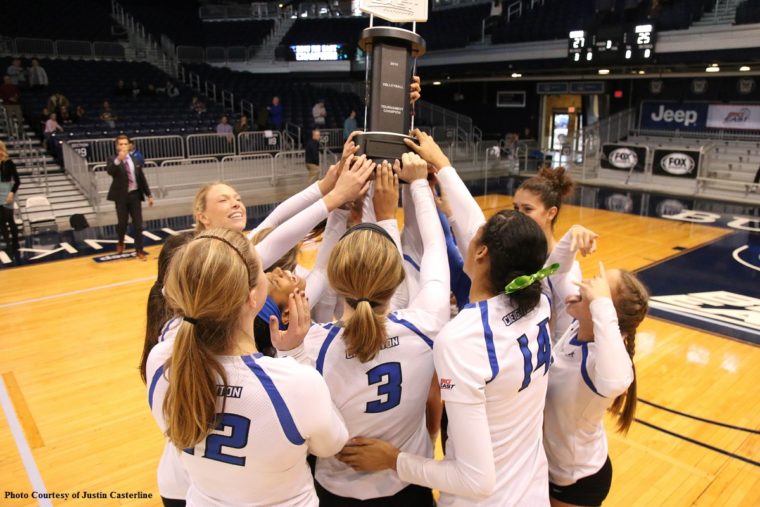 Rock, Shock, Jayhawk! Creighton Beats Fifth-Seeded Kansas to Reach Sweet 16 for Second Straight Year
There was obvious disappointment last Sunday night when the 21st-ranked Creighton Volleyball team found out they were not one of the top 16 teams pegged as national seeds and regional hosts by the NCAA Selection Committee. But after two days in Lawrence, Kansas the Bluejays inserted themselves into the group of 16 that actually matters after they followed up Thursday's five-set win over Northern Iowa by doing the same to the fifth-seeded Kansas Jayhawks on Friday to advance to the Sweet 16 for the second consecutive season.
"That was the best match I've ever been apart of," Creighton head coach Kirsten Bernthal Booth said.
"They obviously gave us everything that we could handle. It was surreal. We made our first Sweet 16 last year and that was pretty incredible, but this is even bigger because Kansas is fifth in the country. To do it on their home court with such a great atmosphere — in the preseason in those situations we got tentative, and we went for it tonight. Had we lost I would have been so proud of the way we played. It would have killed us I think, but we went for it, and that's a huge step for this team and this program, and against great teams you've got to [go for it]. I still think I'm a little bit in a shock, but we are really excited to move on. It was an incredible match, and hats off to Kansas."
Neither team was able to build any separation with a run early in the first set, but Kansas started to put things together at the net and force Creighton's top hitters to hit around two sets of hands. That helped the Jayhawks build a 15-11 lead at the first break in the action thanks to a sub .100 attack percentage for the Bluejays.
Kansas extended the lead to 20-13, but Creighton made a late run to get back in the set after kills by Ankeny, Iowa natives Jaali Winters and Megan Ballenger trimmed the Kansas lead to 22-20 and forced a timeout. After regrouping, the fifth-seeded Jayhawks found their big gun, junior right side hitter Kelsie Payne, for three kills to halt the Bluejay rally and give set one to the hosts by a score of 25-21.
Some aggressive serving from the Bluejay side of the net had the Kansas defense scrambling all over the court early in set two. True freshman libero Brittany Witt had two aces during a four-point serving run that put her team in front, 7-2, and forced a quick timeout by the Jayhawks.
The tough serving continued as Winters added an ace of her own and a back court kill to extend the lead to 13-6. Kansas would rally late to get within three points, but Creighton senior middle blocker Lauren Smith had a kill on a quick set, an ace, and a dig that immediately led to a set and a kill during a 3-0 run to help the Bluejays pull away towards the end of the game. Sophomore outside hitter Taryn Kloth finished off the 25-20 set-two win with a tip kill over a block to even the match at one set apiece at intermission.
Halftime didn't slow down any of Creighton's second-set momentum early in game three as the Bluejays built a 13-9 lead midway through the tie-breaking set behind strong play from its trio of stars from the day before — Marysa Wilkinson, Jaali Winters, and Brittany Witt. Wilkinson started off the run with a quick set kill in the middle, followed by a tooled block by Winters, and another ace by Witt to force a timeout by Kansas.
Creighton controlled most of the latter part of set three, and although Kansas would rally to cut the deficit to six late, the Bluejays went to Winters for two kills at end game to win it 25-17 and take a 2-1 lead in the match.
With their season now on the line, the Jayhawks stormed out to a 4-0 lead to open the fourth set, forcing a quick timeout by the Bluejays. They continued to dominate the set on their way to a 25-16 win, forcing a decisive fifth set between the two teams for the second time this season, and for the second straight day Creighton found themselves in a fifth set in a match they were leading 2-1 only to get beaten decisively in game four.
"We knew we were going to lose that fourth set, so we just had to reset for the fifth," Winters said. "They were on their home court, they had all the momentum in the world, so we knew had to come out quick and shut them down."
Like they did in the fifth set against Northern Iowa, the Bluejays put the first two points on the board in what was about to be a set for the ages. Despite the ideal start, Kansas scored the next three points to take the lead behind two more kills and a combo block from Payne, and back and forth the teams went. Faced with a 3-2 deficit, Creighton scored two in a row to retake the lead. Then Kansas tied it. Then Creighton went back in front. Then Kansas senior middle blocker Tayler Soucie and junior outside hitter Madison Rigdon pounded home kills to put the Jayhawks ahead by one. Then Jaali Winters answered with two more kills to get the lead back for the Bluejays. Then Kansas tied it again. Then Creighton retook the lead. Then Payne had another kill and another block to put the Jayhawks back in front, 10-9. Then the Bluejays got kills from Wilkinson and Kloth to move ahead, 11-10. Another Kansas tie. Another Creighton lead. Another Kansas tie.
The see-saw finally appeared to settle to a stop on the Creighton side when a kill by Wilkinson and an attack error by Jayhawk junior setter Ainise Havili gave the Bluejays a 14-12 lead and match point, but a service error and a ball-handling error allowed Kansas to save both points and tie things up at 14-all. Then Winters and Rigdon alternated a pair of kills each to bring us to 16-16.
Creighton once again reached match point after a service error by Havili made it 17-16, and the Bluejays appeared to have finally finished it off when an attack by Payne went long over the end line. The Creighton bench rushed the floor to celebrate, but while that was going on the officials conferred at center court to deliberate over a possible touch by the Bluejay blockers.
The call was overturned, the game-tying point was awarded to Kansas, and the Creighton reserves were sent back to their bench as the match resumed.
"We did touch it I'm not going to lie," Creighton junior setter, and Big East Player of the Year, Lydia Dimke said of the team's reaction to having the result possibly overturned. "We were kind of expecting the ball to come back, so no matter what happened or what the call was we were just going to refresh our mind. We've been saying all year long that this team is really mature. To be able to get on such a high like we had just won, then get brought back down, we just stuck together. We play so well together, and with our maturity and our confidence we knew that no matter if we won it on that point, we were going to win it again."
The Bluejays would eventually prove Dimke right as a couple more kills by Wilkinson — sandwiched around another one from Payne, who led all players with 26 on the evening — set up match point for the seventh time for Creighton. This time they ended it for good when Megan Ballenger blocked a joust ball to the floor to send the Bluejays to the Sweet 16.
"It was hard," Booth said of how she dealt with the drama and confusion and potentially sending her team to the Sweet 16 only for the final point to be overturned and having to win it all over again. "I did not think they touched it, I thought we won it. I have seen that happen so many times, and the team gets rattled and loses the next point immediately. Had we had a timeout I would have taken it, but I did not have one. I was yelling and the team turns to me, and a couple of the players were like 'we got this.' They were calming me down in that situation. That shows their maturity."
Creighton's 22nd consecutive win improved their overall record to 28-6. It was their third straight win in a five-set match after falling in each of the first three five-setters that they dealt with in late August and early September.
"All of those losses were really that we lost to ourselves and not to the other team," Winters said. "That's why we took all those losses really hard, because we knew we could beat those teams if we played within ourselves. That's what we did tonight."
The win earned the Bluejays a Sweet 16 match-up with the 12th-seeded Michigan Wolverines next Friday, likely to take place in Austin, Texas.
Winning Time is Winters Time
2015 NCAA Tournament, first round, 20 kills and 10 digs in a win over Coastal Carolina.
2015 NCAA Tournament, second round, 21 kills and 21 digs in a win over North Carolina to send Creighton to its first Sweet 16 in program history.
2016 NCAA Tournament, first round, 24 kills and 12 digs in a five-set win over Northern Iowa.
2016 NCAA Tournament, second round, 23 kills and 14 digs in a five-set win over fifth-seeded Kansas to send Creighton to its second Sweet 16 in program history.
"Jaali was a winner when she walked in the door," Kirsten Bernthal Booth said when asked how a 19-year-old from a relatively unknown city in Iowa has become such a dominant force when the bright lights turn on.
Winters is averaging 4.79 kills per set in four Big East Tournament matches in her career so far — all Creighton wins. That's more than a full kill per set on average than the 3.71 she puts up during the regular season. In the NCAA Tournament that number increases to 4.89 kills per set in the first and second round — rounds in which Creighton has yet to suffer a loss since the All-American outside hitter joined the program.
"I'll never forget a text that I got from her in high school," Booth recalled. "They had lost a game 15-13 in the fifth and she'd made an error. I said 'great match,' and she said 'no, I've got make that play. That's my job.'
"This is a kid that wants the ball at end game, and steps up, and is going to go for it. It doesn't always happen, but a good percentage of the time she's going to get it done. I was thrilled that she was in the front row at end game [against Kansas], because she's going to make plays."
For the dynamic power hitter, being unflappable in the biggest moments is not about talent. For her the performances in those situations about an unwavering accountability and a standard she holds herself to each match.
"I would say it is a responsibility," Winters explained. "I feel to some extent that it is my responsibility to take this team to the next level. I know that it is almost irrational, because I know that I have 14 other great girls around me, but I like the pressure. I want to be the one to get the kill under pressure."
Dimke's Leadership Calms the Team in Dramatic Final Set
The voice every Creighton player listened to in order to return to the Sweet 16 was they had never heard before last spring. Junior setter Lydia Dimke, a transfer from Purdue, has assumed a leadership role on a Creighton team that ripped through the Big East regular season, conference tournament, and now Lawrence Regional round of the NCAA Tournament, and her teammates are grateful for it.
"We have trusted Lydia all season since she got here," Jaali Winters said. "She came in right away and was so genuine and such an authentic person. Her voice on the court has really been the voice of reason throughout the season. I'm so glad she transferred here. We could have not have got a better transfer. I don't think there has ever been a better transfer to any school ever. She is incredible. The way that she just came in and fit in so well with all of us, it's incredible the way that our coaches are able to recruit such great girls."
Dimke had 56 assists and 17 digs against Kansas one night after produced 60 assists against Northern Iowa. However, it was the assist that didn't end up on the stat sheet — the one she gave in the team huddle as the officials decided if Creighton could continue celebrating a win or if an overturned call would give the Jayhawks a second life — that proved to be her most valuable contribution of the weekend.
"Lydia actually took us into the huddle when they were deciding if we had touched it or not," Winters said. "She really calmed everyone down and told us either way, we're going to come back and we're going to win this. She was a really great leader in that moment."
Going back almost a week to Selection Sunday, Dimke was once again calm in the face of something that Creighton had little control over. When the committee decided that the Bluejays were not only not going to be hosting a regional, but that they would be going on the road to possibly eventually face a fourth-ranked Kansas team that had already defeated them this season, the reigning Big East Player of the Year said game on.
"A lot of people would see that and think it's a hard draw," Dimke said, "but we wanted to come back and beat them, and we wanted to do it on their home court. We were really excited. We remembered that. It was a tough loss that we've remembered all season. We were not going to let it happen again."
Wilkinson's Offseason Investments Pay Postseason Dividends
On a team loaded with diverse offensive ability, it's only natural for some players to get overshadowed when someone else has the hot hand on a given night. While most will highlight the performance of Jaali Winters first, Creighton's season is over if not for the career-high 18 kills that Wilkinson unloaded on Northern Iowa, or the 15 more she put down against Kansas. She came out of this weekend's NCAA Tournament action with a .329 attack percentage on 73 total attempts. Thursday's win over Northern Iowa and Friday's win over Kansas were the first time in Wilkinson's Creighton career — a tenure that has now spanned 103 matches — that she registered 15 or more kills in consecutive matches.
"She was incredible," Kirsten Bernthal Booth said of the junior from Lincoln, Nebraska. "She carried us a lot last night, and she was a huge factor again tonight. Her improvement goes back to the offseason — her vertical is up and she is just in incredible shape. Our season started in January, and for people that commit to the process this is when you reap rewards in matches like this."
Wilkinson's attitude isn't affected by the number of sets she receives each match. With the depth of heavy hitters on the roster, she doesn't mind who is getting the ball as long as it is getting put down and the team is successful.
"Our offensive parity is so good," she said. "I think that makes me confident. I know that if I'm not swinging someone else is swinging and putting the ball down. I just don't want this season to end at all."
Comments
Tagged in: