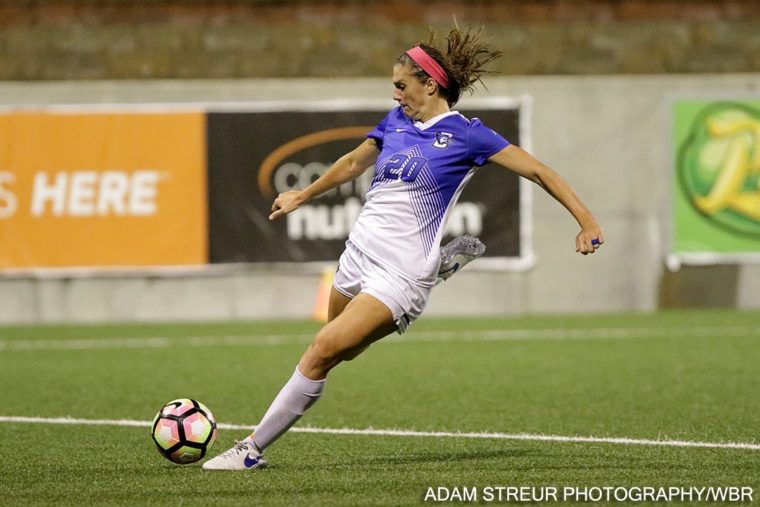 Ross Paule's Bluejays Get Signature Win Against Marquette
When one looks through the history books it's hard not to notice the dominance the Marquette Golden Eagles have displayed in Big East play over the last decade-plus. Watch their last few matches against Creighton from the perspective of a Bluejay player, coach, and fan, and it's even more apparent. But then, all of a Sullivan — sorry, sudden — there was a shift as the Bluejays erased a 2-0 deficit to take down the Big East giants, 3-2, double overtime at Morrison Stadium.
Senior forward Lauren Sullivan's golden goal in the 108th minute kicked off an on-field celebration similar to one usually seen at championship events. That's because it cleared a Golden Eagle-sized hurdle and continued to raise the bar of Ross Paule's women's soccer program in his second year on the sideline in Omaha.
"It's a huge win. I'm so stoked," Sullivan said. "We've all been talking about believing in each other and believing in this team, and focusing and finishing off the game — we did all of that out there and I'm really proud, especially of these younger girls. To come out in your first Big East game, throw some bodies around, and give it 110% I'm so proud of them."
Sullivan doesn't even get a chance to be the hero in overtime if not for the efforts of two freshmen: Taryn Jakubowski and Ashleigh Cearlock.
With time ticking away late in the second half and Creighton still trailing 2-1, Jakubowski maneuvered through the midfield, and as she has grown accustomed to doing, played a perfect through ball that led Cearlock to the top of the box. The 5-foot-2 forward from Springfield, Ill., didn't even need a touch as she caught up to it in between both center backs and lifted a shot over Marquette goalkeeper, and Omaha native, Maddy Henry to provide the equalizer in the 79th minute for her first career goal — one of the biggest by a Bluejay given the time, the score, and the opponent since Creighton joined the Big East in 2013.
"I was jumping for joy. I think Scott should have tested my vertical right there, because I was way up in the air," Sullivan said, referring to Scott Bankers, Creighton's Athletic Assistant Director before going on to praise Jakubowski for her work rate and production that may go unnoticed in a soccer post-match box score.
"Taryn works so hard," she said. "She's honestly our workhorse, the engine to our team. When she's out there it's just a different kind of energy. A lot of times she doesn't get the credit that she deserves because she's always the third or fourth pass before something really special happens, but I can't even underplay how important she is to our team — she's critical to this season."
Of course, you can't have an equalizer if you don't the first goal to cut Marquette's two-goal lead in half. That's where Sullivan came in to bookend the day's highlights for Creighton. Down 2-0 late in the opening half, the Bluejay star took a pass from junior defender Gabriela Braga about two yards away from the midfield line. She proceeded to cross over into Marquette's defensive half and cut through the middle of the field toward the 18-yard box. She blew by a Golden Eagle midfielder, then split the two center backs with a little forward flick to herself before chipping Henry and slotting one into the back of the net.
It shifted the momentum of the match after Marquette's Moly Pfeiffer and Carrie Madden capitalized on Creighton miscues in the 23rd and 25th minute to open up a 2-0 lead.
"It was huge," Creighton's coach said of Sullivan's first goal. "That's why Sully is so special. She can take it on her shoulders at any moment in the game and make that difference, and she did that. That was an individual goal. That was individual brilliance that not many players can do. We know that, Sully knows that, and that's why she's special. She took it on her shoulders, scored a great goal, and got us in the game."
Both Sullivan and Cearlock's goals seemed to suck the life out of Marquette and transfer it to the other bench as Creighton really started to press forward for the game-winner as the match moved through the first overtime period and into the second.
The game-winning sequence was nearly a full team effort by the Bluejays. Senior midfielder Ylenia Sachua started it off by intercepting a low pass at midfield and finding Sullivan along the left sideline. Sullivan then drove through the midfield and played a ball out wide to the edge of the box for sophomore Kaira Houser, who quickly crossed it in to Darby Hugunin at the top of the goal box. The red-shirt junior played it back to a trailing Sullivan with her first touch and the Bluejay striker blasted it into the back of the net, far post, as the the rest of the team sprinted onto the field to celebrate the win.
"I ran on the field somewhere," Paule said of his reaction to the golden goal. "I almost felt like it was coming. Sully, again, great finish, but that was a team goal. That was a goal where we won the ball, played it down the sideline, Houser played a great cross, Darby great vision to lay the ball back, and a great finish. That's what our team is — it's a unique group in the fact that we have talent all over the field, but we have really just hard-working, great kids that are doing something together."
Sullivan, who with her 27th career goal moved into a tie with Jessica Powers for fifth place all-time at Creighton, gave all the credit to her teammates, including Hugunin for what she called a "cheeky flick." She had the easy part, according to her anyway.
"I was just trying to hit it really hard and hope for the best," Sullivan said. "I'm not going to make it seem like more than it was. I just wanted to get it on frame and hit it really hard."
"I was literally sitting there like 'don't kick it over, don't kick it over, don't kick it over.' I'm glad I found the back of the net there."
The win moved the Bluejays to 6-1-2 on the season, and 1-0-0 in Big East play for the first time since they joined the conference. Marquette, who had outscored Creighton 14-4 in three prior meetings as conference foes, fell to 4-5-2 overall. It was the first time they failed to open conference play with a win since 2006.
Comments
Tagged in: