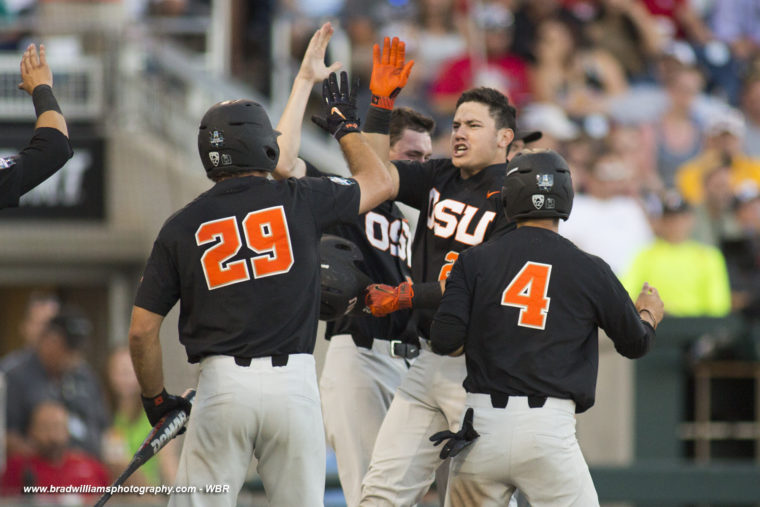 Top-seeded Oregon State rocks LSU to move one win away from CWS Finals
The first grand slam at the College World Series since the event moved to TD Ameritrade Park capped off a five-run sixth inning that broke open the ballgame for Pat Casey's Oregon State club in their 13-1 shellacking of the fourth-seeded LSU Tigers on Monday night.
Casey, in his 23rd season leading the Beavers, watched his team earn their second 23-game winning streak of the season — yes, that's two 23-game winning streaks in the same season — to improve to 56-4 overall, halting LSU's 17-game winning streak in the process.
"We played pretty good tonight," Casey said, in an attempt to downplay the magnitude of the winning streaks. "The situation was big, so it made it even bigger … the one thing, the players keep saying it, and I know it may sound like it's not true, but we really — there are times when somebody tells me, 'hey, you broke this record or you did that,' and nobody thinks about it."

"I know the record is really good, but that's not how we approach it. Those guys just — I don't know — there's something about them."
Whatever that "something" is, LSU didn't appear capable of matching it. In a game that seemed to have all the necessary ingredients of a CWS classic, Oregon State looked two steps ahead from the very first pitch.
Lead-off hitter Steven Kwan reached on a drag-bunt single down the first base side on the first pitch of the game. On the second pitch of the game, second baseman Nick Madrigal grounded back up the middle on a hit-and-run to move Kwan into scoring position, then right fielder Trevor Larnach also used the middle of the field when he shot a single into center field to bring Kwan around to make it 1-0.
Sophomore right-hander Bryce Fehmel shut down the LSU offense after that, allowing only a single in the second, and one two-out walk in both the third and fourth inning. No one Tiger had even set foot on second base against Fehmel before Larnach tripled up his pitcher's run support with a two-out, two-run bloop single over second baseman Cole Freeman's head to make it 3-0 in the top of the fifth.
For the sophomore right fielder, who went 3-for-6 with 3 RBI and a run scored on the night, it moved him into a tie with Cal State Fullerton's Timmy Richards for the series lead in RBI with five through the first three days.
"The two guys at the top of the order do a great job of getting on, and it's mine and KJ's job — and everybody else's job — to get them in," Larnach said.
KJ is, of course, junior first baseman — and team home run leader — KJ Harrison. The 6-foot, 209-pound slugger from Hawai'i finally got his chance to put some crooked numbers on the board when LSU right-hander Hunter Newman, who normally serves as the team's closer, walked Larnach on four straight pitches to load the bases with two outs in the top of the sixth. One pitch later, Oregon State's 4-0 lead became 8-0 as Harrison opened the flood gates with the first grand slam at the College World Series since 2010.
Harrison's ninth home run of the season landed in the bleachers in left-center and marked a premature end to a highly anticipated CWS match-up.
"That was kind of a big momentum shifter, especially in that kind of situation," the Beavers' slugger said. "I was just looking for a good pitch to hit and put a good swing on it, keep it simple and stay relaxed, and I was able to do so."
The Beavers added three more runs in the seventh and two more in the eighth, and it was more than enough for their starting pitcher. Fehmel finished his evening with 107 pitches in eight innings of two-hit ball. His only blemish came when LSU center fielder Zach Watson belted a solo home run over the left field bullpen with one out in the bottom of the seventh and Oregon State already up 11-0.
"The main thing was to keep them off balance as best I could," Fehmel said of his game plan against the potent Tigers lineup. "Mix all three pitches for strikes, and I did that for eight innings to the best of my ability."
Fehmel only generated a swing and miss on three of his 107 pitches (2.8%), but his command was impeccable throughout the game. He started off with strike one to 17 of 28 hitters and only went to a three-ball count four times all night.
With the win, Oregon State improves to 56-4 on the season and, more importantly, gets three days off while they await the winner of Wednesday night's elimination game between Florida State, who beat Cal State Fullerton 6-4 on Monday afternoon, and LSU.
LSU fell to 49-17 with the loss, and will now have to beat Florida State for a second time in the tournament to keep their season alive. The Tigers took the first meeting with the Seminoles by a score of 5-4 on Saturday night. The rematch is scheduled for 6:00 p.m. on Wednesday with the winner moving on to face the Beavers on Friday at 2:00 p.m.
Photos of the game from WBR's Brad Williams.  Order your favorites over at the WBR Photo Store
Comments
Tagged in: