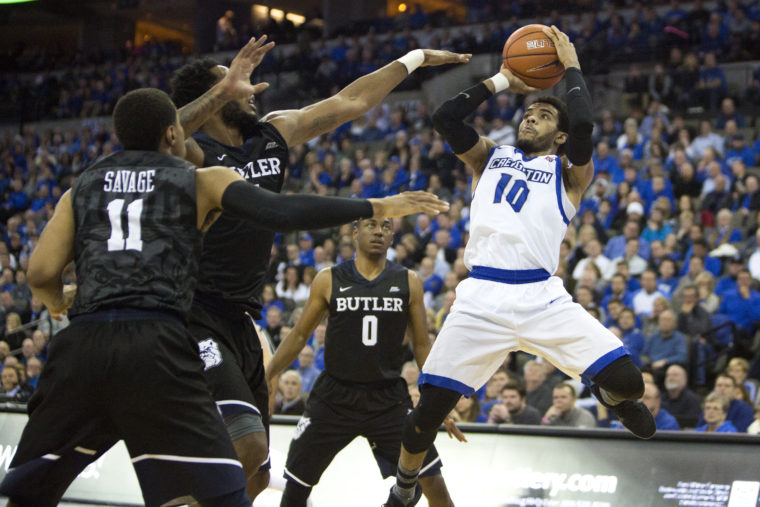 Torn ACL Is the Diagnosis; Mo Watson's Career at Creighton Ends
In the first half of Monday's game at Xavier, Creighton superstar Maurice Watson, Jr. went down with a knee injury. While the initial prognosis was somewhat positive, the final diagnosis is as bad as it gets: a torn ACL, ending his collegiate career. Take a moment and let that sink in. One of the most dynamic point guards in school history, and THE key player on a top-ten team with hopes for a big run in March, has played his final game in a Bluejay uniform.
"I'm devastated in the fact that I cannot finish out the season with my boys and that my college career is cut short during the best basketball I've ever played in my life," Watson wrote in announcing the injury on Instagram. "This is a sad time now, but God has a plan for me. My boys got my back and I will be on the sidelines all the way, even if I'm in a wheelchair!"
Watson was leading the nation both in assists per game, 8.5, and total number of assists, 162, at the time of his injury. Those 162 assists were spread among nine different players, and led to 403 points, an average of 21.2 points per game. Added to the 13.4 points per game he scored, on average, and Watson directly accounted for 34.6 points per game.
But his importance went far beyond statistics. The breakneck pace with which he was able to dribble through defenses and dissect them, his electrifying passes through traffic, and his ability to dribble penetrate on almost any defender to get a basket for his team at the rim when nothing else was working — all of those are irreplaceable. His amazing ability to play point guard at 100MPH without turning it over was the linchpin in everything Creighton did offensively. Without defenses having to respect Mo's dribble, Justin Patton doesn't get the separation to throw down the lob dunks that turned him into a household name. Without defenses having to worry about all the ways Mo could score on them, Toby Hegner, Isaiah Zierden and other Bluejay spot-up jump shooters don't have the open looks they got. Without his ability to find Marcus Foster at the precise moment he could most devastate a defense, he doesn't have the best offensive year of his career.
Think about the times this year when Watson sat out with foul trouble, and how Creighton's high-octane offense stalled and became so much easier to defend. He was their engine, and while it's true they have a ton of talent remaining, much of the success of that talent was directly attributable to Watson.
"I'm going to fight to get back," said Watson. "And my teammates need to keep fighting through the year. The fact that these guys battled through yesterday game gives me confidence and security that they'll be able to go on and do great things. I intend to finish my college career and have a great impact, even if it's not on the court."
There's no dodging this reality: Watson's injury is a season-altering, and perhaps history-altering, moment in Creighton basketball. This was a team 18-1, 5-1 in the Big East, ranked seventh in the country and seemingly set up to make a run in March to the Sweet 16 or beyond. With Mo at the helm, they were the sort of nightmare team that could beat anyone, especially on short preparation in the tournament — a dynamite point guard surrounded by great shooters and a great big man, with a solid bench. Hell, their defense and rebounding were even improving. Seasons like this don't happen overnight — they're constructed through years of recruiting and roster development.
He transferred to Creighton from Boston University, and sat out during the extremely tough 2014-15 season as the Bluejays rebuilt for the post-Doug McDermott Era. Everything was built towards this season, when Watson would be a senior, to make their glorious return to the NCAA Tournament and announce their re-emergence to the college basketball world.
It wasn't supposed to end like this, but here we are.
Creighton has four days to prepare for the next stage, with Marquette in town on Saturday, and they've got a lot of talent remaining. Marcus Foster, Khyri Thomas, Justin Patton, Cole Huff, Toby Hegner, and Isaiah Zierden are a pretty solid top-six. Ronnie Harrell seems poised to emerge after back-to-back solid games. Zach Hanson is expected to return sometime next month. The season isn't over, and neither are their March dreams — that elusive Sweet 16 or beyond should still be the goal for this team, even if that goal became harder to achieve with this news.
Here's to a complete recovery as soon as that's possible, and to a long and prosperous pro career. From the bottom of this longtime Bluejay fan's broken heart, I sincerely say: thanks a million for all the memories, Mo.
***
Here's some reaction on Twitter from Bluejay fans and around the college basketball landscape:
It's been a fun ride. really devastated but it's about the get back & my chase to my dreams and back on the court starts now! #jays pic.twitter.com/TssBFgyUmT

— Maurice Watson Jr. (@mauricewatsonjr) January 17, 2017
This isn't fair. Prayers up for this guy. One of the best & having a spectacular season. Thoughts with @BluejayMBB today https://t.co/vJWtkmnQQX

— Cayleigh Griffin (@cayleighgriffin) January 17, 2017
Brutal. Absolutely brutal. https://t.co/7zRDz40Zok

— Josh Peterson (@joshtweeterson) January 17, 2017
Torn ACL for @mauricewatsonjr. I'm disappointed for the team. I'm crushed for Wop. #Creighton https://t.co/C0zC7pBJel

— John Bishop (@JohnBishop71) January 17, 2017
Oh no! I am heartbroken for Wop. Devastating news. Mo has been such a fun player to watch the past two years! https://t.co/2YdzFXNF6E

— Brian Norton (@nortonbrian) January 17, 2017
Jaw dropping. Devastating. So god damn sad. Gut wrenching.

— Austin (@letitflycu) January 17, 2017
We love you, Wop. https://t.co/6GEISyflWE

— Ryan Holmgren (@ryanholmgren) January 17, 2017
Devastated for @mauricewatsonjr. His impact on our program has been incredible. His leadership will continue to be vital to our success.

— Coach McDermott (@cucoachmac) January 17, 2017
Brutal. No words right now. https://t.co/sCEgiEFCb6

— Nick Bahe (@NickBahe) January 17, 2017
What I didn't know is this would be my final action photo of @mauricewatsonjr at CLC. Heal up the knee! #GoJays pic.twitter.com/OcEeoTuViV

— Adam Streur (@astreurphoto) January 17, 2017
Damn this is really awful news. Big East and College Basketball will miss watching one of the best. https://t.co/3kF5aItT6m

— SOrangeJuice (@SOrangeJuice) January 17, 2017
Best point guard in the country, and a hell of a leader for this team. This sucks.

— Dave Sund (@davesund) January 17, 2017
All that Mo has done for Creighton and he'll never to to lead them in an NCAA tournament. This sucks. EAD 2017.

— Fake Ed Balls (@michaelkmcneil) January 17, 2017
This just isn't fair for Mo. pic.twitter.com/RuOzZ8AbP6

— Bluejay Buff (@BluejayBuff) January 17, 2017
Just an absolute brutal way to end your career. We've watched Mo Watson for the last time. Let that sink in.

— Austin (@letitflycu) January 17, 2017
Awful for Creighton. Awful for college basketball. The nation's leader in assists is out the rest of his senior season. https://t.co/9hX3Vjjjxz

— Scott Phillips (@phillipshoops) January 17, 2017
Brutal news for Mo Watson, Creighton, and all of college basketball. https://t.co/9CF5qE1oKs

— Jon Rothstein (@JonRothstein) January 17, 2017
Prayers out to @mauricewatsonjr. No player has meant more to a program in the country than Mo has to @BluejayMBB. A true star and class act.

— John Fanta (@John_Fanta) January 17, 2017
No YOU'RE crying

— Fake Ed Balls (@michaelkmcneil) January 17, 2017
All of the F words

— truebluejays (@truebluejs) January 17, 2017
Just awful news on @mauricewatsonjr. Special player, special team.

— Tyler Anderson (@TylerA_Anderson) January 17, 2017
Hate this news. Mo Watson had worked to go from overlooked recruit to All-American candidate in four years. https://t.co/EaY96mjp86

— Jeff Eisenberg (@JeffEisenberg) January 17, 2017
Mo might be the most valuable player in the country as far as what he means to the team. Time for a lot of players to step up.

— Ryan Holmgren (@ryanholmgren) January 17, 2017
Awful news on @mauricewatsonjr. Represents all that is great w. college basketball. Best wishes moving forward. Will have a LONG career. https://t.co/wnLCmQ0tuz

— Mike Broeker (@mikebroeker) January 17, 2017
Just a killer. This was a true Final Four contender. Maybe still is, but it's going to be a whole lot harder. https://t.co/ySJVreVrOm

— Michael Beller (@MBeller) January 17, 2017
You would be hard-pressed to find a transfer who impacted his school on & off the court more than Maurice Watson, Jr. Brutal news for "Wop."

— Matt DeMarinis (@mjdemarinis) January 17, 2017
@whitebluereview I'm sick to my stomach. What a terrible thing to happen to such an awesome kid.

— Luke Rudnick (@LukeRudnick) January 17, 2017
Hey @mauricewatsonjr we are right there with you 💙 https://t.co/dWDFYqwS96

— Bleeds Blue (@CUAlum81) January 17, 2017
Horrible news for Creighton and college basketball.#BIGEASThoops https://t.co/HotW9Bx53Q

— David Woods (@DavidWoods007) January 17, 2017
Mo was a stud at BU & made the jump to the Big East & made an immediate impact for Creighton. Brutal news for Mo & Creighton hoops #BigEast https://t.co/qWn9wrccce

— Big East Hoops 24/7 (@BigEastTourney) January 17, 2017
awful news for @mauricewatsonjr – terrific player, better person who will do great things at the next level https://t.co/CdXcy0i5DQ

— Andy Kendeigh (@AKendeighKETV) January 17, 2017
Heartbroken for @mauricewatsonjr and the rest of the @BluejayMBB family.

— Carol Zuegner (@czuegner) January 17, 2017
I don't think there's ever been a basketball player I enjoyed watching more than Mo. a joyous individual who played with unyielding passion.

— alex sindelar (@crimebait) January 17, 2017
Awful for Creighton, awful for The Big East, awful for college basketball. https://t.co/qRb0ldyliG

— Seconds to Madness (@Seconds2Madness) January 17, 2017
Brutal news for Creighton and Mo Watson — done for season with torn ACL. Most in league felt Creighton was most talented team in Big East.

— Jeff Goodman (@GoodmanESPN) January 17, 2017
Maurice Watson's season is over for Creighton due to a knee injury. Terrible news for both him and the Bluejays

— Jerry Palm (@jppalmCBS) January 17, 2017
Wow, this is so sad. I loved watching Creighton play, and Mo was such a big part of that. https://t.co/A1uzUPWX0A

— Paint Touches (@PaintTouches) January 17, 2017
#mubb fans will know better than most how it feels to be a top-10 team with Final 4 aspirations and lose your star PG in mid January.

— Paint Touches (@PaintTouches) January 17, 2017
That 2009 team was 23-4 and ranked in the top-10, with an outside shot at No. 1 if it won 3 of its last 4. DJames down. Season gone.

— Paint Touches (@PaintTouches) January 17, 2017
Entire #mubb program sending best wishes to @mauricewatsonjr. Tremendous competitor and player who it was a pleasure to compete against. https://t.co/m766rNBe4c

— Steve Wojciechowski (@steve_wojo) January 17, 2017
Creighton wasn't just a "good" team…they were fully capable of final four run or more…that's beyond painful

— Victory Firelight (@ButlerVictory) January 17, 2017
Get well soon, Mo. Heck of a college career. We know you'll bounce back and do great things. #BigEastFamily https://t.co/dyJ8KvMXJG

— Butler Basketball (@ButlerMBB) January 17, 2017
This sucks. https://t.co/F1a3EA3zzP

— Banners on the Park (@BannersParkway) January 17, 2017
So heartbroken to read this 💔 I don't understand why these things happen to amazing people. My favorite player to watch. Stay strong Mo 🙏🏼❤️ https://t.co/NdcLvd11Jx

— Kim Adams (@Kim_Adams1) January 17, 2017
Just brutal news for Maurice Watson, Creighton. Awful way to go out. Kid was having a great season.

— Evan Daniels (@EvanDaniels) January 17, 2017
.@mauricewatsonjr YOU were a dream to watch in the #BIGEASThoops !! The best point guard in the country! Get after rehab and Rise Up! https://t.co/8w5epxCRPC

— Stu Jackson (@StuJackson32) January 17, 2017
A terrific player, great person. Prayers up. https://t.co/F2aMCZWkTz

— Dana O'Neil (@ESPNDanaOneil) January 17, 2017
@BluejayMBB sorry to hear the news on Mo. Best to him & your team. You have a ton of talent and fight. Keep battling. I know you will.

— Scott Van Pelt (@notthefakeSVP) January 17, 2017
Favorite Maurice Watson moment came when he was yanked out of Texas San Antonio's huddle after a flagrant on Z.

His 2nd game at Creighton.

— Matt DeMarinis (@mjdemarinis) January 17, 2017
That was the moment when he showed he had some bite to his bark. He set the tone. He gave Creighton its edge. https://t.co/xaYbSYCMIR

— Matt DeMarinis (@mjdemarinis) January 17, 2017
@mauricewatsonjr damn bro. Stay up. Prayers for you 🙏🏼

— william artino (@WillArtino31) January 17, 2017
All of BlueJay nation is behind you young homie. Proud of the leader you've become, get healthy asap and kill at the next level! 💯💯 https://t.co/H9ITHoAj9g

— Jahenns Manigat (@JManigat12) January 17, 2017
😔

— Ronnie Harrell Jr. (@Sniper4_) January 17, 2017
This is just the beginning to an amazing story to tell, @mauricewatsonjr 👊🏽#PrayForDuwop#YoungWopWhyYouTrappinSoHard pic.twitter.com/rN7Tn3WRwM

— Kobe | KoKo Wave (@_kokoparas) January 17, 2017
Heart of Champion… https://t.co/vEbswq5BDX

— Coach Steve Lutz (@LutzSteve) January 17, 2017
Creighton still has plenty of talent. They won at Xavier when Mo Watson said out the final 30 minutes. Their season isn't over.

— Rob Dauster (@RobDauster) January 17, 2017
You're darn right it isn't! https://t.co/oJkO1yoq83

— Coach McDermott (@cucoachmac) January 17, 2017
Comments
Tagged in: