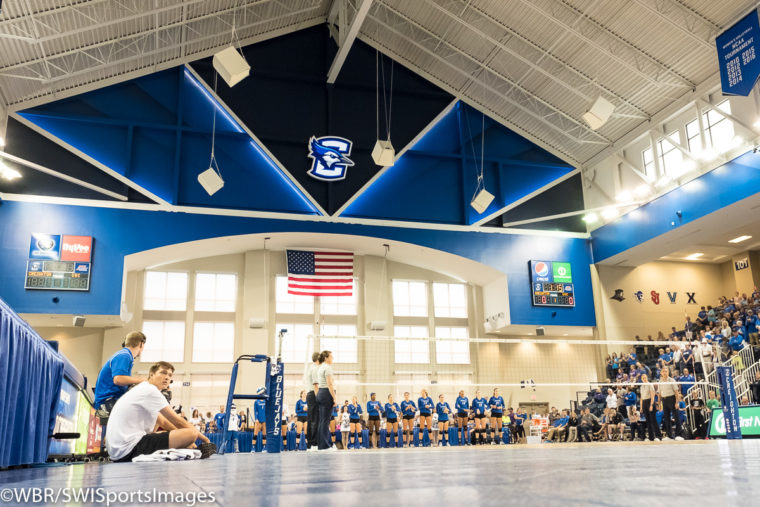 "Ugly" Defense and Aggressive Serving Key 16th-ranked Creighton's Win Over St. John's
Creighton's first meeting with St. John's this season resulted in an easy win, but to earn the regular season sweep over the Red Storm (11-14, 3-7 Big East), the Bluejays had to make it look a little 'ugly.' In front of 1,066 fans at D.J. Sokol Arena on Friday afternoon, the nation's 16th-ranked team relied on scrappy court coverage and aggression behind the service line to overcome an error-ridden offensive performance early on in a 25-23, 20-25, 25-13, 25-16 four-set win.
"Hats off to St. John's," Creighton head coach Kirsten Bernthal Booth said. "I thought that was one of the best defensive teams that we've played in a while. We had to earn points multiple times throughout the entire match, even in games three and four when it looked like we dominated — sometimes it looked like we had won the point and then the ball came back over."
St. John's produced five of their 12 team blocks in the opening set, clamping down on Creighton's All-American outside hitters in Jaali Winters and Taryn Kloth, specifically. They forced the third-year duo into a combined attack percentage of -.087 on 23 total swings, but the Bluejays were able to claw out a 25-23 win anyway thanks to the play of redshirt sophomore Megan Ballenger and senior Marysa Wilkinson. The middle/right-side combination carried the load to the tune of nine kills on 18 swings, while only committing a single attack error. They provided enough of a boost to get the Jays to the finish line where Winters terminated the final two points to earn a 1-0 lead in the match.
The Red Storm responded in game two, using a 7-3 run midway through the set to build a 15-10 lead that they would not relinquish. Senior right-side Julia Cast and freshman outside Jordan McCalla each had four kills on nine swings to pace the offense, while St. John's maintained their presence at the net with four more team blocks en route to evening the match with a comfortable 25-20 win.
"I thought games one and two were pretty rough for us, pretty uncharacteristic," Bernthal Booth said. "We just made a lot of unforced hitting errors that are atypical, and our serve and pass game wasn't great."
After intermission, it was a different story on Creighton's side of the net. The Bluejays started really going after it from the service line, making it difficult for the Red Storm to stay in system offensively. That resulted in a lot of scramble situations just to keep the ball off the floor, which in turn produced a lot of free ball opportunities. St. John's hung in there for a bit in set three, but it got out of hand after an 11-3 run resulted in a 23-12 lead for Creighton. Winters, Wilkinson, Ballenger, and true freshman Naomi Hickman each had at least one kill during the spurt, while senior setter Lydia Dimke, junior defensive specialist Samantha Bohnet, and sophomore libero Brittany Witt each added ace from behind the line to help the Jays cruise to a 25-13 win and take a 2-1 lead in the match.
Game four was probably the cleanest one of the afternoon from Creighton's perspective, all things considered. They continued to control the tempo offensively, while continuing to keep St. John's out of system due to their aggressive serving. It was also the best set from a blocking standpoint for the Bluejays, who produced five team blocks, all of which came from the middle/right-side trio of Ballenger, Hickman, and Wilkinson. Serving made the Red Storm offense predictable, allowing the Jays to lock in on the left side of their opponent's attack.
"Our serving definitely picked up, which got them out of system and then our blocking and our defense could flow behind it," Dimke said. "Any team — especially St. John's who has great hitters — in system is going to be really hard to defend, so I think serving was a huge key to why we came back and won those last two games.

"When teams are passing well they could just be passing really well, but we've been talking about staying aggressive from all standpoints … even if you've missed your last serve, it doesn't matter, you have to stay aggressive because that's the only way you're going to get teams out of system."
Five different Bluejays had at least two kills in games three and four as Dimke was able to distribute with greater success once the Jays got St. John's out of sorts. The reigning Big East Player of the Year finished with a match-high 44 assists to go along with nine digs, five blocks and four kills of her own. Although the Bluejays only hit .191 for the match, four players did finish in double figures with Winters leading the way with a match-high 13 kills followed by Wilkinson with 12, Ballenger with 11, and Kloth with 10.
Despite the balanced offensive production, there might have had a different outcome had Creighton's defense not turned it up a notch as the match progressed. Reigning Big East Defensive Player of the Week Brittany Witt had a match-high 20 digs to lead three Bluejays in double figures. True freshman Alex Roumeliotis added 12 in her second consecutive start in the back row, while Jaali Winters chipped in 11 as part of her kills-digs double-double. While St. John's didn't exactly set the net on fire in games one and two, they were completely neutralized in games three and four. Over the final two sets the Red Storm had 17 attack errors and just 16 kills, producing an attack percentage of -.013 on their final 78 swings against a Bluejay defense that tried to keep the ball off the floor however they could to work hand-in-hand with their attack.
"We'd like to lock in right away and be great, but to some degree we are getting familiar hitters," Bernthal Booth said. "I get that a little bit, but I think we had some opportunities to better the ball early. Later in the match, we won a lot of what we call 'ugly points' … those are tough plays, but really great plays, because we want Lydia to be able to distribute to all three hitters. We've been working on getting that ball a little bit tighter so she has options. Hopefully we can do that more."
The win improved Creighton's overall record to 15-5, but more importantly it pushed their record in Big East play to 8-1 to keep pace with Marquette at the top of the regular season standings. The Bluejays will now try to close out this four-match home stand with a perfect record as they meet Seton Hall at 1:00 p.m. on Sunday at D.J. Sokol Arena in their annual Pink Out game.
Match Notes:
Lydia Dimke had 40+ assists for the 23rd time in her Creighton career.
31 of Alexa Roumeliotis' 42 digs this season have come in the last three matches, including double-figure performances in both of her starts against Xavier and St. John's.
In the win over St. John's, sophomore libero Brittany Witt had 20+ digs fort the 10th time in her career. Her 69 digs over the last three outings are the second-most ever in her career over a three-match stretch since she had 72 in wins over Northern Iowa, No. 4 Kansas, and No. 17 Michigan in the 2016 NCAA Tournament.
Brittany Witt's match-high 20 digs also moved her passed 800 for her career.
The Bluejays are now 65-4 against Big East opponents over the last three-plus seasons. Friday was just the 27th time in that span where they've needed four or more sets to get the victory.
The Red Storm's 25-20 win in game two on Friday snapped a 16-set losing streak to Creighton that dated back to a four-set loss on October 2, 2015. The Bluejays are now 9-1 all-time against St. John's with all 10 meetings coming as Big East conference foes.
Creighton is now 97-25 all-time at D.J. Sokol Arena with three home matches remaining in the regular season. They are 39-2 at home in Big East play.
Postgame Interviews:
Comments
Tagged in:
Similar posts