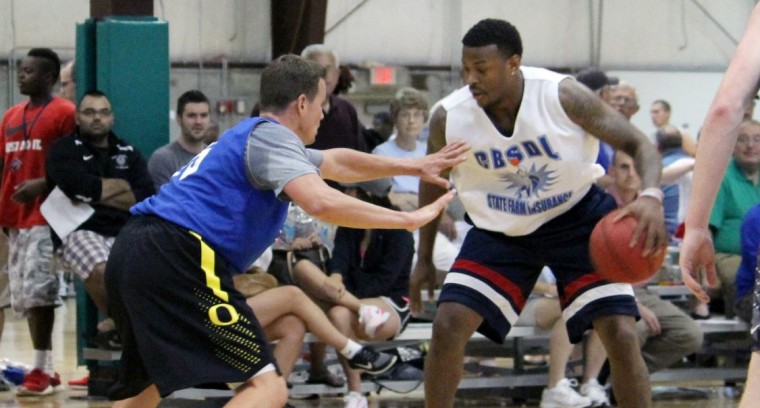 UNO Alumni Win Metro Summer League 2015 Tournament
Thursday night marked the end of another edition of the annual Metro Basketball Summer League at Omaha Sports Academy. Monday whittled down the field to the final four teams, and after Thursday's semifinals and championship game, a new champion was crowned.
As has become tradition, or perhaps a curse, all teams featuring Creighton players were eliminated before the semifinals. However, a good crowd still showed up and was treated to some highly competitive and entertaining basketball.
Championship
UNO Alumni 76, Andy's Lawncare 69
Thursday night's final pitted reigning champion Andy's Lawncare, featuring summer league director Jason Isaacson, against UNO Alumni, the only team to pull an upset in the quarterfinals.
The group of former Mavericks went just 3-2 during the regular season, but the Alumni were on top of their game when tournament play rolled around. Andy's, on the other hand, swept through the regular season and first three rounds of the tournament to make it back to the final for the second straight year.
Andy's was without a key player as former Husker and summer league veteran John Turek was absent on Thursday. In his place, Brett Dougherty recruited the services of his younger brother Tyler, who will be joining him at Northwest Missouri State in the fall. UNO was also missing a player as Andrew Bridger sat out with a splint on his finger.
Andy's came out strong and built up a 27-18 lead midway through the first half. However, the UNO Alumni refused to go down without a fight and turned the nine-point deficit into a four-point lead with a 15-2 run. The Alumni were in position to take a 37-33 lead into halftime, but Isaacson raced down court and just beat the buzzer with a running shot from the top of the key to pull within one at 37-36.
Isaacson's buzzer-beater seemed to energize him, as he came out in attack mode to start the second half and scored 11 points in the first 5:30 to put Andy's back in front 51-45. UNO weathered the Isaacson storm, however, and a 3-pointer by CJ Carter put the Alumni back in front 60-58 with 6:35 to go.
The teams traded shots, but UNO steadily pulled away and sealed game at the free throw line.
Carter led all scorers with 25 points, while Tyler Bullock added 18 points and five assists.
Isaacson led Andy's with 18 points, five rebounds and two assists and Andre Smith chipped in 14 points.
Semifinals
Andy's Lawncare 85, APEX Foster Care 78
APEX, the team from Peru State, gave Andy's all it could handle. The game was tied at 41-all at halftime, and was close until late in the game when Andy's was able to pull away for the seven-point victory.
Andre Smith, a North Dakota graduate, got off to a strong start and finished with 24 points. For APEX, Corday Sims put on a show, hitting eight 3-poiners and finishing with 31 points.
UNO Alumni 92, BD 75
BD was one of three teams to survive the regular season without a blemish, and it looked strong on Monday to cruise into the semifinals. However, it met its match in the UNO Alumni.
John Karhoff came out firing and got off to a hot start as the former Mavericks took a 49-37 lead into halftime. In the second half, the UNO Alumni did what they needed to in order to maintain the lead and earn a berth into the final.
Comments
Tagged in: