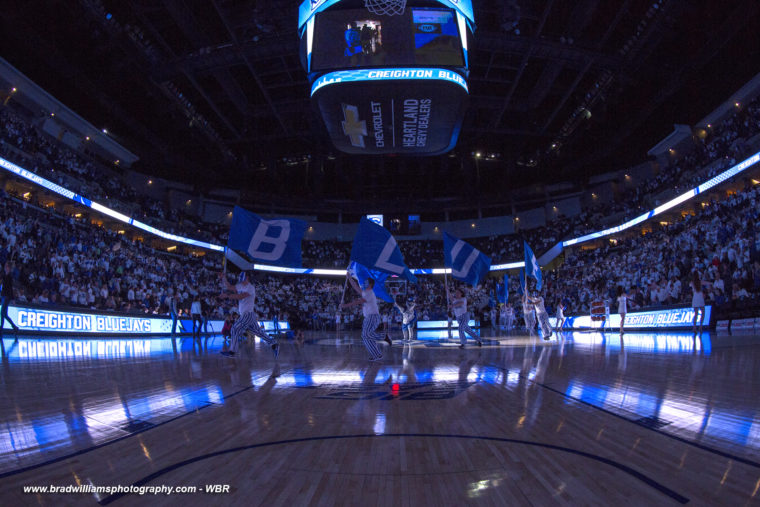 With a Tumultuous Redshirt Season Behind Him Damien Jefferson Used the Summer League Stage to Show Off His Unheralded Skill Set
Thomas Edison once said, "Many of life's failures are people who did not realize how close they were to success when they gave up."
Success on the court by any objective measure hasn't come yet for Creighton redshirt sophomore Damien Jefferson. But had his story been written last fall when he arrived on campus after his freshman season at New Mexico it would have revealed the struggles of a young college basketball player faced with the reality of trying to fit in at a new school, in a new town, and in a system not necessarily suited to highlight the skill set he had on day one.
To top it all off, he also would have to wait a year before he could ever suit up in a meaningful game. Yes, Jefferson's time in Omaha seemed to be coming to end before it even had a chance to begin. Not only could he not play, but he also couldn't travel with the team. Then he got injured, so practice was now taken out of the equation, which made him separate himself from the team even more. He didn't talk on the court and when he was away from it, he opted to be alone in his room most of the time instead of hanging out with his teammates.
"When I first got here everything was kind of tough for me from the style of play to the way Coach Mac coached," Jefferson said. "It was tough for me to get into a groove with everything. I was telling myself at first that I didn't know how I was going to keep up with these guys."

"I was definitely frustrated. I couldn't even tell you how many times I called my parents and told them that I can't do this. It was tough. It was very tough. I have been playing my whole life and I have never had to sit out a whole year. I knew it was going to be tough, but I didn't know if I could do this. I didn't know anybody and I wasn't talking to anybody and it was tough for me. I felt like I didn't belong. Everybody was cool with each other and I didn't really talk to anybody so I didn't know how I was going to get through this."
Jefferson's struggles didn't go unnoticed by his head coach.  However,  after months of trying to get everything pointed in the right direction, Greg McDermott sent him home for Christmas break with a decision to make.
"I think 'disappointed' would be the word I would use to describe my feelings of him at Christmas time," McDermott said. "I just don't think he was engaged mentally or emotionally. I think he had a really difficult time dealing with the new surroundings and the fact that he couldn't play basketball for over a year. We had a heart to heart and he had to decide whether he wanted to be here or not."
Although it seemed at the time like going separate ways may have been what was best for both parties, something just wouldn't let Jefferson give up that easily.
"I wanted to, but I couldn't let myself do that," he said. "I was fighting my confidence as a basketball player, but there was something in me that wouldn't let me quit. I couldn't let my parents down and I couldn't let myself down."
Jefferson did a complete 180 after making the decision to stick it out at Creighton. He got back to full strength and became Khyri Thomas' number one assignment on the scout team. He had more energy on the floor, he was talking trash, improving his game, and engaging with his teammates off the court, specifically Marcus Foster. As a former transfer himself, Foster, now an All-Big East performer and team leader, offered Jefferson a up-close look at the type of player, teammate, and person that he wanted to become at Creighton.
"Hanging out with Marcus changed everything," Jefferson said. "We would hang out at his apartment or go to get food and just talk about the whole process. He told me to just stay in the gym every day and take advantage of the time I was off. He said I would never get this year back so I shouldn't waste this time, and I feel like that was most impactful thing he could have said to me — other than all of the trash he talks on the court, because that brings the best out of me, too."

"We had heart-to-heart conversations about the time he was at K-State and the time he got here. He said he used to just party and do all kinds of stuff and he told me that you have to sacrifice all of that if you want to be the player that you say you want to be. Every day when I would come in the gym he was always the first player in there working on his jump shot, working on his handles, working with the managers. I always felt like this was the type of person that I wanted to model myself after and it's the type of person I want to look up to. He made mistakes just like I've made mistakes in my life, but I feel like everybody can overcome those because you live to see another day. Watching him definitely motivated me to be the player that I am going to be here at Creighton."
While disappointed was the word he used back in December, it has now become impossible to keep Greg McDermott from praising Jefferson's multi-faceted transformation just seven months later.
"He asked for another chance and frankly I'm glad I gave it to him, because he's turned it around," McDermott said. "He's been much more talkative, much more engaged, much more fun to be around, and as a result his play has gotten much better."

"We think he can give us some of the defensive things that Khyri brought to the table with his length, and his strength, and his ability to fight screens and be disruptive defensively. He's got work to do there, but the skill set is there and I think he has the mentality to do it. He's made really good strides on the offensive end. His ball handling has improved and there is still room to grow there. We've really had to rework the mechanics of his shot, and while it's not perfect, it's 50% better than it was when he got here. He's moving in the right direction."
Jefferson finally got to show off those skills in a game setting in front of local fans during the Omaha Metro Summer League that just concluded. The 6-foot-5, 195-pound wing averaged 27.3 points, 8.8 rebounds, and 3.8 assists while shooting 67.7% from the field and 62.5% from beyond the arc over his last four games, which included a run to the semifinals of the tournament. He had a double-double in two of those last four contests, including 22 points and 13 rebounds in the semifinals and 42 points and 10 rebounds back on July 9th.
While statistics are obviously inflated in that setting due to the lack of structure and shortened rotations, there are aspects of a player's performance that have proven to translate to even the most competitive stages of D1 hoops. Jefferson's size, ability to rebound and defend, knock down an open three, and create his own shot and finish at the rim were all on full display. Don't dismiss those shooting percentages so easily either. Inflated, yes, but that 44-of-65 from the field and 10-of-16 from three deserve mention because of the amount of work he has put in the gym when no one is watching. Every day Jefferson is at the Championship Center and he doesn't leave until makes 500 shots and 100 free throws.
With the start of the season now just a few short months away, the East Chicago, Indiana native is telling a far different story about where he is mentally and physically as a player and a person compared to when he first arrived in Omaha.
"I'm definitely comfortable with the position I am in," Jefferson said. "I worked hard to be in this position with these type of guys. Everybody that I am with now works just as hard as me. I don't want to be around anybody who doesn't want to work hard or takes days off. With these guys I feel like I am going to push them and they are going to push me. They are going to motivate me and I'm going to motivate them. I'm in a great place. I love it here."
See Some of Damien's highlights from Summer League
Damien Jefferson, 42 points and 10 rebounds on 18-26 shooting, stats courtesy of @JacobPadilla_ pic.twitter.com/Lw6Xo2gPP9

— Ravi Lulla (@ralulla) July 10, 2018
Damien Jefferson had 22 in a semi finals loss as the last man standing for Creighton in @OMAMetroLeague #metrobball pic.twitter.com/Syc8b3Yo0A

— Ravi Lulla (@ralulla) July 20, 2018
Comments
Tagged in: